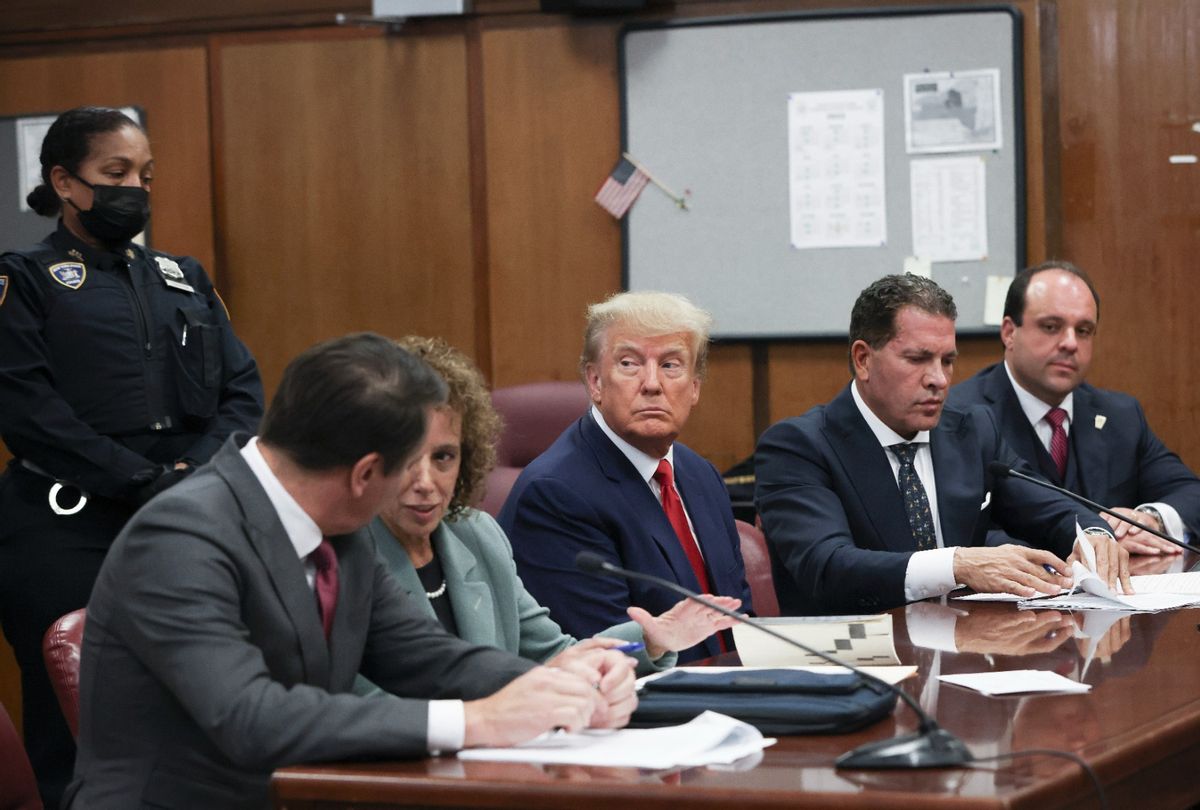 Former President Donald Trump on Thursday was indicted in Miami on seven counts in the Justice Department probe into his handling of classified documents at Mar-a-Lago — and legal experts think the evidence may be too much for his legal team to overcome.
Trump broke the news of his indictment on Truth Social before it was confirmed by media outlets. The charges against him include willfully retaining national defense secrets in violation of the Espionage Act, false statements, multiple obstruction counts and a conspiracy charge, according to his attorney Jim Trusty.
Trump is expected to surrender to authorities on Tuesday. "I'm an innocent man," he insisted on Truth Social.
But law enforcement sources told CBS News' Robert Costa they view the case as a "grave, serious" threat to the former president.
"[T]hose who know [special counsel] Jack Smith say he would NEVER bring charges of this nature unless he had tons of testimony and evidence and is convinced he will win," Costa tweeted.
A former federal prosecutor told CBS News that while providing obstruction is very difficult, bringing the charge "means there is a lot of specific evidence in the hands of the special counsel."
Smith "is described as someone who would hesitate to bring that charge unless it was nailed," Costa wrote.
The indictment came days after Trump's attorneys met with Smith and other DOJ officials and asked them not to indict Trump. He and his attorneys have claimed that he had the right to take the documents and that he declassified the documents before taking them.
"I haven't heard anything substantive that makes me really think that this legal team gets what it's facing," national security attorney Bradley Moss told MSNBC.
"You would think a former president, especially one with Donald Trump's kind of money, you'd be expecting top notch A-list, best-of-the-best criminal defense lawyers, you'd be expecting constitutional scholars, national security experts. I'm just not seeing it," Moss said.
"Who else is on this team that is really going to be qualified to handle this?" he added. "They are completely in over their head, and I think if you're Donald Trump tonight, you're realizing I got more or less a D-list legal team and now I'm paying the price for it."
The legal team was apparently also blindsided by the DOJ moving the case from D.C. to a different grand jury in South Florida to address potential jurisdictional challenges.
"The Florida factor has thrown Trump's team for a loop since it wasn't always expected," Costa reported.
CNN's Paula Reid noted that "only one of his attorneys is barred in Florida" and Trump will likely have to bring in additional attorneys who can practice in the state.
"As we know, he has had a little bit of difficulty retaining lawyers," Reid said. "There are a lot of law firms who won't take him on. They're worried their bills won't get paid. But there are some interesting constitutional questions here. But he will absolutely have to recruit likely one or two more lawyers, because I don't think he has the right team to bring this in Florida."
Former U.S. Attorney Barb McQuade predicted that Trump's claims that he declassified the documents and alleging prosecutorial misconduct would wilt in a courtroom because the Espionage Act charge "neutralizes his defense."
"I don't think either of these defenses are going to work," McQuade told MSNBC. "They might sound good in the court of public opinion, and I imagine Trump will hammer them as he has, but… this idea Trump declassified the documents is really off the table if the charge is the Espionage Act because there's no requirement under the Espionage Act the documents be declassified."
Trump's repeated Truth Social posts and media statements about the case could also further damage his case.
"You want to keep your mouth shut, for a very simple reason: the government bears the burden of proving you're a criminal," national security attorney Daniel Meyer told The Daily Beast.
---
Want a daily wrap-up of all the news and commentary Salon has to offer? Subscribe to our morning newsletter, Crash Course.
---
Meyer added that Trump had already "left so much evidence on the record" through his own statements.
"Donald Trump should have stayed quiet," Meyer said. "And that's what he has not done."
Former Los Angeles County prosecutor Joshua Ritter agreed that in "any case where a defendant is very vocal and giving lots of statements about an ongoing investigation, it never seems to help them, and always seems to come back to haunt them."
Former federal prosecutor Neama Rahmani told the outlet that "this guy will not follow Lawyering 101 — just keep your mouth shut."
"I know he's doing it for PR and political reasons, but he's really screwing himself when it comes to these criminal cases…I'm sure his lawyers are incredibly frustrated having to clean up his messes," Rahmani said.
Civil rights attorney Andrew Laufer responded to the indictment with a warning to the former president.
"Someone let Trump know the following," he tweeted. "You're going to prison, traitor."
Read more
about the Jack Smith probe