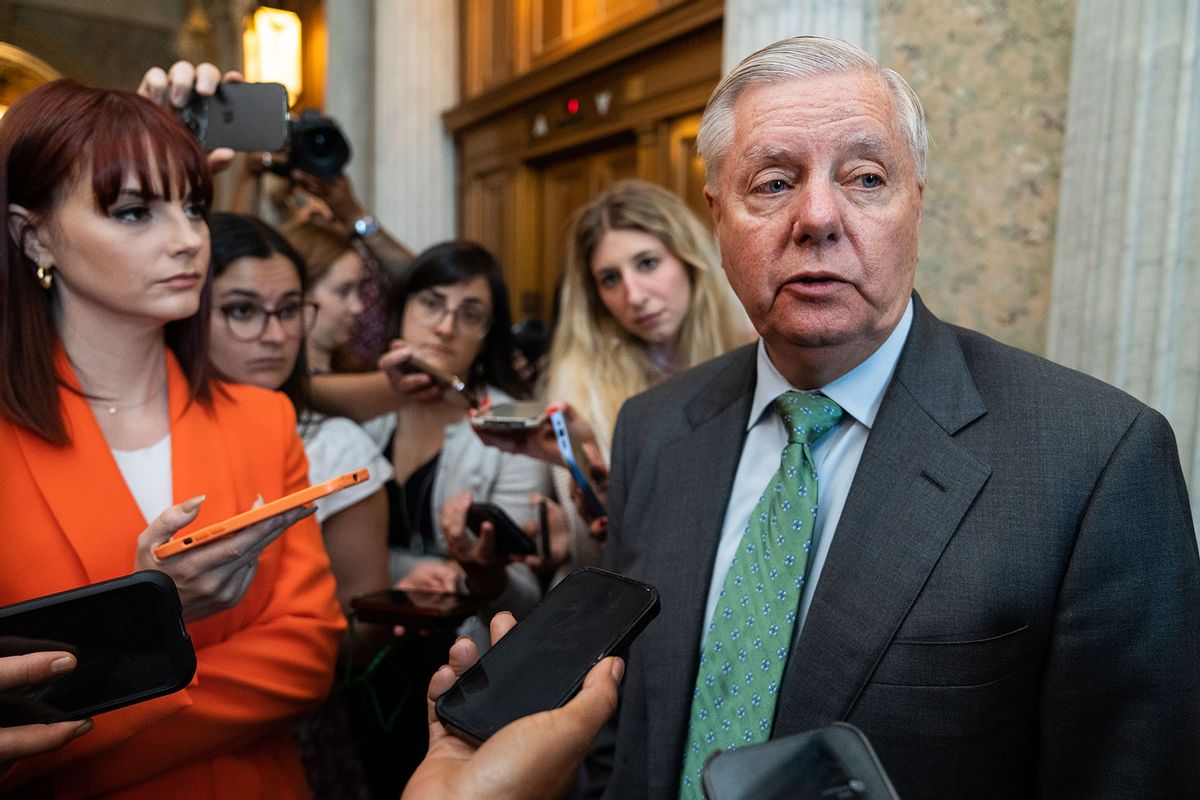 Sen. Lindsey Graham, R-S.C., defended former president Donald Trump during a Sunday, arguing that Trump's latest 37-count federal indictment will only boost his election hopes.
Trump, who has faced a seemingly unending barrage of legal woes in recent months, was dealt his second criminal indictment last week for his role in allegedly mishandling and hoarding official government documents at his Mar-a-Lago resort in Florida, with charges including obstruction, conspiracy and violations of the Espionage Act.
During an interview with ABC "This Week" anchor George Stephanopolous, Graham faced questions about the allegations against Trump, including a recording in which the ex-president ostensibly admitted to having a "secret" document that he failed to declassify. 
"Donald Trump — you may hate his guts, but he is not a spy," Graham argued.
Graham, who has already endorsed Trump, compared the investigation into Trump to that of Hillary Clinton, echoing the GOP's longstanding fixation with Clinton. 
"Did he do things wrong? Yes, he may have. He will be tried about that. But Hillary Clinton wasn't," he said. 
"You said that he did not disseminate any of this information. In fact, there's an audiotape in the indictment where he's talking about the secret information, saying he knows it's secret, knows it's not declassified," Stephanopolous retorted. 
"I don't know what happened; I haven't heard the audio," Graham said. "But look at who's been charged under the Espionage Act: Julian Assange, Edward Snowden, Chelsea Manning — people who turned over classified information to news organizations … or provide it to a foreign power. That did not happen here."
"There is an audio tape of Donald Trump saying he knows this is secret information he knows he's sharing with other people. How is that OK?" Stephanopoulos followed up.
"I'm not saying it's OK," Graham said before again likening Trump's actions to Clinton's.
Clinton was scrutinized for using a private email server ahead of the 2016 election; however, ABC reported that while 193 emails containing classified information were sent to or from Clinton's personal email account, federal investigators have determined that over 322 classified documents were stowed at Mar-a-Lago after Trump left office. 
A 2018 report from the Department of Justice's inspector general ultimately observed that Clinton's case demonstrated  "a lack of intent to communicate classified information on unclassified systems," given that "[n]one of the emails Clinton received were properly marked to inform her of the classified status of the information," and investigators found evidence that Clinton and her aides "worded emails carefully in an attempt to 'talk around' classified information."
Graham on Twitter argued that "most Republicans believe we live in a country where Hillary Clinton did very similar things and nothing happened to her."
Legal experts rejected Graham's comparison.
"There are also people who believe that the earth is flat," former federal prosecutor Renato Mariotti shot back. "When someone believes a falsehood, the proper response is to inform them, not promote the falsehood. You know better, which is why you didn't indicate that *you* believe Clinton did 'very similar things.'"
Graham also attempted to draw connections to former Vice President Mike Pence and President Joe Biden keeping classified documents while out of office, though, unlike Trump, both cooperated with authorities in turning over the materials. 
"I don't like what President Trump did in certain aspects. I don't like that Joe Biden had classified information on the garage. I don't like that Mike Pence carelessly took classified information. I don't like any of that," said Graham.
"I think the espionage charges are completely wrong and I think they paint an impression that doesn't exist. This is not espionage," Graham said. "And I do believe, George, that most people on my side of the aisle believes when it comes to Donald Trump, there are no rules. And you can do the exact same thing or something similar as a Democrat and nothing happens to you."
Legal experts pointed out that while Trump is accused of violating portions of the Espionage Act, he is not actually charged with "espionage."
"The Espionage Act encompasses more than just 'espionage' or 'spying'," tweeted national security attorney Bradley Moss. "You would think a lawyer and former JAG would know that, Senator."
"No one, other than those who are ignorant of the law & ideological extremists, have said Trump was charged w/spying," tweeted national security attorney Mark Zaid. 
"That's really embarrassing Senator," he added.
---
Want a daily wrap-up of all the news and commentary Salon has to offer? Subscribe to our morning newsletter, Crash Course.
---
Graham argued that the indictment would ultimately help Trump in the election.
"I think Donald Trump is stronger today politically than he was before. … We'll have an election, and we'll have a trial, but I promise you this: Most Americans believe, most Republicans believe, that the law is used as a weapon against Donald Trump," Graham said. 
"What I've not heard from you is the defense of Donald Trump's behavior and why you think that's the kind of behavior you want to see in a president of the United States," Stephanopolous replied.
"I'm not justifying his behavior," Graham asserted. "If it were up to me, nobody would take classified information in their garage or Mar-a-Lago."
"I think what's happening here is trying to delegitimize him," Graham said.
"It's not going to change my support for Donald Trump," he said. "He's innocent until proven guilty. But what I'm trying to convey to you, and I'm sorry I'm not doing a better job, that most Republicans believe that the law now is a political tool."
Attorney and frequent Trump critic George Conway called out Graham on Twitter.
"Why do you continue to defend this man, who will never hold office again, who deserves to spend the rest of his life in prison, and who is leading your party to destruction, as you said 7 years ago?" Conway wrote. "Why do you sacrifice your dignity for this cretin?"
Read more
about the Trump indictment