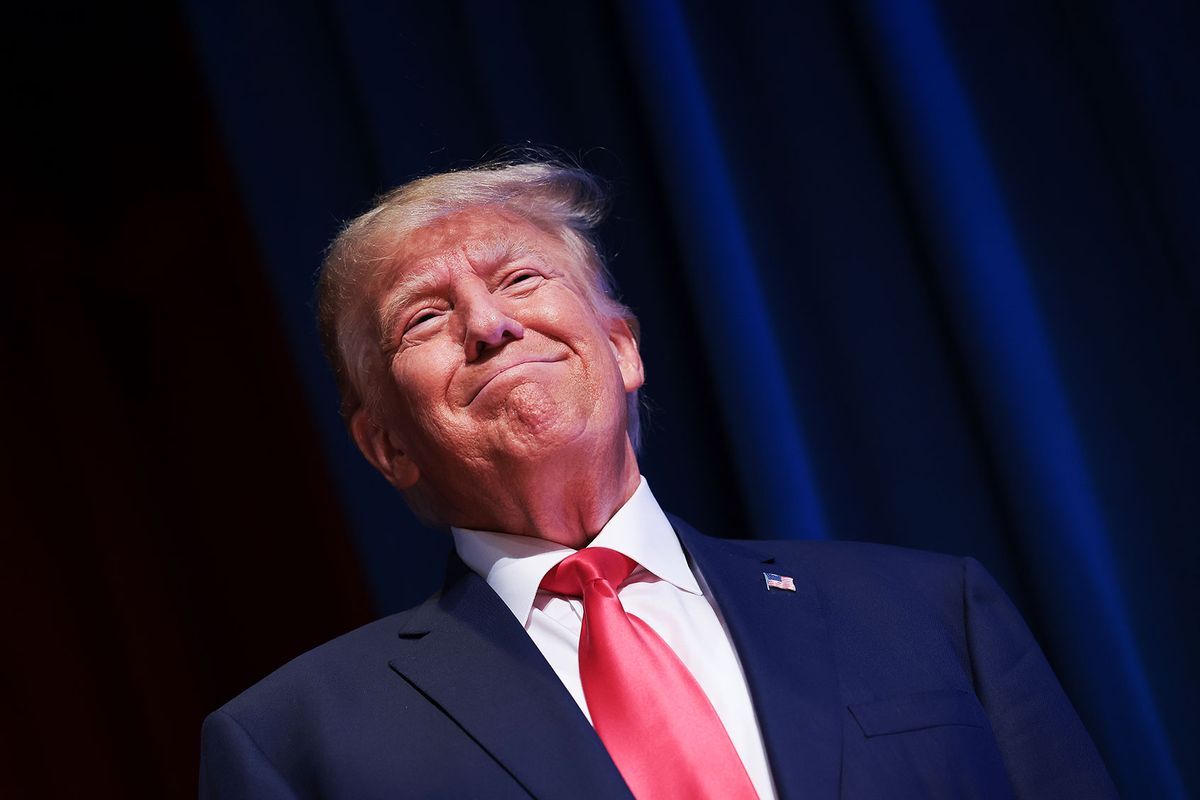 From the moment in early August when the FBI first set upon Mar-a-Lago to retrieve classified documents stolen by Donald Trump, a talking point about his motives emerged: The man just really likes his trophies.
"He wanted to keep these documents as a trophy," former Gov. Chris Christie, R-N.J., argued on CNN in the fall. The claim has been surprisingly popular even in more left-leaning media, likely because their audiences often prefer to see Trump framed as a dunderhead rather than as someone with the basic literacy skills to understand the value in, say, a document about U.S. defense capabilities. 
But right-wing pundits, in particular, have seized upon the talking point. They've correctly assesd that they can use it to make the entire scandal all seem like a big misunderstanding, instead of an active conspiracy against the U.S. government. The day before the indictment was released, Daily Wire spinmeister Ben Shapiro argued that Trump took the documents "not for any nefarious purpose, but because Trump likes things and so he takes them." As many experts have pointed out, this doesn't matter legally, as stealing and conspiring to obstruct justice are crimes regardless of motive. But politically, it matters a whole lot, because the ego motive creates excuse-making room for Trump dead-enders to pretend it was all just an accident. 
---
Want more Amanda Marcotte on politics? Subscribe to her newsletter Standing Room Only.
---
The full indictment was released Friday, and the details show that none of this is accidental. Trump didn't just go to great lengths to hide the documents from the FBI, there's also a recording of him admitting that he's breaking the law. What is more subtle, but equally interesting, is there are many hints that Trump wasn't just keeping these documents as trophies. As with most crimes Trump commits, he appears to view these documents as a valuable commodity to be exploited for his personal benefit. 
The ego motive creates excuse-making room for Trump dead-enders to pretend it was all just an accident. 
The indictment details two incidents of Trump showing off the contents of the documents to people who had no legal authority to view them, in which Trump's desire to use the documents for political leverage is very much evident. The first is from a conversation someone recorded at the Bedminster Club in New Jersey, in which Trump is talking to a book publisher. Trump was mad at someone named only as "Senior Military Official," but who is obviously Chairman of the Joint Chiefs of Staff Gen. Mark Milley. Milley had spoken to the New Yorker about how he stopped Trump from ordering a military attack on Iran. An enraged Trump wanted to insist that it was actually Milley who wanted to invade Iran. 
"I have a big pile of papers," Trump raved, demanding that those present "look" because it "totally wins my case." He added, "Except it is like, highly confidential. Secret. This is secret information. Look, look at this."
In a second incident, Trump had a meeting with a member of his political action committee. At the time, President Joe Biden was getting a lot of negative press over withdrawing troops from Afghanistan, which Trump was excited about. "Trump showed the PAC Representative a classified map of" Afghanistan, the indictment reads. Trump explained, "he should not be showing the map to the PAC Representative and not to get too close."
As with most crimes Trump commits, he appears to view these documents as a valuable commodity to be exploited for his personal benefit. 
These two incidents paint a clear picture of what Trump was hoping to get out of hanging onto these documents — and it wasn't just keepsakes.
Instead, as Maggie Haberman and Alan Feuer of the New York Times wrote, Trump "views most everything in terms of leverage and often focuses on payback against perceived enemies." In these two stories, we can see two competing urges at war inside Trump: His desire to use these documents against Milley and Biden versus his desire not to be caught committing a very serious crime. 
Trump's view that these documents are useful political weapons helps explain the great lengths he went to in order to keep these materials long after he realized the feds were onto him. The timeline shows that, after the National Archives demanded the return of the documents, Trump ordered his underling, Walt Nauta, to set the boxes aside so they could be gone through in order to find materials Trump wanted to hide away for safekeeping. He continued to move boxes around, clearly intent on hanging onto the valuable materials, even though it meant risking the wrath of the FBI.
---
Want more Amanda Marcotte on politics? Subscribe to her newsletter Standing Room Only.
---
One doesn't need to believe Trump is some kind of super genius in order to see that he hoped these documents would later be useful for blackmail, threats, or creating political chaos. On the contrary, Trump's communications with people he showed documents to suggest he had no idea how he such a scheme would play out. Likely, he didn't have any concrete plan but was just holding out for an opportunity to weaponize them. 
This fits Trump's larger pattern of constantly trying to find ways to cheat the system for personal or political advantage, and his willingness to take big risks in doing so. We see this pattern in his two impeachment trials. The first was due to his extortion scheme against Ukrainian President Volodymyr Zelenskyy, in which Trump threatened to withdraw military aid if Zelenskyy didn't make false accusations of corruption against Biden. In the second, of course, Trump tried to steal the 2020 election, going so far as to incite an insurrection in hopes of interrupting the counting of electoral votes. Both plots were half-baked and ended up failing. The classified documents theft appears to be more of the same: Trump grabbing at whatever leverage he can find in order to cheat his way to victory, even if he's entirely unsure of how to deploy the leverage effectively to get his way. 
The crime for which he was indicted in Manhattan in April is yet another half-baked plot to cheat the system, in this case by paying hush money to a porn star. That plan was dumb and ineffective. But Trump likes the image of himself as a schemer so much that he dives into one conspiracy after another, without stopping to consider that he's not actually very good at this. 
The documents case is more of the same. Trump seems to have hung onto these documents with a vague understanding they offered "leverage," all without thinking too closely about how to use that leverage safely and effectively. This fits Trump's larger pattern of making moves without really thinking his plans through, and just hoping that things fall into place for him. 
Hopefully, we'll learn more in the coming months and ideally in a criminal trial. But this indictment alone exposes that the "trophies" talking point isn't true. Instead, we see that Trump couldn't wait to start using these documents to score points on perceived enemies. He was so eager to jump the gun that he whipped out classified documents for small potatoes political grievances. He couldn't even hold out for a time when he would be able to do even more serious damage with them. Of course, Republicans will continue to lie and use this "trophies" gambit. But no one else in the media should give cover to them by minimizing Trump's odious intentions for these stolen documents. 
Read more
about Trump's criminality