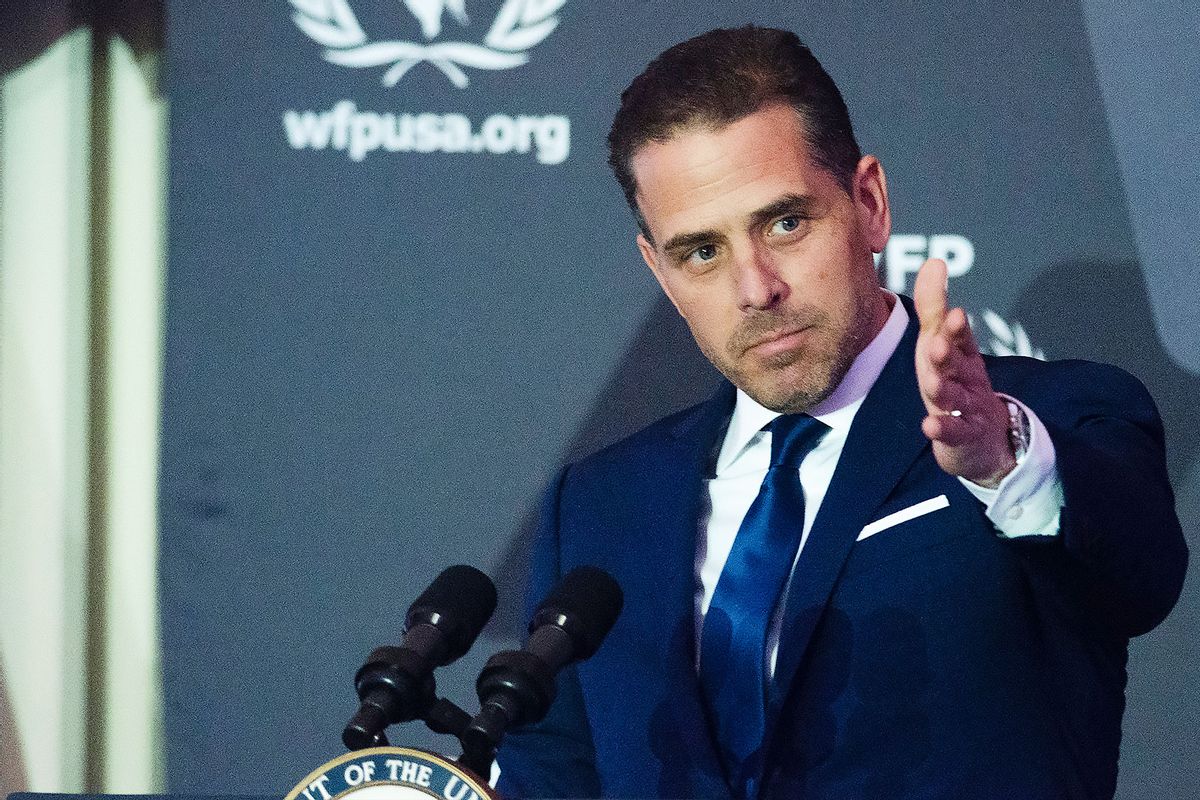 Hunter Biden is expected to plead guilty to two federal misdemeanor counts of failing to pay his taxes in a plea deal made with Trump-appointed Delaware U.S. Attorney David Weiss. 
The president's son is also facing a gun possession charge that will likely be waived if he is able to meet certain conditions, NBC News reported.
"Hunter Biden received taxable income in excess of $1,500,000 annually in calendar years 2017 and 2018. Despite owing in excess of $100,000 in federal income taxes each year, he did not pay the income tax due for either year," Weiss's office said in a statement. The statement added that "from on or about October 12, 2018 through October 23, 2018, Hunter Biden possessed a firearm despite knowing he was an unlawful user of and addicted to a controlled substance." 
Though Weiss's office indicated that the yearslong probe into Biden's finances is ongoing, the U.S. Attorney's decision signals that the investigation is nearing its end. 
"With the announcement of two agreements between my client, Hunter Biden, and the United States Attorney's Office for the District of Delaware, it is my understanding that the five-year investigation into Hunter is resolved," said Biden's attorney, Chris Clark. "Hunter will take responsibility for two instances of misdemeanor failure to file tax payments when due pursuant to a plea agreement. A firearm charge, which will be subject to a pretrial diversion agreement and will not be the subject of the plea agreement, will also be filed by the Government. I know Hunter believes it is important to take responsibility for these mistakes he made during a period of turmoil and addiction in his life. He looks forward to continuing his recovery and moving forward."
The White House issued a brief statement on the news.
"The President and First Lady love their son and support him as he continues to rebuild his life. We will have no further comment," said a White House spokesperson.
Legal experts said the charges against the president's son undercut conservative gripes alleging liberal bias among the Justice Department and the FBI.
"Our system isn't perfect," wrote former federal prosecutor Renato Mariotti, "but it is a testament to the rule of law and the Administration's non-interference in the Justice Department that the President's son can be investigated, prosecuted, and convicted during his father's term in office."
"DOJ just negotiated a plea deal with Hunter Biden to have Hunter plead guilty to crimes. No indications from the President he intends to fire everyone involved for daring to do so. Imagine that," tweeted attorney Bradley P. Moss.
"Now that Hunter is pleading guilty to three crimes, the goal posts will be shifted from 'the president is stopping DOJ from prosecuting Hunter' to 'the president made DOJ offer this plea deal to Hunter,'" Moss predicted. "And on and on the circus will continue."
Orin Kerr,  a law professor at the University of California, Berkeley, also predicted that the "whataboutism will not stop, of course, as it was not genuine."
"But it's notable that a President's DOJ charged the President's son with a crime without the President intervening," he wrote. "Mentally preparing for the quick transition from 'Biden is corrupt because his DOJ hasn't charged his son with a crime' Twitter to 'Biden is corrupt because his DOJ, which had to charge his son with a crime, took a misdemeanor plea' Twitter," Kerr added. 
---
Want a daily wrap-up of all the news and commentary Salon has to offer? Subscribe to our morning newsletter, Crash Course.
---
Like clockwork, Trump and his MAGA allies exploded over the plea deal.
"Our system is BROKEN!" Trump claimed on Truth Social.
"The corrupt Biden DOJ just cleared up hundreds of years of criminal liability by giving Hunter Biden a mere 'traffic ticket,'" Trump wrote. 
"People are going wild over the Hunter Biden Scam with the DOJ!" Trump stated in another post.
House Oversight Chairman Rep. James Comer, R-Ky., argued that "Hunter Biden is getting away with a slap on the wrist when growing evidence uncovered by the House Oversight Committee reveals the Bidens engaged in a pattern of corruption, influence peddling, and possibly bribery."
"It's no coincidence that less than a week after President Trump is arraigned by the DOJ, Hunter Biden is pleading guilty to a sweetheart deal with no jail time," tweeted Sen. Marsha Blackburn, R-Tenn.
"Biden's DOJ is treating Hunter w/ kid gloves, giving him a deal that only the president's son could receive." alleged Rep. Kevin Hern, R-Okla. "
Trump, of course, could have avoided his own charges if he had listened to his attorneys' advice to return the documents rather than listening to Judicial Watch activist Tom Fitton, who is not a lawyer, who claimed he could simply keep the documents by claiming they were his, according to The Washington Post, and rejected his lawyers' efforts to negotiate a settlement with the DOJ before he was charged with 37 federal crimes.
"If he had listened to his lawyers, rather than to Tom Fitton," Moss tweeted, "he likely could have avoided criminal charges entirely." 
Read more
about Trump's legal woes