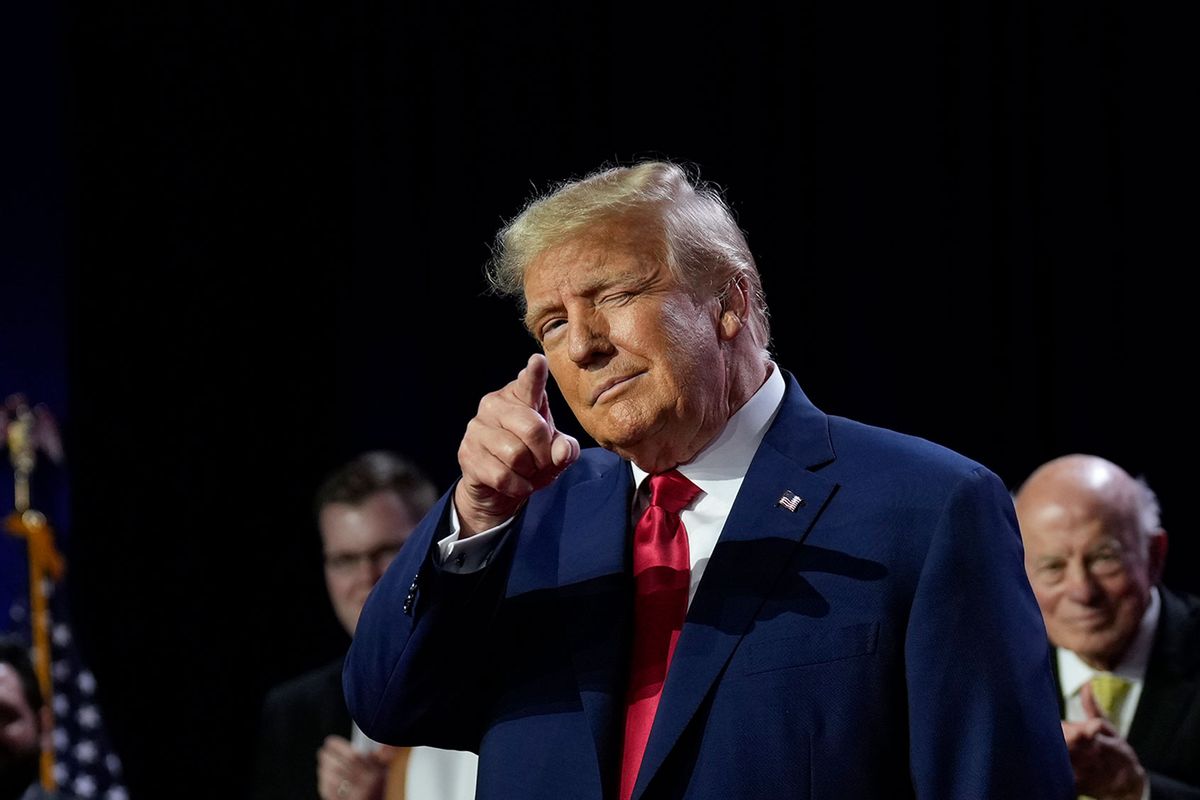 CNN on Monday released an exclusive audio recording in which former President Donald Trump can be heard discussing "secret" classified documents in his possession that he acknowledged he could no longer declassify after leaving office – a conversation legal experts suggest will be pivotal for the government's case.
The two-minute recording, made at his Bedminster, N.J., golf club, captures a moment where Trump suggests that he possesses a classified Pentagon document outlining potential plans for an attack on Iran. 
Trump can be heard referencing a "big pile of papers" and talking about former Joint Chiefs of Staff Chairman Mark Milley, who reportedly urged him not to attack Iran at the end of his presidency.
"The audio clip is powerful evidence for the government on multiple fronts," Adam Kamenstein, a former federal prosecutor and current partner with Adams, Duerk & Kamenstein, told Salon. "It also proves not just that he possessed classified documents but that he knew he possessed classified documents, which will be crucial to the government's case."
The tape also reveals that "the classified documents were not subsequently planted by the government," unlike what the former president has claimed in social media posts, he said. 
"In addition, it's an admission that he had not taken steps to declassify it, as he has claimed and that he knew he had no authority to declassify it once his term ended," Kamenstein said. "As damning as it is on its own, it likely only gets worse for Trump from here, because those in the room with him at the time have probably testified before the grand jury and, at trial, would be expected to provide additional context to the conversation, further cementing the government's case."
The audio clip was recorded in July 2021 during a meeting between Trump and publishers working on the autobiography of former White House chief of staff Mark Meadows. Trump aide Margo Martin, who regularly tapes conversations with authors to ensure accuracy, recorded the conversation.
Smith cited the recording in the indictment when Trump was charged with 37 counts related to stashing documents at Mar-a-Lago and obstructing government efforts to retrieve them earlier this month. 
But, the recording will not serve as "the singular piece of 'smoking gun' evidence" that the special counsel "uses to litigate the case for the criminal charges," Javed Ali, a former senior counterterrorism official at the Department of Homeland Security, told Salon. 
Instead, it "could be a key factor that shapes the jury's perceptions of Trump's claim that he followed the strict guidelines for properly declassifying documents that he then took once he left office," Ali said.
"There is a specific process overseen by the National Archives and the Office of the Director of National Intelligence to ensure that formerly classified US government documents are declassified and approved for public release if so requested by presidents or other senior government officials while in office, and by all accounts President Trump did not follow these rules before leaving the White House," he added.
---
Want a daily wrap-up of all the news and commentary Salon has to offer? Subscribe to our morning newsletter, Crash Course.
---
Attorney Andrew Lieb suggested that Smith likely has more damning evidence.
"Make no mistake that he has the goods and we haven't seen anything yet," Lieb said. "This is going to be a multi-front war with federal indictments going on in different district courts simultaneously."
Despite making claims in an interview last week that he had no classified documents in his possession, the recording contradicts Trump's previous claims. 
In a Fox interview with host Bret Baier, the former president insisted "everything was declassified" and said he did not "know" if the materials he took contained documents detailing an attack plan against Iran even though the July recording suggests that he did. 
Trump has continued to defend himself on his social media platform Truth Social and lashed out at Smith after the leak.
"The Deranged Special Prosecutor, Jack Smith, working in conjunction with the DOJ & FBI, illegally leaked and 'spun' a tape and transcript of me which is actually an exoneration, rather than what they would have you believe," Trump wrote. "This continuing Witch Hunt is another ELECTION INTERFERENCE Scam. They are cheaters and thugs!"
Even though Trump has admitted the recording was leaked and alleges it was spun, he doesn't "deny its authenticity," Lieb pointed out.
"Yes, the tape is terrible evidence against Trump, but the real story is he is challenging to be the worst client of eternity for any criminal defense attorney because he gives real time admissions rather than keeping his mouth (Truths) shut while his attorneys do their job," Lieb said. "It's almost like he wants to be convicted."
Read more
about the Trump indictment