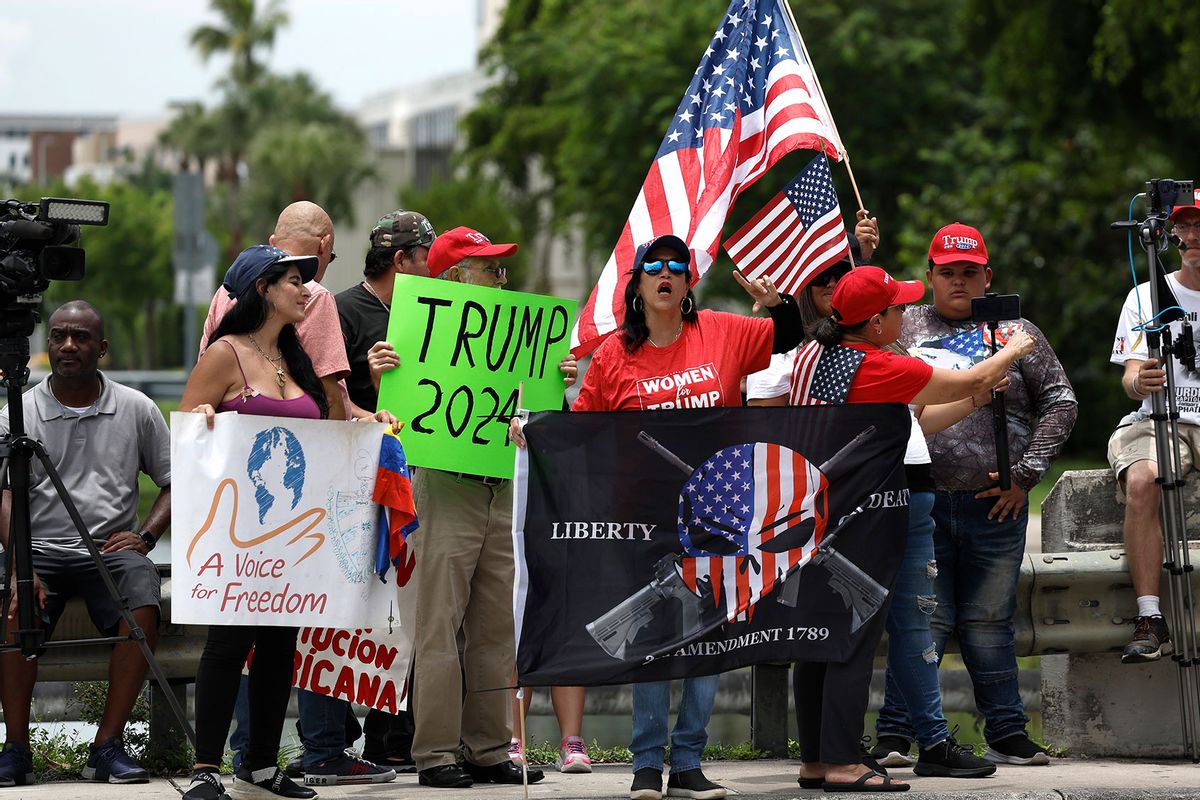 Former President Donald Trump's team is worried about the courthouse protest he called for spiraling out of control ahead of his arraignment in Miami on Tuesday.
Multiple Trump advisers told The Daily Beast that they were particularly concerned about a rally organized by conservative activist and ardent Trump supporter Laura Loomer.
"SEE YOU BRIGHT AND EARLY #MIAMI!" Loomer wrote on Twitter, promoting the demonstration — which is also being endorsed by longtime Trump aligner Roger Stone — as a "peaceful rally." 
"There is nothing illegal about peacefully rallying in support of the greatest president ever!" she wrote in a separate tweet. 
However, sources close to Trump have indicated that they feel otherwise.
"Look at some of the people responding," one confidant told the outlet, referring to replies to Loomer's tweet promoting the event. "It's scary."
"Inside of this event, there is going to be a disaster," said another source. "There are going to be people that come out that don't want to be peaceful."
"All the things that are wrong with MAGA are going to show up," the source added. "You get the fanatics coming out."
"When have they had a good idea?" another Trump advisor said of Loomer and Stone's organizing efforts. 
Stone also urged attendees of the rally to conduct themselves "peacefully, civilly and legally."
During a recent interview with Trump, Stone questioned the ex-president about "this upcoming peaceful demonstration."
"Do you have a message for those who may be planning to go to demonstrate their support for you?" Stone asked. 
"We need strength in our country now," Trump replied. "Everyone is afraid to do anything … they have to go out, and they have to protest peacefully."
Trump has repeatedly pushed rhetoric intended to inflame his base even after the civil unrest that led to the deadly Jan. 6 Capitol riot. 
"They've launched one witch hunt after another to try and stop our movement, to thwart the will of the American people," he said at a rally in Georgia on June 10. "They're coming after you."
---
Want a daily wrap-up of all the news and commentary Salon has to offer? Subscribe to our morning newsletter, Crash Course.
---
On his social media platform, Truth Social, Trump has proclaimed his innocence and has encouraged his followers to protest his criminal indictments. 
"FIGHT!" he urged MAGA allies on June 6, calling the latest Mar-a-Lago classified documents probe evidence of "election interference."
"SEE YOU IN MIAMI" Trump wrote on Tuesday, a post that was shared by a Florida chapter of the neo-Nazi group, the Proud Boys, which added, "YOU KNOW WHAT TIME IT IS."
A number of far-right politicians have also contributed to incendiary sentiment surrounding the Miami rally.
"If you want to get to President Trump, you're going to have to go through me and 75 million Americans just like me. And I'm going to tell you, most of us are card-carrying members of the NRA … That's not a threat, that's a public service announcement," Kari Lake, who unsuccessfully ran for governor of Arizona, said at a recent GOP event in Georgia.
Rep. Andy Biggs, R-Ariz., wrote on his congressional Twitter account that "We have now reached a war phase. This is an eye for an eye."
"This is a perimeter probe from the oppressors," tweeted Rep. Clay Higgins, R-La., on June 8, in reference to Trump's courthouse summons. "Hold. rPOTUS has this."
"Buckle up. 1/50K know your bridges. Rock steady calm. That is all," he added. 
On June 10, Higgins ostensibly attempted to clarify his message, writing, "Let Trump handle Trump, he's got this. We use the Constitution as our only weapon. Peace. Hold."
Read more
about the Trump indictment