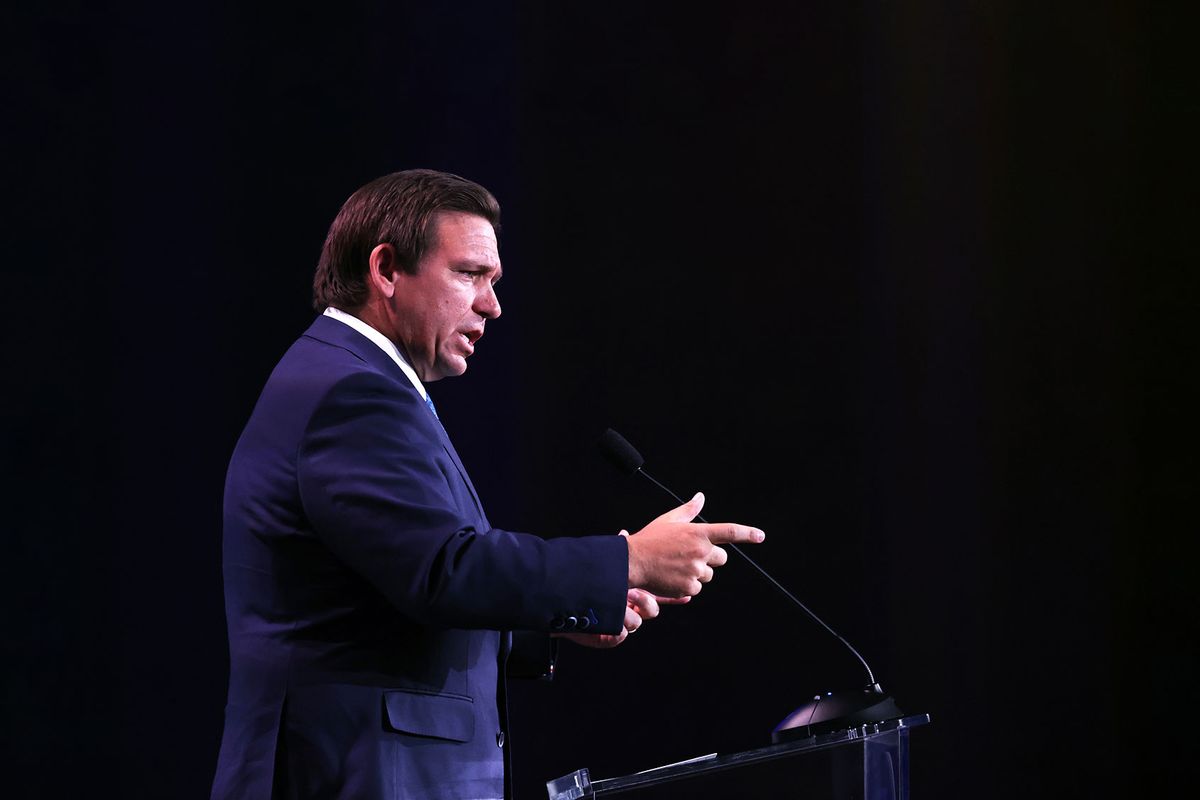 Republican lawmakers in Florida concerned about the state's new anti-immigration law and its possible economic consequences begged Latinos to not leave the state in clips from a Monday morning meeting.
The footage, which provides evidence of the law's "downstream impacts on the state economy" according to MSNBC, shows two conservative Florida legislators attempting to minimize the harm that the law, Senate Bill 1718, could cause, with one asking attendees to advise Latinos against leaving Florida.
"This bill is 100% supposed to scare you," Republican state Rep. Rick Roth said in a clip shared on Twitter by Democratic activist Tom Kennedy. "I'm a farmer, and the farmers are mad as hell. We are losing employees. They're already starting to move to Georgia and other states. It's urgent that you talk to all your people and convince them that you have resources — state representatives and other people — that can explain the bill to you."
The new law, set to go into effect July 1, cracks down on immigration by barring local governments from issuing IDs to those who can't prove citizenship, strengthening the use of employment verification database E-Verify, and preventing undocumented law school graduates from entering the Florida bar among several other provisions. The legislation has been condemned by religious groups, activists and Mexican President Andrés Manuel López Obrador.
Seemingly out of nowhere, Roth then begins to express his admiration for former President Donald Trump and Florida Gov. Ron DeSantis.
"We had the best president in my life — in the last 30 years — and I'm still supporting Donald Trump. I love my governor. He's the greatest governor in," he's heard saying before the clip ends. 
In a different clip, Roth continues to downplay the law, arguing that its "more of a political bill than it is policy" before adding that it gives state police more power to enforce immigration matters, while another shows Republican state Rep. Alina Garcia echoing Roth's statements that the bill is meant to scare residents.
Garcia then falsely argues that the legislation "really doesn't have any teeth," drawing on her own experience having migrated to the country from Cuba when she was two to make her case that "we need to have legal immigration."
---
Want a daily wrap-up of all the news and commentary Salon has to offer? Subscribe to our morning newsletter, Crash Course.
---
Jeremy Redfern, a spokesperson for DeSantis, responded to Garcia's claims and the lawmakers' minimization of the law in a statement to Insider Tuesday.
"The Florida Legislature does not pass, nor does the governor sign, simple press releases meant to posture. We are grateful that the legislature got this bill to the governor's desk for his signature," he said.
"This bill has teeth, and businesses that knowingly hire illegal aliens over Floridians are putting their licenses in jeopardy," he added. "We encourage business owners not to roll the dice and test the governor's commitment to uphold the law."
Andres Malave, a spokesperson for Republican Florida state House Speaker Paul Renner, called the bill a response to  "the failures of the Federal Government to protect our citizens" and criticized liberal activists' opposition to the bill.
"Even more appalling is the concerted effort by liberal activists to gaslight the immigrant community by feeding them a heavy dose of lies by misrepresenting what is actually in the bill," Malave said.
Roth doubled down on his Monday statements in an interview with Insider, explaining that he fears the "major problem" it could cause as migrants leave the state. 
"The negatives is there are families leaving Florida right now where some of them work, some of the family members are legal, and some of them are not," he said. "But they're all deciding that they're not going to split up and live in two different states. So it's going to be a major problem for the agriculture, construction, and tourism, which just about happens to be most jobs in Florida."
He also said that the bill had come directly from DeSantis as a "take it or leave it" piece of legislation with lawmakers advised against making any changes to it.
Despite his Monday remarks, however, Roth said that he still supports the law, which he'd backed earlier this year.
"I don't want people coming to my communities that are not going to be able to get a job and are going to be putting pressure on housing and all kinds of other services when they're not going to be able to get a job," he added. "So the bill has a good purpose, which is, 'Stay away from Florida.'"
Read more
about Ron DeSantis