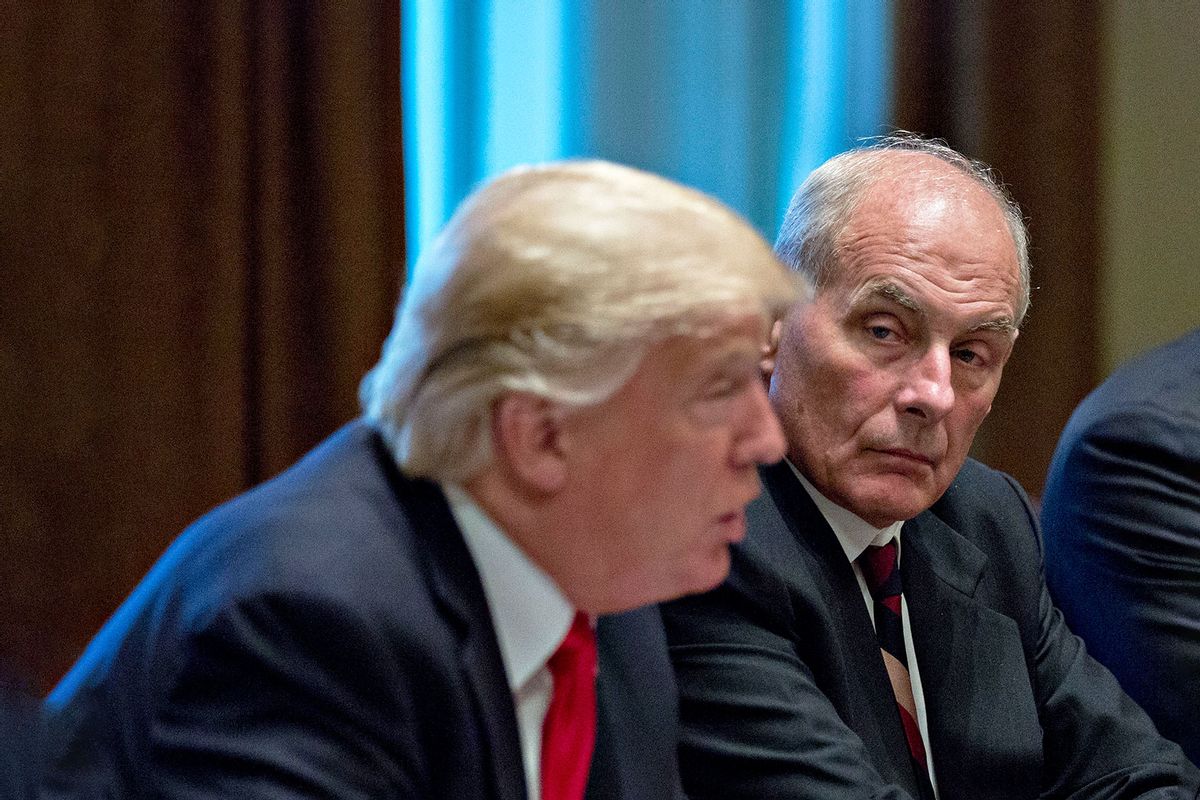 Former President Donald Trump rebuked former chief of staff John Kelly on social media Friday after his former top aide told reporters earlier this week that his former boss is afraid he may finally be held accountable for his actions.
In an interview with The Washington Post Tuesday, Kelly said that twice-indicted Trump was "scared  s—less" despite his nonchalance leading up to his Tuesday arraignment in the federal investigation into his alleged illegal retention of national security documents and obstruction of government efforts to retrieve them. Trump pleaded not guilty to all 37 charges.
"This is the way he compensates for that," Kelly said. "He gives people the appearance he doesn't care by doing this. For the first time in his life, it looks like he's being held accountable. Up until this point in his life, it's like, I'm not going to pay you; take me to court. He's never been held accountable before."
He added that Trump's refusal to return the documents didn't come as a surprise because the former president is especially unlikely to fulfill requests of people and agencies he dislikes.
"He's incapable of admitting wrongdoing. He wanted to keep it, and he says, 'You're not going to tell me what to do. I'm the smartest guy in the room,'" Kelly also told The Post Tuesday.
Trump fired back in a post to Truth Social Friday morning, calling Kelly "weak and ineffective" and claiming he struggled to navigate the political world among several other digs.
"John Kelly pretended to be a 'tough guy,' but was actually weak and ineffective, born with a VERY small 'brain.' He had a hard time functioning in a political world, and was truly an exhausted and beaten man when I fired him," he wrote. "In the end he was a 'mummy' who sat in his office and stared at the ceiling – he was 'shot.' I'll never forget how his very nice wife told me that 'John loves you, and respects you more than anyone, he will always say the BEST things about you.' Oh well, so much for that!" 
Neither Trump's repeated online outbursts in response to his indictment nor the charges themselves have seemed to turn voters against him. According to HuffPost, Republican strategists have said the indictment will likely boost his support in the upcoming election. 
---
Want a daily wrap-up of all the news and commentary Salon has to offer? Subscribe to our morning newsletter, Crash Course.
---
Trump, now the first former president to be federally charged, and allied politicians have also made concerted efforts to discredit the investigation and regurgitate his claims of prosecutorial misconduct.
He has also raised over $7 million in donations since news of his indictment broke last Thursday, according to CNN. The Republican primary frontrunner was regaled by a sea of supporters, some of whom told media that the Justice Department probe was a "witch hunt," at a Cuban eatery in Miami following his arraignment Tuesday.
"It's part public relations and part babysitting," former White House Press Secretary Stephanie Grisham also told The Post. "He wants people to see the cheering crowds so they don't think anything is going wrong. It's also because the staff around him wants to keep him busy and wants to have people cheering for him and giving him the ego stroke that he'll need so they don't have to deal with him being completely pissed."
Kelly has critiqued Trump on several occasions since leaving the chief of staff role in 2019. In 2020 he warned American voters to be careful when selecting presidents and consider their morals in the process, and in 2022 he accused Trump of weaponizing his presidential powers against political opponents who made him "look bad." Kelly also admonished Trump for praising Russian President Vladimir Putin for carrying out an attack on Ukraine that year.
Despite his criticism of the former president, Kelly has also met his fair share of controversy. He reportedly once referred to Confederate General Robert E. Lee as an "honorable man" and claimed some undocumented migrants are "too lazy" to apply for the Deferred Action for Childhood Arrivals (DACA) program in an attempt to defend a Trump immigration policy.
Read more
about Trump's indictment