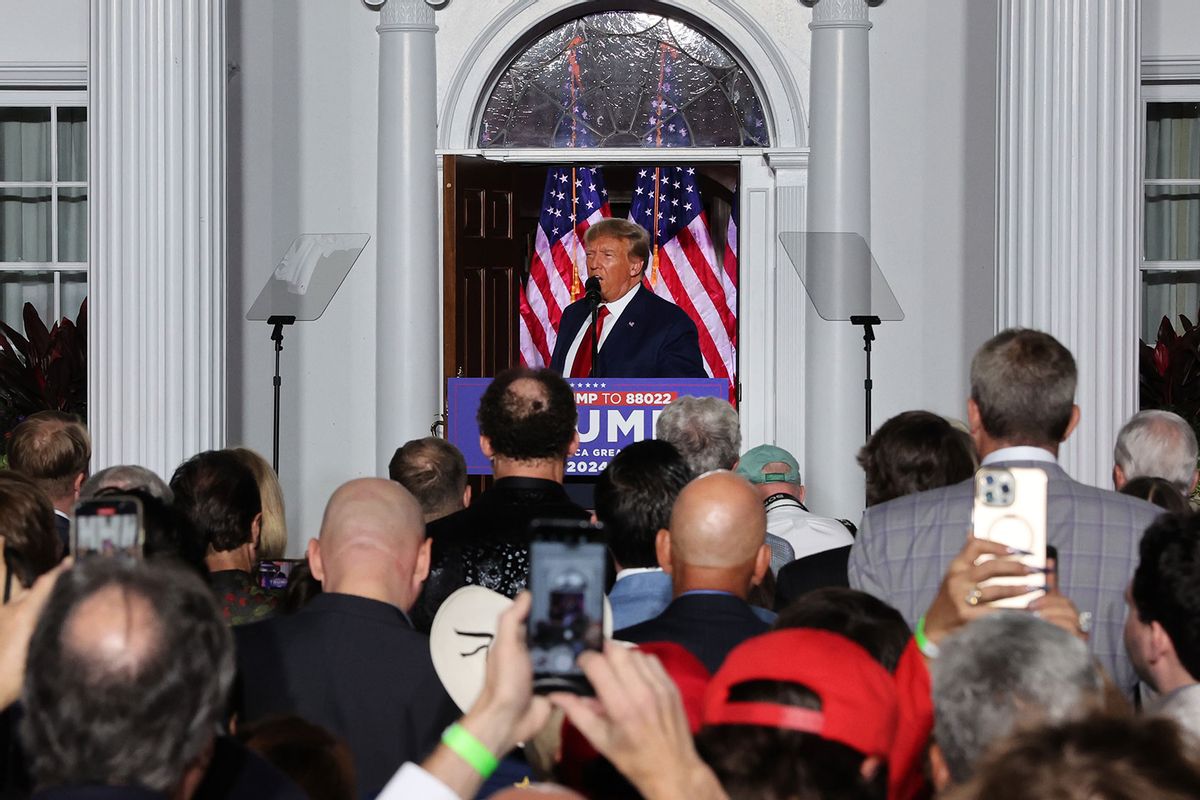 The only thing Donald Trump loves more than committing crimes is bragging about all the crimes he commits. So it should come as no surprise that, mere hours after pleading "not guilty" in federal court over the theft-of-classified-documents case, the former president went before a crowding of adoring supporters to describe, in great detail, how guilty he actually is. 
"Whatever documents a president decides to take with him, he has the right to do so. It's an absolute right. This is the law," Trump raved to the crowd gathered at his Bedminster, N.J. golf club for a post-indictment rally.
All of that, of course, is a lie.
As with Trump's false claims to be the "real" winner of the 2020 election, his narcissism leads him to believe he can simply assert his desires as facts and that will somehow make it so. But as every fact checker out there carefully noted, the reason Trump is getting charged with 37 felonies, in this case, is because he definitely did not have a right to steal whatever he wanted.
Of course, Trump actually knows this.
---
Want more Amanda Marcotte on politics? Subscribe to her newsletter Standing Room Only.
---
There is a reason why, as the indictment clearly lays out, Trump went to great lengths to hide documents and lie to federal authorities about where he hid them. He knew he didn't have "an absolute right" to the stolen goods, and like any common criminal who knows he's guilty, he went to great lengths to lie and obstruct in order to avoid being caught committing the crime he knew full well was a crime when he was committing it. 
The only thing Donald Trump loves more than committing crimes is bragging about all the crimes he commits.
No doubt Trump's lawyers, the few who are left, advised him not to give these "I did it and I'd do it again" stemwinders in front of cameras, but of course, Trump, the sociopathic narcissist that he is, just could not help himself. Those legal killjoys don't get it: Half of the fun of committing crimes is bragging about it afterward!
The whole "absolute right" rant calls to mind what may still be Trump's most famous bout of boasting about his criminal activity: The infamous "Access Hollywood" tape.
"When you're a star, they let you do it," Trump was recorded saying as he described, in great detail, how he likes to sexually assault women, in no small part because it makes him feel special when he gets away with it. Note that he framed the "right" to sexual assault as a perk of his privileged status, like getting valet parking or a good seat at a fancy restaurant. 
For Trump, the classified documents case is more of the same. Yes, it's a crime. (Which is why he obstructed justice.) But dammit, he's a "star" and getting to do crimes is supposed to be his special privilege! And he will whine, at length, at anyone who dares argue there is no penthouse pass for those who make national secrets available to Russian spies. 
On Tuesday, the very same day Trump bragged about committing the crimes he earlier pled "not guilty" to, his inability to stop talking about his crimes in public came back to bite him in the ass. Journalist E. Jean Carroll got a judge's permission to drag Trump back to court, even though a jury recently found that Trump sexually assaulted her in the 90s and that he defamed her afterward. The reason is Trump went right back to defaming her after he lost the case, calling Carroll a "wack job" on CNN and falsely claiming that she lied. He also, of course, couldn't stop himself from bragging about the sexual assault he says never happened. As his MAGA crowd roared in approval, he said "fortunately" men like him are allowed to sexually assault who they want. 
The bathroom locks argument is so stupid it makes those who debate Trump supporters feel dumber just by engaging with it. 
Trump's "defense" of himself can be summed up as "I did it and I should be allowed to do it."
Most of his Republican defenders, however, aren't quite ready to commit to openly arguing that the law simply should not apply to Trump. (One exception: The proudly shameless Rep. Jim Jordan of Ohio, who told CNN Trump "can handle it however he wants.") Instead, as Jesse Wegman of the New York Times wrote Wednesday, "they have burst forth with an embarrassing slurry of misdirection, illogic and non sequiturs."
---
Want more Amanda Marcotte on politics? Subscribe to her newsletter Standing Room Only.
---
These GOP gambits assume Trump is a total moron, or that his followers are. In most cases, it's a little bit of both. For instance, there's the reigning favorite excuse of whataboutism. "Hillary Clinton/Joe Biden/Mike Pence had documents, too!" This is total nonsense, of course, as all three of those people only returned materials as soon as asked, in contrast to Trump's deliberate theft as demonstrated by the subsequent obstruction. But they square that circle by painting Trump's belligerent criminality as a product of his profound childishness and stupidity, instead of nefarious intent. They claim he just really loved his pretty trophies and was too dumb to understand why he had to give them back. 
The GOP defense of Trump hiding classified documents in the bathroom is also predicated on assuming either Trump or his followers are complete dingleberries.
"A bathroom locks," Speaker of the House Kevin McCarthy said.
"There are 33 bathrooms at Mar-a-Lago!" whined Rep. Byron Donalds, R-Fla.
One way to interpret this argument is they think Trump is dumb enough to think the number 33 and/or a room locking from the inside is enough to protect the documents. Or that people who listen to them are dumb enough to buy these idiotic arguments. Of course, "both" is a possibility. 
Trump's imaginary bathroom locks don't explain away, however, his tendency to show these documents to unauthorized people to impress them or settle political scores. Nor does it explain why Trump runs around in public, asserting an "absolute right" to steal whatever documents he wants. But McCarthy and his fellow travelers know full well they're lying. Their job, as they see it, is to provide glib talking points followers can use to justify their continued devotion to Trump. That the talking points don't make any sense may even be part of the point. The more ridiculous Trump supporters sound, the harder it is to justify trying to talk sense into them, after all. The bathroom locks argument is so stupid it makes those who debate Trump supporters feel dumber just by engaging with it. 
Trump's theory is that applying enough political power to the situation will make the law simply disappear. He's operating under the same theory that led him to believe election officials would falsify votes in 2020 if he asked loudly and frequently enough. That gamble didn't work then, and it's unlikely to fly in court to simply argue the law doesn't apply here because Trump said so. Of course, that depends on if this ever actually gets in front of a jury, which the corrupt judge Aileen Cannon will almost certainly do everything she can to prevent. Still, Trump's love of bragging about his crimes didn't do him any favors in the Carroll sexual assault case. It's unlikely to help him out here. 
Read more
about how Trump uses his celebrity to further his criminality