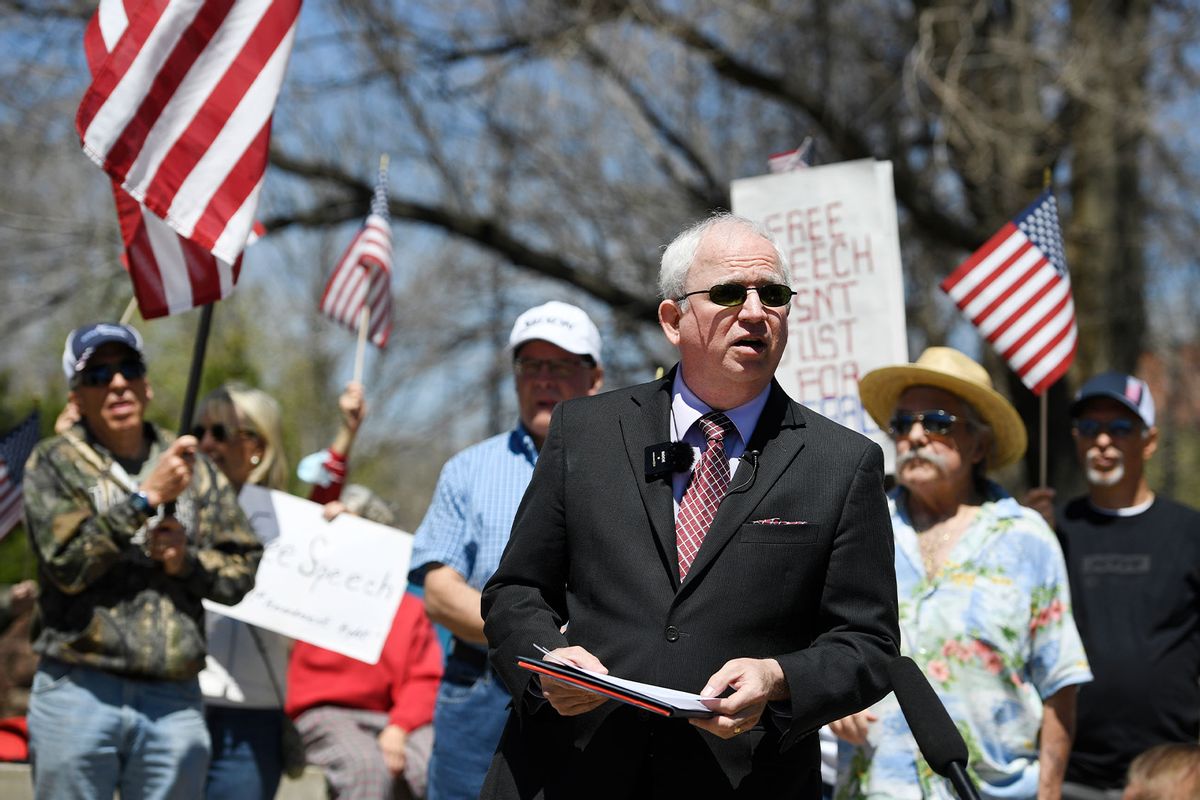 In January of this year, the State Bar of California announced the filing of a Notice of Disciplinary Charges against attorney John Eastman, precipitated by his central role in the scheme devised by Donald Trump and his allies in several swing states to create and submit fraudulent election certificates and the now-infamous slates of "fake electors." 
Eastman's plot to subvert the 2020 election and defraud millions of American voters will almost certainly be central to the next two indictments facing Trump, those being conspiracy charges likely to be filed this summer by prosecutor Fani Willis in Georgia and special counsel Jack Smith in Washington, D.C. 
Like so many other attorneys, advisers and aides who have fallen under Trump's spell and done his bidding, Eastman must now face the consequences of his actions. Last week his trial before the California Bar Court began in Los Angeles, with prosecutor Duncan Carling arguing that Eastman should be disbarred as "the architect of a legal strategy aimed at keeping former President Donald Trump in power, [who had] concocted a baseless theory and made false claims of fraud in an attempt to overturn the 2020 election."
All of Eastman's legal misconduct, Carling continued, "was done with one singular purpose: To obstruct the electoral count on Jan. 6 and stop Vice President Pence from certifying Joe Biden as the winner of the election." Furthermore, the prosecutor argued, Eastman knew exactly what he was doing, and was "fully aware in real time that his plan was damaging the nation." 
Eastman, who cited the Fifth Amendment numerous times in declining to answer questions from the House committee investigating the Jan. 6 insurrection, has offered the same defense all along: He was just asking questions or raising debating points. His defense attorney in the California bar trial, Randall Miller, told the judge that Eastman "was not there to steal the election or invent ways to make President Trump the winner," but was "merely engaging in what he said was a serious debate at the time about what authority the vice president had concerning the certification of the election." Eastman's goal, Miller contended, was not to reverse the election results but "to delay the counting of the electoral votes so that there could be reasonable investigation undertaken by those states."
Whether that claim will resonate with the court remains to be seen. The 11 charges against Eastman specifically allege that he assisted Trump " in executing a strategy, unsupported by facts or law, to overturn the legitimate results of the 2020 presidential election by obstructing the count of electoral votes of certain states."
As has been widely reported, Eastman drafted two "legal memos" that sought to create a rationale for "circumventing established procedures for the counting of electoral votes in front of the U.S. Congress," based on a radical reinterpretation of the vice president's ceremonial role in that process. 
As the disciplinary charges in California make clear, "Eastman knew, or should have known, that the factual premise for his proposals — that massive fraud was at play — was false, and that Trump had lost his bid for re-election." By the time Eastman authored those memos for Trump, the Justice Department had reported that it had "not seen any election fraud on a scale that could have affected the election's outcome," and "multiple courts had rejected election fraud lawsuits." 
Eastman also "ignored these truths," the disciplinary charges state, when he spoke at the White House rally on the morning of Jan. 6, 2021, hours before a mob of Trump supporters stormed the U.S. Capitol. In his speech, Eastman made unsupported allegations of widespread voter fraud, including claims that dead people had voted and that Dominion voting machines had manipulated the results. In the aftermath of the Jan. 6 events, Eastman was forced to retire immediately from the law faculty at Chapman University, where he had taught since 1999.
---
Want a daily wrap-up of all the news and commentary Salon has to offer? Subscribe to our morning newsletter, Crash Course.
---
If the California bar court finds Eastman culpable of the alleged violations, it can then recommend to the California Supreme Court that Eastman's law license be suspended or revoked. The outcome of this proceeding is surely of less importance to Eastman than his likely forthcoming indictments in Atlanta and Washington as a Trump co-conspirator. 
Perhaps Eastman should have reflected on the career of Donald Trump, the most litigious person in U.S. history, who is well known for his failure to pay attorneys, employees and contractors of all kinds. Indeed, his history of stiffing his lawyers, especially after losing cases, has led to the humiliating circumstance that the former president must now pay attorneys up front for services not yet rendered. 
At least 13 attorneys have severed their working relationships with Trump since the 2020 election. At least 17 have been sanctioned. Several of his lawyers have had to retain defense lawyers of their own.
Between November 2020 and this month, at least 13 attorneys have severed their working relationships with Trump, either resigning or being fired due to some version of "irreconcilable differences." There are also several attorneys who were never officially retained by Trump, and never paid by him, but who nonetheless acted in his interests, including Sidney Powell, Rudy Giuliani and quite likely John Eastman. As of March 2023, 17 current or former Trump lawyers had been sanctioned by various courts, mostly because of their involvement in dubious litigation challenging the 2020 election. 
Then there's the list of Trump lawyers who have had to hire lawyers of their own to fend off the consequences of their work for the former president. Most recently, Trump attorney Christina Bobb retained a defense attorney because of her entanglement in the Mar-a-Lago classified documents case. (In fairness, it seems likely that Bobb was misled by Trump into signing a false declaration that all relevant documents had been returned to the FBI.)
Disciplinary sanctions against Trump lawyers, up to and including disbarment, go all the way back to the notorious Roy Cohn, Trump's first personal attorney and mentor, in 1986, and of course include the disbarment and felony conviction of his longtime personal lawyer and "fixer," Michael Cohen, in 2019.
Is it any wonder that Trump is having a hard time finding a competent defense counsel to represent him in his upcoming criminal trial in Miami? It's a core principle of our legal system that every accused person is entitled to a defense attorney, but at this point not many lawyers are eager to defend the most heinous accused criminal in American political history.
Read more
about Trump's Jan. 6 legal scheme