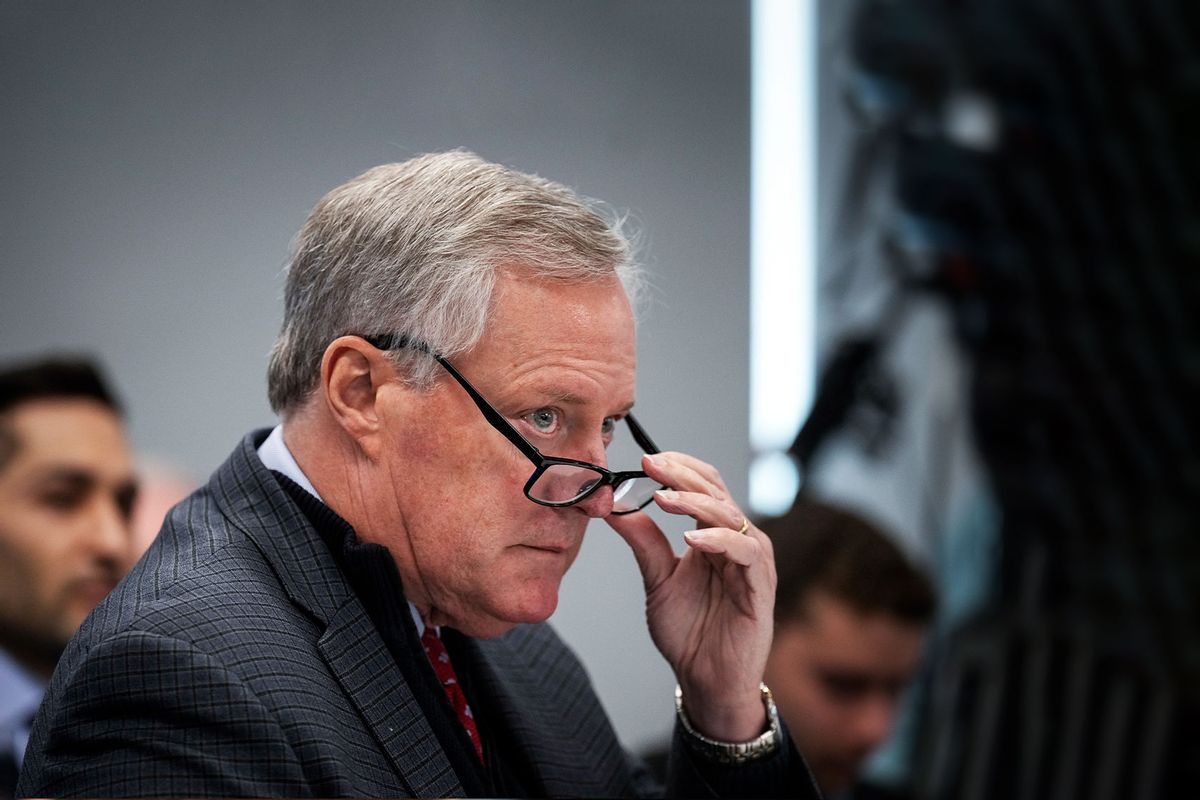 Former President Donald Trump's team of advisors and political allies have been referring to his former chief of staff, Mark Meadows, with a rat emoji in personal communication since Meadows' lawyer refused to comment on whether the former top aide had testified before a federal grand jury, sources with knowledge of the matter told Rolling Stone.
Special counsel Jack Smith's office sought to question Meadows under oath in two probes into twice-indicted Trump's alleged attempts to overturn the 2020 election and retain classified government materials after leaving office.
Earlier this year, the former president assigned his advisors and lawyers to go on a so-called "small fact-finding mission," sources told the outlet, to find out if Meadows, who ended communication with Trump and his team several months ago, had cooperated with the government and how much information he had disclosed to them.
The group of lawyers and political allies informed Trump they could not confirm Meadows' whereabouts and instead opted to recite rumors and speculation.
Meadows' legal team has maintained its silence even after The New York Times revealed that the former Trump staffer had testified before the grand jury. Very few details about the specifics and subject of his testimony are publicly available.
"Without commenting on whether or not Mr. Meadows has testified before the grand jury or in any other proceeding, Mr. Meadows has maintained a commitment to tell the truth where he has a legal obligation to do so," Meadows' lawyer George Terwilliger said in a statement earlier this month.
Two other sources told Rolling Stone that several of Trump's lawyers and close allies had shared with Trump their suspicions that Meadows was being very helpful to federal investigators in an effort to mitigate his own potential legal blunder. In the days following Terwilliger's comment, some of the former president's confidants have taken to using a rat emoji to refer to Meadows in private messages, according to another source and a screenshot the outlet reviewed.
However, other allies have attempted to advise Trump against reading too deeply into Meadows' silence, two sources with direct knowledge told Rolling Stone. The aides, the sources added, have informed Trump that there's no evidence pointing to Meadows' cooperation with the government and that he could just be adhering to legal advice to lie low and answer questions as needed until the investigation concludes.
The distinction reportedly does not matter much to Trump, according to the report. Sources who have spoken to the former president about federal inquiries said they have historically seen few differences between a witness agreeing officially to cooperate with authorities and someone being legally required to answer questions that could possibly reveal damning information. 
Trump and Meadows' once close relationship has deteriorated since their time at the White House with Meadows' team coming to believe in the summer of 2022 that the former president's lawyers and advisors were making strides to set him up "as a fall guy" while the Jan. 6 Capitol attack investigation advanced.
The action pushed Meadows and his attorneys to "take a more skeptical approach, not necessarily towards the [former] president, but towards some of the people around him," a source who knows both Meadows and Trump said.
---
Want a daily wrap-up of all the news and commentary Salon has to offer? Subscribe to our morning newsletter, Crash Course.
---
Meadows' 2021 memoir "The Chief's Chief", which endeavored to sing Trump's praises, also contributed to his falling out with Trump and his allies. The 330-page book revealed several major activities that have since led to three instances of PR damage or legal troubles for the former president.
The latest example came with the Justice Department's indictment earlier this month, which featured Trump's comments from a recorded meeting with Meadows and two assistants for the former chief of staff's book indicating that Trump knowingly retained classified materials post-presidency about a possible attack on Iran.
Over the last few years, the book also almost threatened Trump's claims of executive privilege in his attempts to delay the House Jan. 6 committee and revealed that Trump and his team orchestrated a cover-up of his COVID-19 diagnosis, which potentially put the health of a number of people — including his then electoral challenger Joe Biden — in danger.
Three people with knowledge of the gripes said that the book has outraged what Rolling Stone calls "key Trumpland figures," including Trump, since its publication.
"How many times can Mark f—king put the [former] president in a bind because of that book…[that basically] no one read?" a senior Trump aide said last week, the day of the ex-president's most recent arraignment.
But the fury was not the intended effect, a source told The Daily Beast in 2021, Meadows "thought Trump was going to love it."
Read more
about Mark Meadows