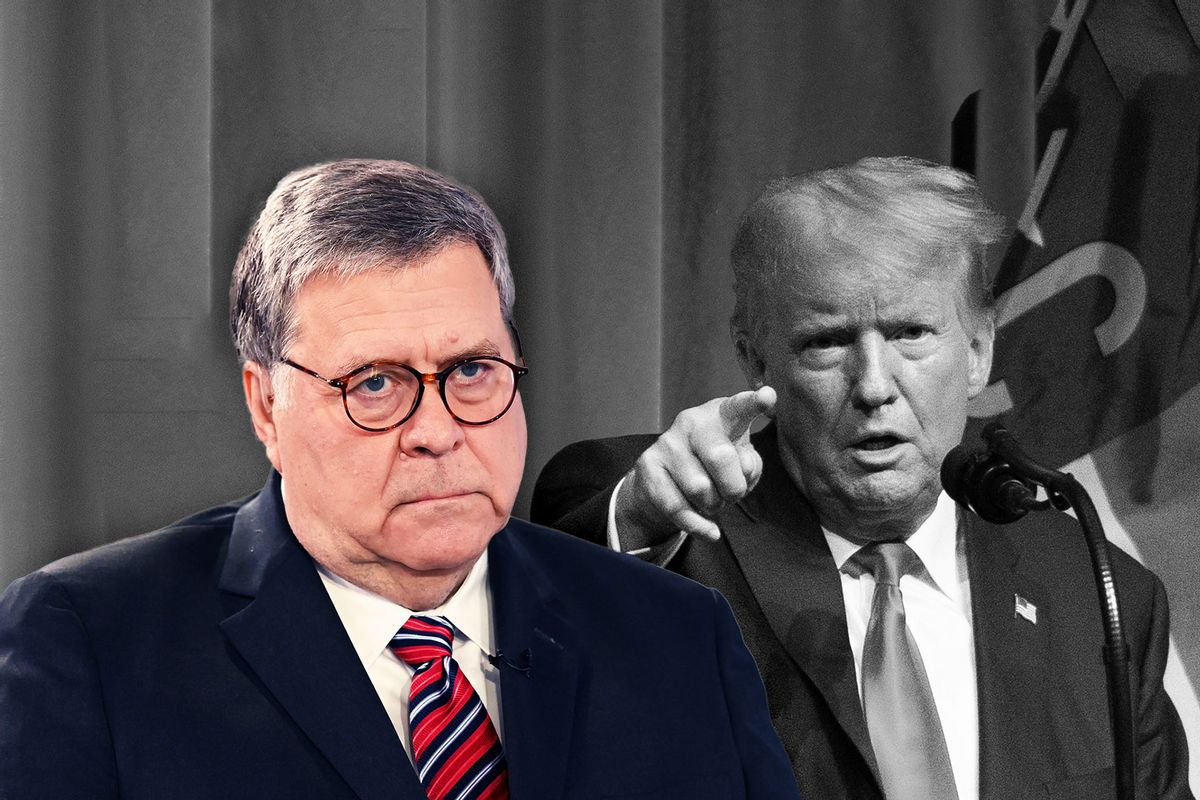 Donald Trump ripped into former Attorney General Bill Barr after his former top law enforcement official called the ex-president's latest indictment "very, very damning."
Trump last week was dealt his second criminal indictment in months, following a yearlong probe into whether he had illegally hoarded national security documents at his Mar-a-Lago resort in West Palm Beach, Florida. 
Trump leaked news of the 37-count federal indictment to his social media platform, Truth Social, ahead of confirmation from more prominent media outlets, calling the investigation a partisan witch hunt and declaring "I AM AN INNOCENT MAN!" 
Barr on Sunday told Fox News that the notion of "presenting Trump as a victim here, a victim of a witch hunt, is ridiculous."
"Yes, he's been a victim in the past," Barr added. "Yes, his adversaries have obsessively pursued him with phony claims. And I've been at his side defending against them when he is a victim, but this is much different." 
Barr also explicated Trump's false claims that presidential power permitted him to retain documents at Mar-a-Lago.
"It started out under the Presidential Records Act and the archives trying to retrieve documents that Trump had no right to have, but it quickly became clear that what the government was really worried about were these classified and very sensitive documents," Barr said. "I was shocked by the degree of sensitivity of these documents and how many there were, frankly."
Trump clapped back at Barr on Truth Social.
"Virtually everyone is saying that the Indictment is about Election Interference & should not have been brought, except Bill Barr, a 'disgruntled former employee' & lazy Attorney General who was weak & totally ineffective," Trump wrote, despite even other typically pro-Trump legal experts acknowledging that the indictment is "extremely damning."
"He doesn't mean what he's saying, it's just MISINFORMATION," Trump claimed. "Barr's doing it because he hates 'TRUMP' for firing him. He was deathly afraid of the Radical Left when they said they would Impeach him. He knows the Indictment is Bull…. Turn off FoxNews when that 'Gutless Pig' is on!
---
Want a daily wrap-up of all the news and commentary Salon has to offer? Subscribe to our morning newsletter, Crash Course.
---
Trump continued to lash out at his former attorney general in a Sunday interview with longtime adviser Roger Stone.
"This thing is a disgrace," the former president said of his most recent indictment. "And virtually everybody other than a lowlife like Bill Barr, who, as you know, I terminated because he was gutless. He wouldn't do what you're supposed to do. But everybody says this is a disgraceful indictment."
Stone also asked Trump if felt that Barr was "working for the Deep State," referring to a Republican-led conspiracy theory about an alleged secret network of government officials.
"I think he's a coward who didn't do his job," Trump said. "He was desperately afraid of being impeached. You remember when the Democrats were saying we're going to impeach Bill Barr. There was no reason to impeach him. But they were going to impeach Bill Barr and he was petrified of being impeached. I said, 'I got impeached twice and my poll numbers went up.' Not so bad. But you know, he was a coward and unfortunately we have to live with it."
Trump continued by calling Barr "weak" and taking a shot at his weight.
"And now he goes and he sits down — if they can find a chair for him, because it's not that easy — and he sits down and he just bloviates and it's disgraceful," Trump said. "It's actually unpatriotic. It's so bad for our country, just so bad. But, you know, he's got a lot of hatred."
"When I talk about a slob like Bill Barr, just a stupid person in a lot of ways, this is really not the standard," Trump said. 
Read more
about the Trump indictment