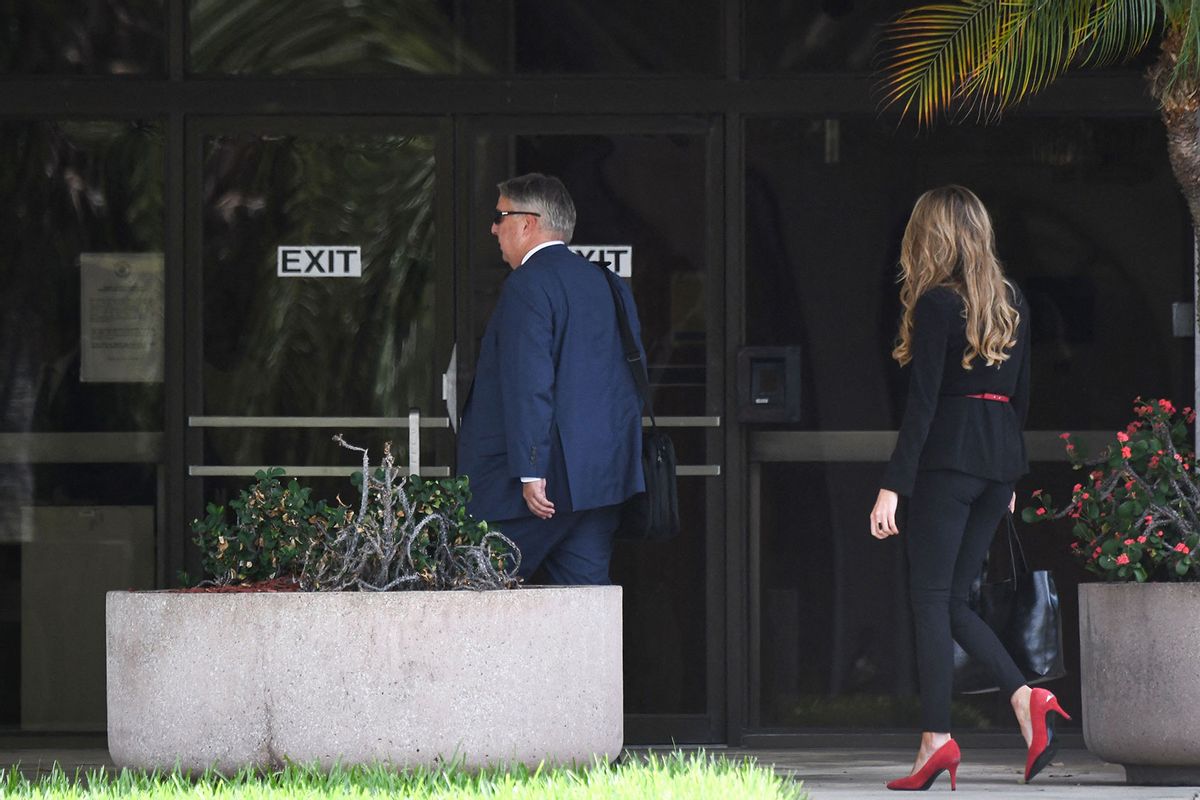 Attorney Jim Trusty on Friday withdrew from former President Donald Trump's lawsuit against CNN just days after abruptly quitting his Mar-a-Lago legal team hours after charges were announced, Politico reports. 
Trusty notified the U.S. District Court of Southern Florida of his withdrawal from the former president's pending defamation lawsuit against CNN in a signed filing. The suit, filed in October, alleges the network disparaged Trump by calling him a "'racist,' 'Russian lackey,' 'insurrectionist,' and ultimately 'Hitler.'"
"Mr. Trusty's withdrawal is based upon irreconcilable differences between Counsel and Plaintiff and Counsel can no longer effectively and properly represent Plaintiff," Trusty wrote in the filing.
The withdrawal comes after Trusty and fellow Trump lawyer John Rowley resigned from Trump's legal team shortly after news broke last Thursday of Trump's indictment by a Florida grand jury in the Justice Department's investigation into his handling of classified materials post-presidency and alleged attempts to obstruct government efforts to reclaim them.
In a joint statement released hours after the indictment, the lawyers said that they would no longer be representing Trump in the classified documents case or the Jan. 6 investigation. 
"Now that the case has been filed in Miami, this is a logical moment for us to step aside and let others carry the cases through to completion," they wrote. "We have no plans to hold media appearances that address our withdrawals or any other confidential communications we've had with the President or his legal team."
---
Want a daily wrap-up of all the news and commentary Salon has to offer? Subscribe to our morning newsletter, Crash Course.
---
Shortly before his resignation, Trusty appeared on CNN and alleged that federal prosecutor Jay Bratt had "extorted" Trump aide Walt Nauta's attorney, Stanley Woodward, in the probe by bringing up Woodward's pursuit of a judgeship in D.C.
"He, apparently along with five other people in his presence from DOJ, extorted a very well respected, very intelligent lawyer from Washington D.C., saying essentially if you want this judgeship that's on Joe Biden's desk, you have to flip your guy to cooperate against the president of the United States," Trusty told anchor Kaitlan Collins.
When Collins asked if Trusty had any evidence of the claim, Trusty said there was sworn testimony. Collins responded with skepticism: "That's what you're saying… We don't have any evidence of that ourselves."
The dwindling of his legal team puts Trump in a sensitive position, considering recent reports of his search to hire additional representation, namely a national security attorney who can attain a security clearance. His team's lack of a specialist leaves him without an expert who can help him navigate Espionage Act charges, which are included in the 37 counts outlined in the indictment alongside allegations of obstruction and making false statements.
"The issue isn't navigating the Espionage Act charges themselves, which are relatively straightforward; the issue is navigating the Classified Information Procedures Act (CIPA) and knowing how to exploit all its procedural mechanisms to the client's benefit," Adam Kamenstein, a former federal prosecutor and current partner with Adams, Duerk & Kamenstein, told Salon.
Trump appeared in court for his arraignment Tuesday with two of his remaining lawyers handling the documents case: Todd Blanche and Christopher Kise. The former president is also expected to add an additional law firm to his defense team.
Read more
about Trump's legal woes