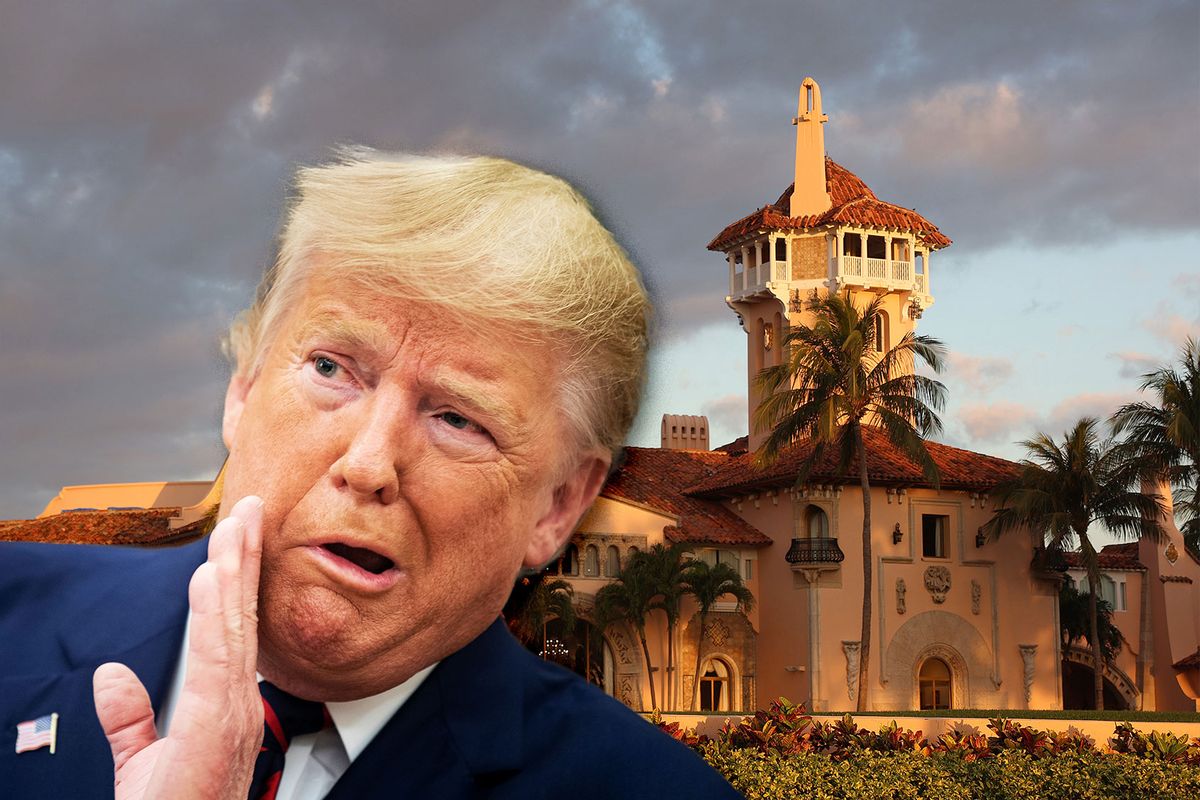 Federal prosecutors have informed former President Donald Trump's lawyers that he is the target in the special counsel's investigation into his potential mishandling of classified documents at his Mar-a-Lago estate, two sources with knowledge of the matter told The New York Times.
Though it is unclear when Trump's legal team received the notice from prosecutors, the move suggests that their investigation is coming to a close and is "the clearest signal yet that the former president is likely to face charges in the investigation," The Times said.
Special counsel Jack Smith's inquiry into the former president examined whether he had violated laws dictating the handling of classified materials and obstructed the government's attempts to retrieve them, according to court papers filed last year.
Trump was found to have retained more than 300 classified documents in his Florida resort club after leaving office, many of which were retrieved in an FBI search of the property two months after his attorneys certified they had not found anymore in their own thorough effort.
Alerting a potential defendant that they are a target of a criminal investigation often precedes the filing of formal charges and gives the proposed defendant's legal team an opportunity to present their side of the events in a meeting with prosecutors, according to The Times.
Three of Trump's lawyers — Lindsey Halligan, James Trusty and John Rowley — met with the special counsel and the senior career official in the deputy attorney general's office on Monday in what some have called a final effort to sway them against indicting the former president and to allege prosecutorial misconduct.
On Wednesday, a former Trump spokesperson, Taylor Budowich, testified before the new Miami grand jury hearing evidence in the case and was asked about a statement Trump had drafted early last year saying that he had returned all of his government materials after the National Archives retrieved 15 boxes.
Budowich reportedly confirmed that the statement had never been issued as several of Trump's aides were not comfortable releasing a comment they weren't confident was true, a person close to Trump told The Guardian. 
After Budowich's appearance, Trump ally John Solomon published an article claiming that prosecutors were "imminently" moving toward indicting the former president. 
When asked by a Times reporter on Wednesday, Trump denied being told that he would be indicted and said that the Justice Department had not personally told him that he was a target.
---
Want a daily wrap-up of all the news and commentary Salon has to offer? Subscribe to our morning newsletter, Crash Course.
---
Shortly afterward, Trump fired off in all caps on Truth Social about the claims.
"No one has told me I'm being indicted, and I shouldn't be because I've done NOTHING wrong, but I have assumed for years that I am a Target of the WEAPONIZED DOJ & FBI, starting with the Russia, Russia, Russia HOAX, the "No Collusion" Mueller Report, Impeachment HOAX #1, Impeachment HOAX #2, the PERFECT Ukraine phone call, and various other SCAMS & WITCH HUNTS," he wrote. "A TRAVESTY OF JUSTICE & ELECTION INTERFERENCE AT A LEVEL NEVER SEEN BEFORE. REPUBLICANS IN CONGRESS MUST MAKE THIS THEIR # 1 ISSUE!!!"
He continued his online rant with a bribery allegation late Wednesday night, seemingly echoing Solomon's report that the Justice Department refused to delay an indictment to examine Trump's lawyer's claims that an unnamed DOJ prosecutor offered a judgeship to a witness in the case.
"SHOCKING! ONE OF THE TOP PROSECUTORS AT THE DEPARTMENT OF INJUSTICE WAS REPORTEDLY SO OBSESSED WITH "GETTING TRUMP" THAT HE TRIED TO BRIBE & INTIMIDATE A LAWYER REPRESENTING SOMEONE BEING TARGETED & HARASSED TO FALSELY ACCUSE & FABRICATE A STORY ABOUT PRESIDENT DONALD J. TRUMP & A CRIME THAT DOESN'T EXIST," Trump raged. "THIS CRIMINAL & SALACIOUS ACT FROM WITHIN THE DOJ HAS BROUGHT SHAME & EMBARRASSMENT TO THIS ONCE GREAT & RESPECTED INSTITUTION. BECAUSE OF THIS, THERE IS NOW EXTREME TURMOIL INSIDE THE DOJ….."
He alleged more misconduct on the department's part in a third Truth Social Post: "Page 2. A TOP OVERZEALOUS & DISHONEST DOJ PROSECUTOR OFFERED A WITNESS' LAWYER AN IMPORTANT "JUDGESHIP" IN THE BIDEN ADMINISTRATION IF HIS CLIENT "FLIPS" ON PRESIDENT TRUMP, WHO HAS DONE NOTHING WRONG! THE HIGHLY RESPECTED LAWYER WAS INCENSED & DISGUSTED AT THIS CORRUPT & ILLEGAL OFFER. THE FAKE "CASE" AGAINST ME MUST BE IMMEDIATELY DROPPED, AND THE INSPECTOR GENERAL SHOULD LAUNCH AN INVESTIGATION INTO THIS & THE MANY OTHER ALL TOO OBVIOUS WRONGDOINGS & CRIMES TAKING PLACE AT THE DOJ & FBI!"
The "target letter" development in Trump's Mar-a-Lago case comes after prosecutors obtained evidence of criminal activity at the resort club and decided that they will file any charges in the southern district of Florida rather than Washington, sources familiar with the matter told The Guardian.
In this probe, the special counsel and prosecutors may have determined from evidence that Trump was still president when classified materials were brought to Mar-a-Lago, the news outlet writes, "meaning his 'unlawful possession' only started in Florida."
Read more
about the Mar-a-Lago probe