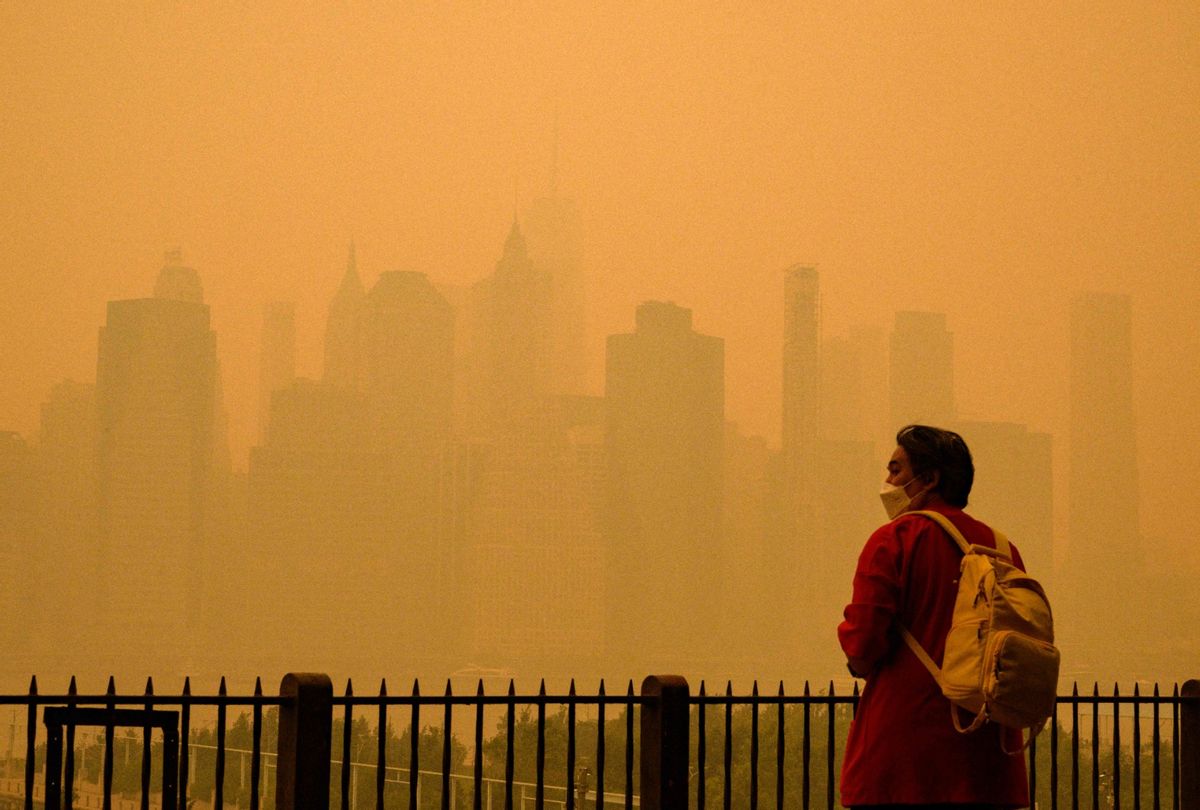 Last week's hemispheric wildfire smog exposed just how unprepared we are for the climate crisis that's already upon us particularly when it comes to the millions of essential workers that have no choice but to work outdoors often without access to healthcare or health insurance.
By Wednesday June 7, 75 million Americans were under an air quality alert with New York City's air quality index hit 484 which is considered as "hazardous". According to the American Lung Association anything above a 300 reading "everyone should avoid all physical activity outdoors."
In the United States, where our founders found nature in the form of its wilderness so abundant, we've exploited our air, water, and earth-bound resources as if they were limitless despite uncomfortable evidence to the contrary.
Even now, as the limits in terms of breathable air become evident, commercial interests will do all they can to push back against any attempt to regulate their unfettered exploitation of these resources in the courts, in Washington and in our state capitals where their campaign donations buy access.
Last week's Canadian wildfire plume was a continental scale disaster certainly visible from space that required a bi-lateral strategy as well as a cohesive and coherent state, county and municipal response that focused on mitigating the impact on the essential workforce as well as the general public.
NJ STATE WORKERS HOME EARLY
Here in New Jersey, Governor Phil Murphy sent state workers home early on June 7 "due to worsening air quality conditions" and was accused by a 101.5 host of being in an "alternate reality" because "everyone else … seemed to be dealing with it".
Under this worldview, public sector employers should make sure that their occupational health standards do not exceed the non-existent ones throughout the rest of the economy.
Murphy's action for state workers contrasts quite favorably from the essential worker's perspective when compared to other public employers in the region. Across the Hudson, New York City had a disjointed response with some municipal agencies being pro-active in trying to protect those with pre-existing conditions in their workforce while others had to be prompted by their labor unions.
You think we could expect more from a city that continues to pay such a dear price for its failure to protect hundreds of thousands of first responders and survivors from the air quality fallout from the 9/11 WTC attack and clean up.
On June 7th the United For ALICE project, which advocates for low-income households, tweeted that it was workers in this cohort that had to work outside that were "especially at risk" if they suffered with chronic health conditions and inadequate health insurance coverage.
Charlene Obernauer, executive director of the New York Committee for Occupational Safety and Health, said that even some union truck drivers were working without the proper PPE in our region during the smog alert when officials were saying the general public should shelter in-doors.
"Everything that was put out was about going indoors but what if your work was outdoors?" Obernauer asked. "And we are not even scratching the surface of what the non-union workforce is experiencing on the job. This is exactly the same group of people that responded throughout the pandemic who were now working outside without protection and without any information about what they should be doing, how to stay safe and it's the same issue with air quality while not having access to the proper PPE."
NOT A ONE OFF
"This is not a one-time crisis," said Marcy Goldstein-Gelb, co-executive director of National Conference on Worker Safety and Health. "Dangerous pollution in the air we breathe will be a fact of life for years to come, because climate change has greatly increased the occurrence of wildfires and other extreme weather events."
"Right now, only one of 50 states — California — has specific safety rules which protect workers from wildfire smoke," said Goldstein-Gelb. "We urgently need nationwide, federal standards to protect workers from smoke, heat stress and extreme weather events. Paid sick leave, a basic and humane standard for all workers, is more important than ever at a time when daily life and work activities are exposing hundreds of millions of people to the risk of respiratory and cardiovascular diseases."
Three years after the onset of the COVID pandemic which claimed the lives of thousands of healthcare professionals, first responders, transit personnel and other essential workers, labor was once again expected to just suck it up preferably with a mask on if they had one.
The American Postal Workers Union tweeted June 8 that "air quality in many states on the East Coast is deteriorating rapidly due to the wildfires in Canada. Remember, all employees voluntarily wear a face mask at any time."
At that point, the White House estimated that the number of Americans under an Air Quality Index Alert and "experiencing the effects of smoke resulting from devastating wildfires burning in Canada" had grown to more than 100 million.
In President Biden's June 8 statement, he went on to describe how he was directing "the National Interagency Fire Center to respond promptly to Canadian requests for additional firefighters and fire suppression assets such as air tankers."
By that point there were over 425 active wildfires in Canada and nearly 10 million acres had burned, 17 times the 20-year average, according to the White House which said that since last month it had sent 600 state and federal firefighters, roughly one and a fraction of a firefighter per fire.
The scale seemed off-like using your garden hose on a house fire.
President Biden's statement recounted that he had asked Secretary of Transportation Buttigieg to keep him "informed about his progress in ensuring that we proactively manage the air traffic implications of the deteriorated air quality based on lessons learned from prior incidents."
In our region, the smog had become so pervasive that officials at Newark Liberty and LaGuardia the FAA delayed incoming flights due to poor visibility.
Also, on the list of agencies President Biden looped in were the Environmental Protection Agency and the Centers for Disease Control who were going to offer detailed recommendations on how Americans could protect themselves from the effects of wildfire smoke.
Noticeably absent in the White House statement was any reference to the U.S. Department of Labor.
SMOG OF WAR
On June 9th the Department of Labor announced on its website that the Occupational Safety and Health Administration was "offering employers important information to help protect outdoor workers from exposure to wildfire health hazards."
"Wildfire smoke exposure can create major health hazards for outdoor workers. These hazards can be reduced with knowledge, safe work practices and appropriate personal protective equipment," said Assistant Secretary for Occupational Safety and Health Doug Parker. "I urge all employers to have plans and preparations in place to protect workers by preventing or minimizing exposure to hazardous air quality."
"The most significant hazard from wildfire smoke is exposure to particulate matter, tiny particles of partially burned material less than 2.5 micrometers in diameter, that can enter the lungs and even the bloodstream and is linked to serious health problems, including lung, heart and kidney disease," the DOL explained. "Workers exposed to smoke-polluted air may experience heat stress, eye, and respiratory tract irritation, and suffer from exposure to other respiratory hazards caused by hazardous substances such as heavy metals entering the atmosphere. Employers should prepare for and plan to implement procedures to reduce exposures to smoke when necessary."
The deadly air had been hanging around for a few days by then.
Failure to anticipate this clear and present danger to the outdoor workforce can have particularly serious ramifications for the millions of Americans in this cohort who have pre-existing respiratory issues like asthma and heart disease. But as we saw with COVID, we really don't have our arms around these issues particularly in the communities where access to healthcare is problematic where essential workers are often concentrated.
Wellness of this workforce on and off the job has long been neglected and is just not anybody's responsibility except for the individual workers themselves. And perhaps most importantly we don't know how many of those essential workers toiled in places like meat packing plants or in other critical industries where they also lacked health insurance and so were really off the radar.
HIDDEN FIGURES
Consider that the U.S. is just four percent of the world's population but recorded 12 percent of the planet's COVID deaths and that the federal government has no real idea of how many of the 1.12 million Americans who died from COVID were infected where they worked and in turn spread the deadly disease on the job and at home.
And quite frankly, with the way corporations run the show in Washington and our state capitals, there's very little appetite to address the intersectionality between our for-profit healthcare system and the vulnerability of the underinsured essential workforce and the spread of infectious disease.
Addressing it would offend all the most powerful and deep pocketed interests that profit off of the 
medical industrial complex that has a death grip on our politics.
The only government data on occupational COVID deaths was kept by the Centers for Medicare and Medicaid Services for nursing homes. Since June 2020, 3,009 nursing home workers have died from COVID with the country averaging 18 nursing home worker COVID deaths per week, according to the AFL-CIO research report.
"The true impact of COVID-19 infections due to workplace exposures is unknown," the AFL-CIO asserted in its recently released annual report Death on the Job: The Toll of Neglect, "Limited data show that more than 1.5 million nursing home workers have been infected."
Despite decades of progress in worker safety since the creation of the federal Occupational Safety and Health Administration in 1970, there's troubling evidence of deadly backsliding particularly for the nation's Black and Latino workers, according to a comprehensive analysis from the AFL-CIO, the nation's largest labor federation.
In 2021, the fatality rate for Black workers spiked from 3.5 to 4.0 per 100,000 workers with more than 650 dying on the job, the most in nearly two decades," according to the AFL-CIO's report. 
"Latino workers have the greatest risk of dying on the job, with a fatality rate at 4.5 per 100,000 workers that has grown by 13 percent over the past decade," according to a press release that accompanied the report released to mark Worker Memorial Day on April 28. "There was also a slight uptick in deaths for Latino workers in 2021" with the overwhelming majority of the 1,130 who died being immigrants.
Currently, the federal government spends just $3.99 per worker on workplace safety compliance and "underreporting is widespread" with fewer than 2,000 state and federal inspectors to inspect and monitor the country's almost 10.8 million workplaces. As a consequence, the AFL-CIO reports, with only one inspector for every 77,334 workers, it would take 190 years for OSHA to inspect each site over which it has jurisdiction once.
Now, consider what the future holds for these populations that already have a much higher incidence of chronic diseases like asthma in a world where hazardous Air Quality Index days become more common. Throw in the 21st century mix infectious airborne disease outbreaks and failure to provide healthcare universally and you have public health ramifications we can't afford to ignore.
NAKED ON THE FRONTLINES
We already know from a 2021 study done by researchers with the National Institute for Occupational Safety and Health (NIOSH) that workers in "three broad occupation groups—food preparation and serving; building and grounds cleaning and maintenance; and construction trades—had significantly lower levels of health care access for all four measures, compared with workers in general."
"Lack of health insurance and underinsurance were common among subsets of essential workers," the NIOSH researchers concluded. "Limited access to health care might decrease essential workers' access to medical testing and needed care and hinder their ability to address underlying conditions, thereby increasing their risk of severe outcomes from some infectious diseases, such as COVID-19. Improving access to health care for all workers, including essential workers, is critical to ensure workers' health and workforce stability."
Dr. Edward Zuroweste is a physician and the founding director of the Migrant Clinicians Network, an international non-profit that serves migrant and immigrant workers. He's concerned that there's not been sufficient study done on the impacts on the health of the essential workforce that didn't have the option of working remotely during the COVID pandemic.
"It is interesting that the country seems to have moved on — everybody's just so tired of hearing about COVID that they don't want to do a deep dive into looking at how we can prevent this from happening the next time and that's really my biggest concern right now," Zuroweste said. "This is not the last pandemic. So, what have we done to make ourselves more resilient for the future? And unfortunately, I don't see what we've done to do better next time … it seems like the workers are dispensable like a commodity, especially essential workers."
Zuroweste notes that in working with migrant farm workers as well as with itinerant natural disaster cleanup crews he's flagged lack of access to basic healthcare as a major occupational health risk. "We are a country that is showing that without having universal affordable healthcare available causes deaths in the people that can't get it," Zuroweste said.
How much more at risk is this workforce upon which we so rely in the new era of hemisphere wide hazardous atmospherics? Indeed, how much more at risk are the tens of millions of essential workers who are also citizens? There's a real exposure here.
UNION ELVIS LEFT THE BUILDING?
Even as risks to workers grow exponentially, unions represent just 10 percent of the American workforce, down dramatically from the 1950s when roughly a third of workers were represented. Millions of workers are increasingly part of a so-called gig economy where they work for entities that don't pay into social safety net protections like social security or disability.
When these workers fall ill or are disabled the corporations that profited from their labor are insulated from liability but not society.
Almost 100 years ago, under the leadership of President Franklin D. Roosevelt, Congress passed the Social Security Act as a safety net for the vagaries of market capitalism. Surely an increasingly hostile climate requires a similar reassessment.
In 1944, toward the end of his presidency, legal scholar Cass R. Sunstein tells us FDR was still thinking big with what he wanted framed as a second economic Bill of Rights for the American people that would be "a new basis of security and prosperity that can be established for all — regardless of station, race, or creed."
Among the list of economic rights FDR proffered was the "right to adequate medical care and the opportunity to achieve and enjoy good health as well as "the right to adequate protection from the economic fears of old age, sickness, accident, and unemployment."
Writing in 2004, Sunstein observed the general public was "increasingly distressed by social insecurity, perhaps above all that of health care under laissez-faire auspices and that "a generalized right to decent health care can attract, and is attracting, widespread support. There is a growing concern that tens of millions of working people do not earn enough money to support their families."
Last year, in a survey conducted by the Kaiser Family Health Foundation almost half of U.S. adults surveyed said they were having difficulty affording health care costs. "About four in ten U.S. adults say they have delayed or gone without medical care in the last year due to cost, with dental services being the most common type of care adults report putting off due to cost," according to KFH.
The U.S. for profit health care system that's rooted in scarcity consistently ranks as the most expensive in the world with the poorest outcomes when compared to similarly situated nations.
It would seem having a healthy workforce that's free of infectious disease would be fundamental to a robust economy and protecting public health but that's not what our current system delivers.
In the era of infectious disease pandemics and hazardous air quality from a climate in crisis, universal healthcare needs to be seen as a fundamental labor right.