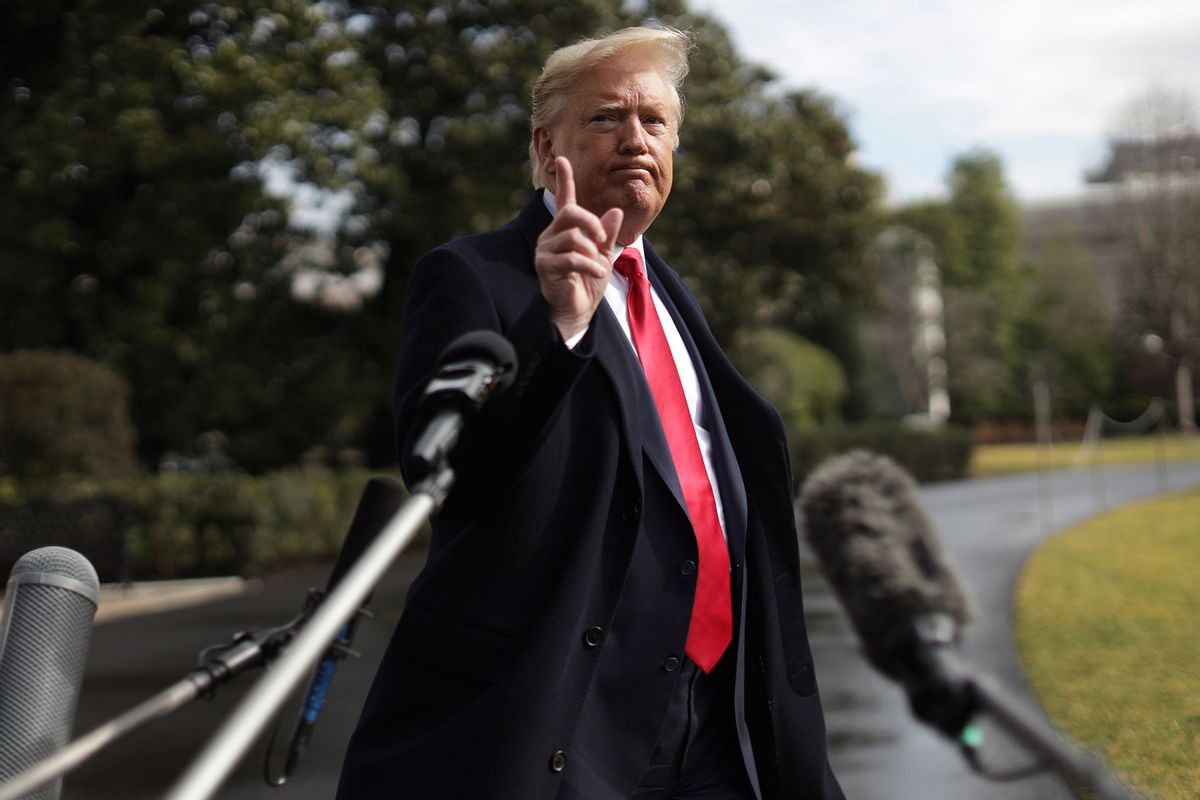 Jim Trusty, one of Donald Trump's attorneys in the Mar-a-Lago case, abruptly resigned from his defense team just hours after he appeared on CNN claiming that federal prosecutors "extorted" an attorney in the classified documents probe.
Trusty, who appeared on CNN Thursday evening after the former president was indicted by a federal grand jury in Miami, went after federal prosecutor Jay Bratt, the Justice Department's counterintelligence chief, who last year urged a court to seal the affidavit that supported a search of Mar-a-Lago that uncovered classified material.
"I have a theory that maybe some of the outrageous misconduct has affected the equation in some other case, a potential target," Trusty said. 
His allegations involved discussions concerning the lawyer representing Trump's valet, Walt Nauta. Trusty claimed that federal prosecutors – while attempting to gather potential witnesses to strengthen their case against Trump – brought up the fact that Nauta's lawyer, Stanley Woodward, had applied for a judgeship. 
In a conversation with Woodward, Bratt mentioned that the lawyer, who had an extensive background, had pursued a judgeship in D.C. Trusty claimed that the prosecutors used this information as a means of applying "extortion" pressure, simply by introducing the topic of Woodward's career aspirations.
"He, apparently along with five other people in his presence from DOJ, extorted a very well respected, very intelligent lawyer from Washington D.C., saying essentially if you want this judgeship that's on Joe Biden's desk, you have to flip your guy to cooperate against the president of the United States," Trusty said.
When CNN anchor Kaitlin Collins questioned if he had any evidence supporting such claims, Trusty said that there was sworn testimony to which Collins responded "That's what you're saying… We don't have any evidence of that ourselves."
"Mr. Trusty's statements are part of a pattern of President Trump and his associates raising so-far unsupported allegations about prosecutorial misconduct," Temidayo Aganga-Williams, partner at Selendy Gay Elsberg and former senior investigative counsel for the House Jan. 6 committee, told Salon. "It is a familiar tactic that if a defendant doesn't have a strong defense inside the courtroom, he takes his case to the public outside of the courtroom."
Trusty's recent claims shocked legal experts, who criticized him for discussing his client's indictment on national television.
"Absolutely insane that a defense lawyer would go on national television to discuss an indictment of his client that he hasn't seen and then speculate that a particular person is going to cooperate with the government," tweeted attorney George Conway. "Totally nuts."
National security attorney Bradley Moss also questioned "why on earth" Trusty appeared on TV.
"Trump's gameplan is to be out there," William "Widge" Devaney, former assistant U.S. attorney in the District of New Jersey, told Salon.
He referred to previous comments Trump and his allies have made accusing "the deep state" of coming after the former president and calling other investigations into him a "witch hunt"
"So keeping that theme rolling along doesn't surprise me and I think we've seen this coming from his lawyers before as well," Devaney said.
---
Want a daily wrap-up of all the news and commentary Salon has to offer? Subscribe to our morning newsletter, Crash Course.
---
The indictment, filed by the office of special counsel Jack Smith, came after a yearlong investigation into whether Trump had illegally retained national security documents at Mar-a-Lago and then obstructed the government's efforts to reclaim them.
The charges against Trump include willfully retaining national defense secrets in violation of the Espionage Act, making false statements and a conspiracy to obstruct justice, two sources told The New York Times.
Trump also confirmed on his social media platform Truth Social that he had been indicted saying: "The corrupt Biden Administration has informed my attorneys that I have been Indicted, seemingly over the Boxes Hoax."
Hours after his indictment, Trusty and fellow Trump attorney John Rowley resigned from his defense team and issued a joint statement saying they would no longer be representing him on either the indicted case or the January 6 investigation.
Trump also shared the announcement on Truth Social writing that Trusty and Rowley were up against "a very dishonest, corrupt, evil, and 'sick' group of people, the likes of which has not been seen before."
Instead, he added, he will be represented by Todd Blanche, a defense lawyer he hired in April after being indicted in Manhattan, and a firm that will be named later.
"It wouldn't be totally uncommon If Trump were to have lost faith in his counsel because he did, in fact, get indicted," Devaney said. But he added that it's unusual for defense attorneys to "take a client up through indictment and walk away because they got it."
This is the second criminal indictment against Trump, who wrote on his social media platform that he was scheduled to be arraigned in federal court in Miami at 3 p.m. on Tuesday.
Earlier this year, Trump was indicted in New York on charges relating to an alleged hush-money payment made to adult-film actress Stormy Daniels prior to the 2016 election. 
Smith is also examining Trump's attempts to overturn the results of the 2020 election and his conduct related to the Jan. 6 riot at the Capitol. Fulton County District Attorney Fani Willis is investigating Trump's alleged role to subvert the election results in Georgia.
"There's a lot of interesting things that we'll see kind of develop over the next couple of months, but I am interested in seeing the specifics of the charge," Devaney said. "We're in for a long and interesting ride in Georgia if it happens, and of course, you've got January 6."
Read more
about the Trump indictment