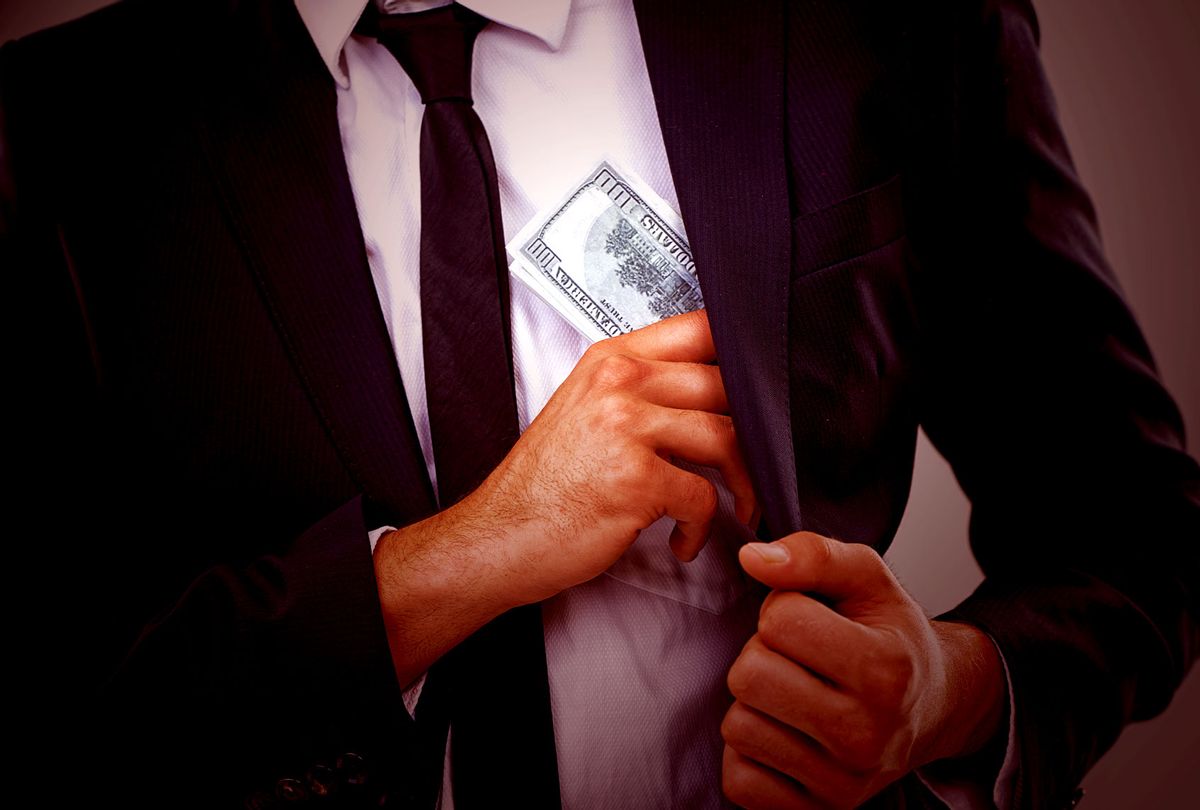 An analysis released Tuesday shows that executives at some of the top publicly traded companies in the United States aren't exactly being coy about using their pricing power to hike costs for consumers and boost revenues and profits—which are then dished out to wealthy shareholders.
The progressive watchdog group Accountable.US noted in its new report that "some of the largest general consumer S&P 500 companies have admitted to benefiting from increased prices as their net profits increased year-over-year and they rewarded shareholders with billions in handouts."
The report quotes directly from the executives of Kimberly-Clark, PepsiCo, General Mills, Tyson Foods, and other major U.S. companies.
Nelson Urdaneta, Kimberly-Clark's chief financial officer, said during the company's earnings call in April that "pricing has continued to be the big driver behind our top-line growth over the last three quarters."
The company, which sells consumer products such as toilet paper and diapers, saw its [fiscal year] 2022 net income increase 6.3% year-over-year to nearly $2 billion and rewarded shareholders with $1.7 billion in stock buybacks and dividends," Accountable.US found.
On Tyson's earnings call in February, chief financial officer John Tyson hailed the "significant pricing power of our portfolio, with a year-over-year increase of 7.6%." Tyson stressed that the company will "continue to support and grow the dividend for our shareholders."
According to Accountable.US, Tyson "saw its net income increase from $3 billion in FY 2021 to over $3.2 billion in FY 2022 and rewarded shareholders with $1.35 billion in handouts—$652 million more than the previous year, including a 948.5% increase in stock buybacks."
"Corporate greed is a stubborn thing and requires serious action from Congress."
The new analysis came shortly after the Bureau of Labor Statistics released data showing that the consumer price index rose 4% in May compared to the previous year, the smallest increase since 2021.
Further evidence of cooling inflation sparked a fresh round of calls for the Federal Reserve to stop hiking interest rates before it pushes the economy into recession. The Fed is widely expected to announce Wednesday that it is pausing rate increases for the month of June, but it could resume the hikes as soon as the following month.
"The Fed should not only pause tomorrow but pause going forward and see how these 10 rate hikes play out," Rakeen Mabud, chief economist at the Groundwork Collaborative, said in an appearance on Yahoo Finance Tuesday morning.
Liz Zelnick, director of economic security and corporate power at Accountable.US, said in a statement that "after an unprecedented 10 interest rate hikes in a row, it's clear the corporate profiteering epidemic will persist no matter how many times the Fed doubles down."
The New York Times reported late last month that even as the prices of key raw materials have fallen in recent months, "many big businesses have continued raising prices at a rapid clip" and signaled that "they do not plan to change course"—which helps explain data showing that U.S. corporate profits rose to a record level in the first quarter of 2023.
"PepsiCo has become a prime example of how large corporations have countered increased costs, and then some," the Times noted. "Hugh Johnston, the company's chief financial officer, said in February that PepsiCo had raised its prices by enough to buffer further cost pressures in 2023. At the end of April, the company reported that it had raised the average price across its snacks and beverages by 16% in the first three months of the year. That added to a similar price increase in the fourth quarter of 2022 and increased its profit margin."
Zelnick said Tuesday that "higher interest rates haven't stopped S&P companies, especially in the Big Food industry, from inflating consumer prices despite reporting billions in extra net earnings and over a trillion dollars in giveaways to wealthy investors."
"Corporate greed is a stubborn thing and requires serious action from Congress," she added. "The Fed has not seen an adequate return on its investment in a policy that has already created fissures in the economy that could lead to recession. It's just not worth it."