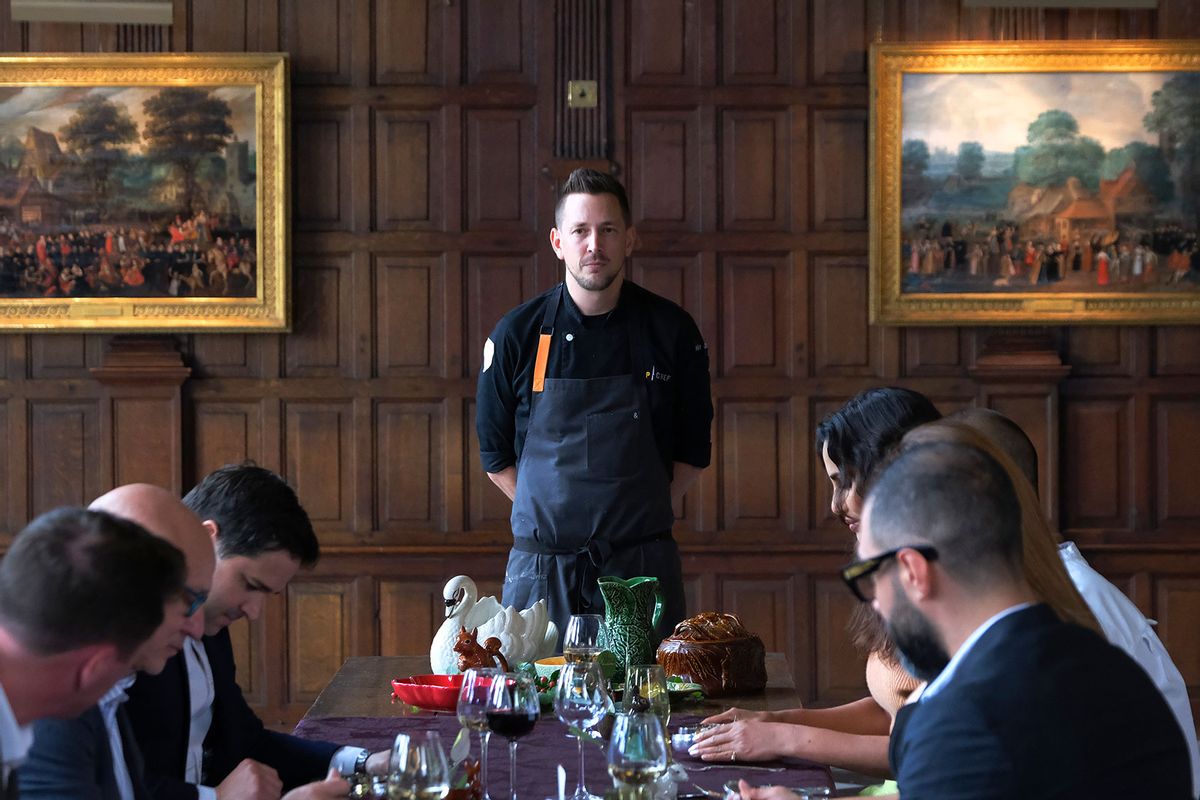 I think two things become clear with the latest episode of "Top Chef."
Many seasons of reality TV can tend to slightly sputter towards the end — and this is not exclusively a "Top Chef" issue — with the competitors generally experiencing fatigue as the competition comes to a close. This is evident in this episode (sans Buddha, of course); which is the first time this season that this issue seems to be clearly coming through — even from Ali, which is surprising.
That brings me to my second point: Buddha is truly such a force. Four wins in a row? It's important to note that Buddha's performance the past few weeks alone is something special; it's one of those toss-ups in which you can try to root against the clear front-runner, but if he does lose, it'd almost feel like he was cheated out of a win that is rightfully his.
Back during "Top Chef Texas," I remember reading Tom Collicchio saying that Paul Qui was so far away and ahead of the other chefs that editing had to get a little creative in order to position Sarah, Beverly or Lindsay as actually viable winner candidates; Qui apparently ran away with the competition sometime midseason.
Buddha is truly such a force. Four wins in a row?
At this point, it's feeling the same for Buddha.
Buddha Lo in "Top Chef" (David Moir/Bravo)
Both challenges this episode are enjoyable— the jellies (essentially various ways of using gelatin) and molds QuickFire and the Trompe L'oeil ("deceive the eye") elimination challenge — but again, the episode overall feels a little flat for me. Also, I realize during the final "Last Chance Kitchen" battle that I was primarily rooting for Charbel, so that was a bit of a bummer, too, since he doesn't come back. An immediate return from an eliminee – which is what Sara does after packing up her knives with Amar after failing the last episode's Wellington challenge – is never as fun or satisfying as someone trudging their way through round after round of "Last Chance Kitchen" and then making a triumphant return, but I digress. 
Timing and chemistry are key in the Jellies challenge because the cheftestants must create something that sets for an hour and has just the right amount of jiggle while still maintaining its form. And yes, molds are required, which makes Buddha, king of the molds, happy and inspired.
Sadly Gabri's dulce de leche panna cotta never sets, and that makes the entire dish appear unappetizing. But the others impress with their attempts, including Ali's gorgeous dark chocolate cremeaux with black currant sauce and Sara's use of fennel powder and black pepper to accent her buttermilk and strawberry-basil jelly.
I will note that I love Tom's QuickFire dish; I'm a sucker for popcorn incorporated into savory dishes. I'm disappointed to hear it singled out as a "bottom" dish because the goat cheese panana cotta – adorned with beet root discs, cherry jelly, cider gel and popcorn – looks and sounds sensational. 
Unsurprisingly, Buddha kills it with his saffon ice cream and orange blossom gel and panna cotta. In a twist, he uses the "orange blossom" flower mold for the ice cream that creates a stunning impact when the dish's cover is removed. This win earns him an extra 30 minutes for his elimination challenge – and with his ambitious vision, he will need it.
Cheftestants falter a bit with their Trompe L'oeil dishes
The challenge is to fool the eye with the food being plated up, essentially an upscale version of "Is It Cake?" without being confined to just cake as a medium. It seems only Buddha and Gabri actually understand that brief.
I adore Sara, but her performance this episode (again, I attribute to fatigue) also isn't anything to write home about, either. Her lax nonchalance is typically one of the things that attracts me to her, but in this episode, it almost feels like her being flippant. Her dish seems phoned in, essentially matching the same flavors from this time in the competition the last she competed, but slightly altered to a "tamale" presentation (with those superfluous, peculiar vegetable molds) to transform into matzo ball soup. I will note, though, that her inexplicable full-on sprint mid-confessional at the end of the episode makes me guffaw. And again, her flavors alone helped to carry her through; it seem pretty clear that Tom and Ali are the Bottom 2.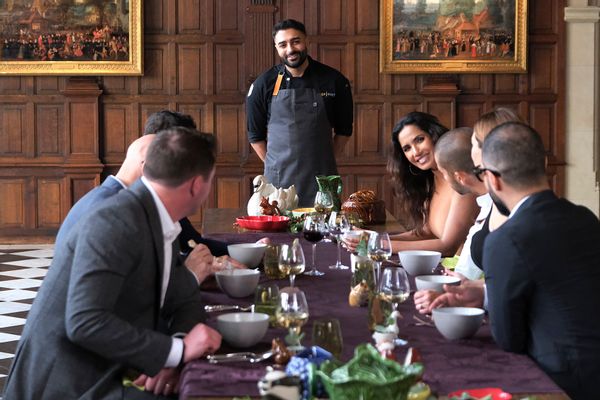 Ali Al Ghzawi and Padma Lakshmi in "Top Chef" (David Moir/Bravo)
The energy of the service overall feels odd to me; the panel speaks as if they enjoy everything and give everything compliments while noting the issues inherent in each dish, but overall, I wonder if the panel perhaps expect a bit more and are let down. I also find it odd how the table just talks openly as the chef stands there. The fact that they get nearly every dish subversion wrong makes me chuckle, though. 
---
Want a daily wrap-up of all the news and commentary Salon has to offer? Subscribe to our morning newsletter, Crash Course.
---
Buddha's elimination challenge dish is exceptional — creating an entire tasting plate where one thing tastes like another (the wine is actually a broth, the mushroom is actually bread, etc.) The entire idea is incredible and, as always, he executes it masterfully. I love his use of squid ink and beets to "dye" some of his components.
Gabri's dish looks a bit unrefined — he recreates a Scotch-Brite scouring sponge to honor his dishwashing days, along with plating it on a "dirty" sauced dish – but clearly, it tastes terrific and using a sponge cake to mimic a sponge (get it?) is great. Happy for him to have been seeing such success towards the end of the season!
I also love Tom's Quick Fire dish; I'm a sucker for popcorn incorporated into savory dishes.
Ali's attempt to create a garden isn't so much trompe l'oeil as much as it is creating a foodscape. The turtles are cute, but no one is fooled into thinking they're eating a turtle. Worse, his undercooked, under-seasoned breadcrumbs – as one layer of the garden's soil – are clearly an egregious error, but he's lucky that the judges have more grievances with Tom's dish, which really misunderstands the brief.
He tries to recreate caviar using gelatin, but instead of making it taste like, say, cotton candy, he tries to make it taste like caviar. Padma explains the issue: if you're going to subvert a food or try to "trick" a diner, it doesn't make much sense to then just make the food it looks like to taste . . .  like it would taste normally? His "caviar" – made with seaweed, wasabi, fish stock and soy – essentially just approximates the same flavor it intends to subvert, which essentially renders the dish moot. (Think Impossible burgers replacing meat patties. It's not trompe l'oeil; it's mimicry with alternative ingredients.) The image Tom aims to conjure is pretty amazing, though: A can of caviar on the beach surrounded by sand and seaweed, but as Padma says, the dish would've been much improved "if the caviar didn't taste of the ocean."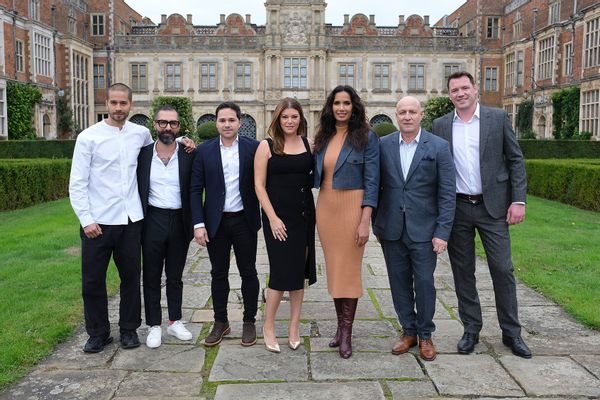 Jeremy Chan, Yuma Hashemi, Rafael Cagali, Gail Simmons, Padma Lakshmi, Tom Colicchio and Tommy Banks in "Top Chef" (David Moir/Bravo)
Overall, though, a fair elimination — and how fun were those quasi-sloshed, live-shot confessionals at the end (from seemingly everyone but Ali)?
Gabri's a rootable underdog, Ali is incredibly talented and Sara is the "hometown" girl. It'd also be fun to see the only remaining woman pull out the win — but at the end of the day, after this performance, can you actually argue that Buddha doesn't deserve this win?
. . . but at the end of the day, after episode 12, can you actually argue that Buddha doesn't deserve this win?
After-dinner mints
– I always get such a kick out of judges' line of questioning along the lines of ". . . and you thought that worked texturally," the barb which is delivered with a swift kick towards Ali. 
– I love how Buddha titles his dishes. The judges' descriptions of his dish — "looked like a still life" and a "scene from a Renaissance painting" are so evocative. And on top of that, you can even eat the "toothpicks?" Amazing!
– ADR is obviously very common on these shows, but that one Padma voiceover post-QuickFire is so odd and soundsnothing like her?
– I loved that post-win confessional of Buddha truly gassing himself up inside the castle! What a great moment . . . it's so authentic and his excitement is palpable.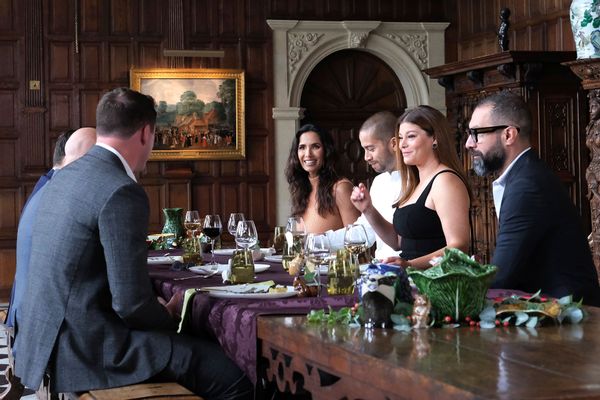 Padma Lakshmi, Jeremy Chan, Gail Simmons and Yuma Hashemi in "Top Chef" (David Moir/Bravo)
– Chef Jeremy Chan is a highlight of this episode; his measured demeanor, calming voice and knowledgeable approach is unique and refreshing. The way he speaks about the food is slightly reminiscent of Gail's approach to judging. I'm not a podcast guy, but I'd listen to one that featured him all day long — something about his cadence, tone and accent almost reminds me of a "Game Of Thrones" character mid-monologue. His remark that Tom's "social message became an exercise" is also such a clever way of phrasing the issue with his dish. 
"Top Chef: World All Stars" airs Thursdays at 9 p.m. on Bravo and streams next day on Peacock.
Read more
about "Top Chef":