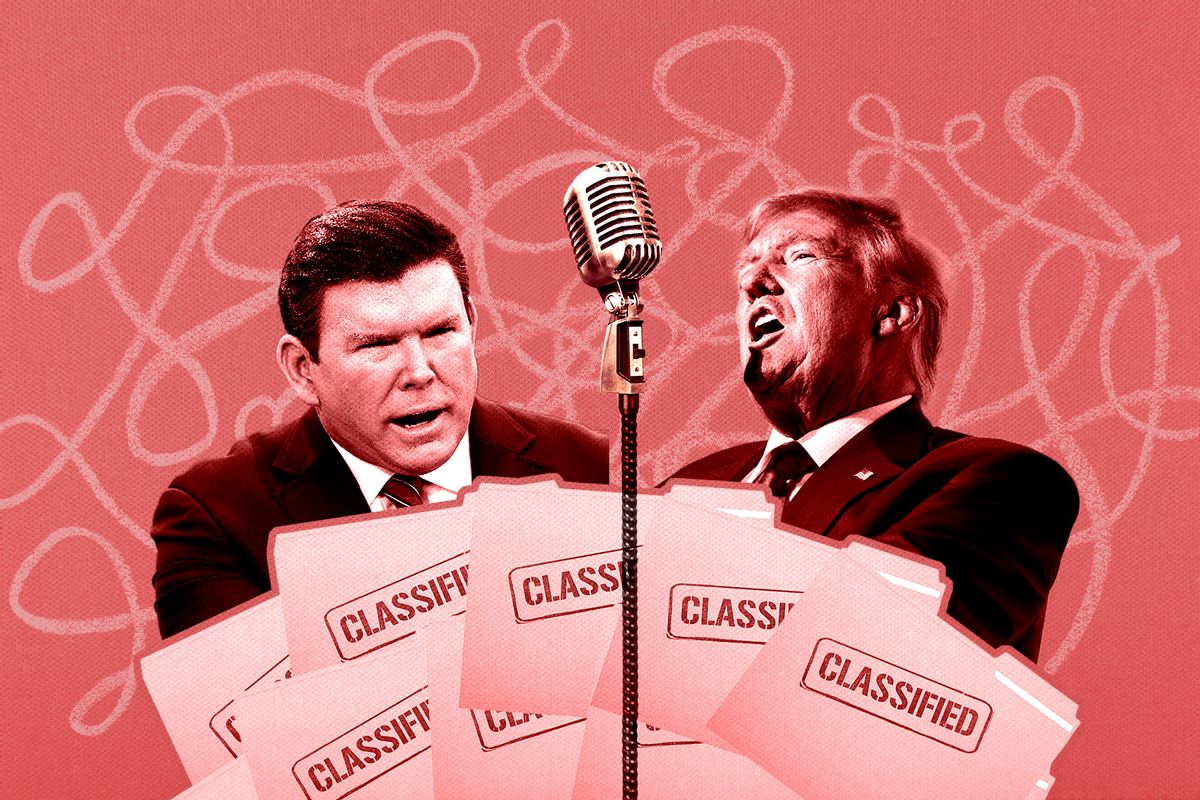 Donald Trump continues to be a defense lawyer's biggest nightmare.
On Monday night, Fox News aired Brett Baier's latest interview with Trump, in which the former president opened a firehose of lies "defending" himself in the case of the stolen classified documents. Trump's litany of B.S. is now becoming all too familiar: He supposedly declassified the documents. (He's on tape admitting he hasn't.) They were his personal property. (Extensive evidence shows he knows they were not.) He's "president" and gets to do whatever he wants. (Basically a confession.) Trump's strategy is to toss off a bunch of excuses, which often contradict each other, just so his followers can grab onto whichever rationalization tickles their fancy. 
Watching this new interview, however, what really stands out is how focused Trump is on arguing that, ultimately, he was just too stupid to know any better. He portrays himself as a doddering old man who is both daunted by his own disorganization and too dimwitted to understand this whole "subpoena" business. 
"These boxes were interspersed with all sorts of things; golf shirts, pants, shoes, all sorts of things," he rambled on, claiming he was too "busy" to handle the supposedly overwhelming task of pulling out classified documents from a junk box of golf balls. 
He is, of course, lying.
---
Want more Amanda Marcotte on politics? Subscribe to her newsletter Standing Room Only.
---
As the indictment details, Trump had a team of lawyers ready to go through the boxes for him. But rather than allow it, he went to great effort to hide the boxes from not just law enforcement but his own lawyers, proving that he was actively trying to keep the government from getting it back. Further reporting from the New York Times shows Trump knew exactly what was in his boxes at all times.
"Mr. Trump would notice if somebody had riffled through them or they were not arranged in a particular way," the New York Times reporters wrote. "Mr. Trump was generally able to identify what was in the boxes most immediately around him," and had a "meticulous" sense of what he had. 
For authoritarians, the "right" to lead — really, to dominate — comes not from merit, but from one's status in a strict hierarchy.
Not exactly the senile hoarder overwhelmed by his own crap he's pretending to be! But it's obvious what Trump is doing. He's portraying himself as a type that is familiar to his supporters: An eccentric grandpa who hasn't cleaned out his garage in 40 years and has no idea what's in the piles of junk laying around.
It's the "too dumb to know better" defense. 
As a legal defense, however, this doesn't fly. There's too much documented evidence that Trump knew exactly what he was doing. But it's also baffling as a political defense, at least it is to non-MAGA people. Isn't this man running for president? Do his voters believe "too stupid to know what a subpoena is" is an argument for his candidacy? It's hard to understand how they square his claims to be intelligent enough to run the free world with his simultaneous claims to be this big an imbecile. 
But rather than be embarrassed to back an admitted dumbass like Trump, expect Republicans to adopt Trump's talking points, arguing that their beloved leader is just way too dim to be held responsible for his actions. 
Understanding why this obvious contradiction doesn't bother them offers tremendous insight into the authoritarian mindset of the MAGA voters. For authoritarians, the "right" to lead — really, to dominate — comes not from merit, but from one's status in a strict hierarchy. This is in contrast to people who believe in a democratic system and expect leaders to display qualities making them worthy of the role, especially intelligence.
Authoritarians, on the other hand, believe in a strict hierarchical system where white men — especially rich white men — are at the top, and everyone else needs to be held in their place in a strict pecking order. Judging people on their talents threatens their hierarchical system, as women and people of color can rise above their "station." That's why so many Republicans completely lost their minds over both President Barack Obama and Hillary Clinton's campaign. It's not that they failed to see both those politicians are capable leaders. On the contrary, that skillfulness is what threatened Republicans so much. They want a system where power is allocated on the basis of race and gender privilege, not competence.
---
Want more Amanda Marcotte on politics? Subscribe to her newsletter Standing Room Only.
---
The most overt manifestation of this is the Christian right, which embraces an explicitly patriarchal argument that men are the authorities simply because they are men. Over the weekend, the Southern Baptist Convention doubled down on the argument that gender matters more than talent by amending their constitution so member churches can have "only men as any kind of pastor or elder." The convention, along with most other evangelical churches, also holds to the belief in male "headship" at home: Women should "submit" to husbands even in cases where the wife knows better or is morally in the right.
The hit documentary "Shiny Happy People" about the infamous Duggar family, and their relationship to the far-right Institute in Basic Life Principles, really underscored how dark this authoritarian mindset can get.
For hardliners, there's pretty much nothing a man can do that would dislodge him from a position of authority over his wife and children, as demonstrated by the widespread tolerance for abuse, even child sexual abuse, within the community. For them, it's black-and-white: God appointed men as the authority, full stop. As Nathaniel Manderson wrote for Salon, "In the evangelical worldview, a woman must never appear to be in a place where she leads or holds authority over a man." Not even if she's smart and capable and he's a blithering moron.
This model of patriarchal authority extends beyond the family into every realm of life, especially politics. White evangelicals have added another layer of justification for their Trump enthusiasm, painting him as chosen by God as their leader. That allows them to write off objections over Trump's brainlessness and criminality with a "God works in mysterious ways" shrug. And, of course, God is the ultimate example of an authority figure who can never be questioned. Not even if God is said to have done something unforgivable, such as choose Trump as the vessel for his will.
White men, in these authoritarian worldviews, only lose status by questioning the system that grants it.
 Of course, not every MAGA voter is a white evangelical (even though the vast majority of white evangelicals are MAGA). But you see a similar attitude about status and power even in more secular conservative circles. There are plenty of families that treat Grandpa as a near-godlike figure who must be obeyed as the patriarch, no matter how foolish or selfish he may be. That attitude benefits Trump, who gets assigned the role as the forever-forgiven grandfather figure, whose leadership will never be questioned, no matter how many laws he breaks or how many times he lies. 
---
Want more Amanda Marcotte on politics? Subscribe to her newsletter Standing Room Only.
---
White men, in these authoritarian worldviews, only lose status by questioning the system that grants it. That creates a neat loophole to reject the power of all white male Democrats, but especially those, like Biden, who have previously accepted leadership from people of color or women. 
To Americans who believe in rationality and democracy, it's ridiculous, to hear Trump spin a tale about how he's just too dumb to be expected to tell golf pants from classified documents. He's obviously lying, but it would almost be worse if he weren't. It seems self-evident that no one so profoundly stupid should be anywhere near the White House. But, for MAGA Americans, there's something reassuring about Trump's stupidity. When he says idiotic things, such as telling people that bleach injections cure COVID-19, it's a sign of a return to the social order they prefer. They want a world where white men come out on top, even — and especially — when they don't deserve it.
Trump's defense that he's too dumb to obey the law may not fly in court, but he's not wrong to think his own voters will eat that excuse right up. 
Read more
about MAGA's undying devotion