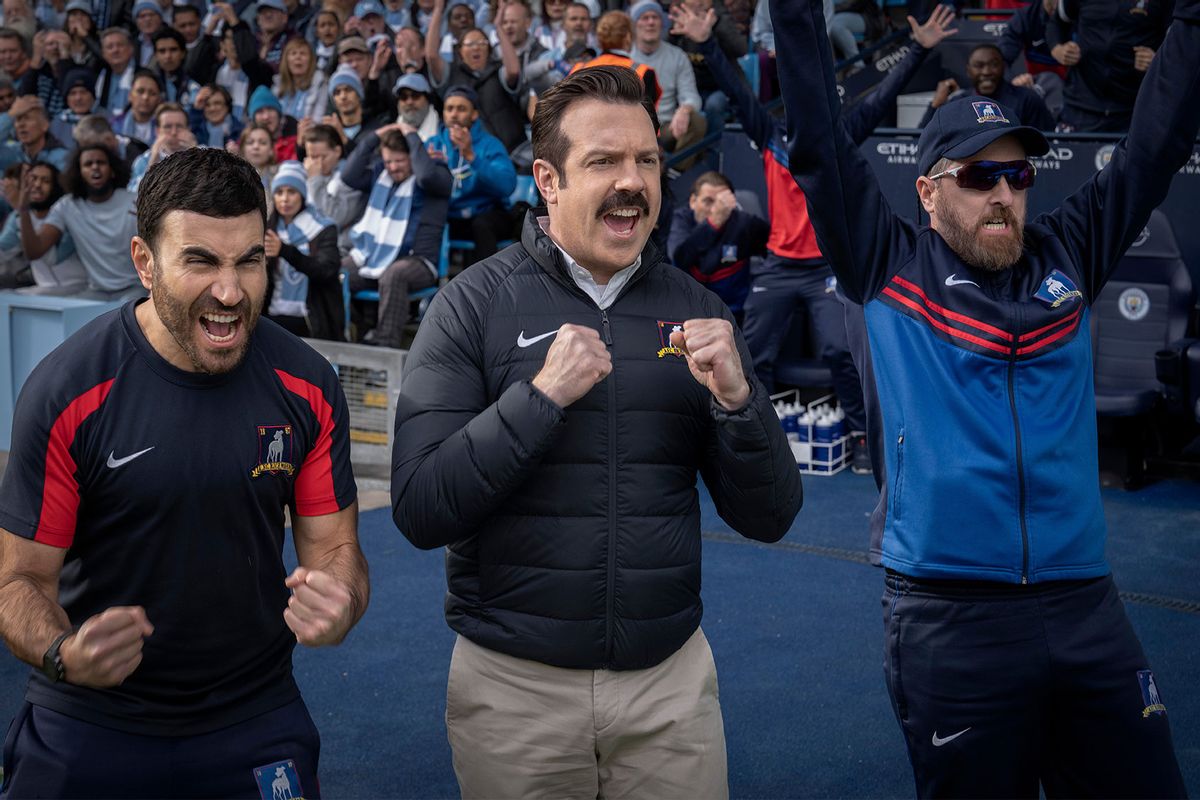 Midway through the recently completed third season of "Ted Lasso," Jason Sudeikis' existentially adrift football coach stumbles into a revelation that would alter his ailing team's fortunes – the triangle offense.
This apparently complex strategy tasks players with maintaining a constantly moving web of triangles ensuring that the player with the ball always has passing options, giving them a measure of control over an ever-changing field.
Phil Jackson implemented it while coaching the Chicago Bulls in the early '90s, which dawns on Ted while he's watching a rerun of a classic Bulls game in an American-style burger joint in  Amsterdam. That's about as close to kismet as a man like him gets, so he decides to adapt it for AFC Richmond's Greyhounds.
When Ted shares his bright idea with Beard (Brendan Hunt), his assistant coach breaks the news that soccer's triangle offense already exists. It even has a name: Total Football. And, to Ted and Beard's satisfaction, it proves to be an elegant way to manipulate a game that perpetually fluctuates between order and chaos by requiring players to be adaptive, thereby defying predictability.
If the show employed such discipline in its third and possibly final season, we may not be walking away with such mixed feelings.
Don't get me wrong — the season (series?) finale "So Long, Farewell," written by Hunt, Sudeikis and their fellow executive producer Joe Kelly, is precisely the ending we should have expected from "Ted Lasso." Heavy on nostalgia, and expanding the circumstances surrounding the titular coach's teary exit, it won the long game promised from its starting whistle.
The finale culminates the goals Ted, Beard, AFC Richmond's owner Rebecca Welton (Hannah Waddingham) and fellow coach Roy Kent (Brett Goldstein) set for themselves once the team truly became a team. First, they healed. Next they climbed out of of relegation barrel. Then they bolted to the top of the Premier League.  The team makes Ted's "BELIEVE" sign their talisman, and are devasted when kit man turned assistant coach turned heel Nate Shelley (Nick Mohammed) tears it in half in a jealous fit in Season 2.
Some plot resolutions require more of an explanation than an ethos informed by kindness.
Sagely Ted tapes it together again only to rip it into smaller pieces in this final run – which, we find out in a moving halftime locker-room scene, every member kept a piece of, waiting to reassemble it at the right moment. That turns out to be halftime in a defining match against their rivals West Ham United.
This is but one of the many ways "So Long, Farewell" brings the story full circle, rolling its way back to all the cues that made viewers fall for "Ted Lasso" in the first place. As a gift to their departing leader, the team performs that signature ditty from "The Sound of Music," complete with adapted choreography, and Dani Rojas (Cristo Fernández) tying a bow on it by performing the Gretl verse – "The sun has gone to bed and so must I/Adios! Adios!" – a response of sorts to their performance of NSYNC's "Bye Bye Bye" at the end of Season 2.
The finale game glimpses AFC Richmond at its best as individuals and collectively, with the winning sprint coming from a play originated by a forgiven Nate. And the goal is achieved by reformed showboat Jamie Tartt (Phil Dunster) stepping out of the spotlight to let Sam Obisanya (Toheeb Jimoh) claim the glory. When Ted first arrived, Jamie refused to pass the ball to anyone else. Now both men win as a unit. 
Circles are wonderful containers. They can also become distended by forcing too much inside at once, which describes this "adios" season. Too many characters were forced to compete in too small of a capacity to allow them to cleanly execute their ambitions. With episodes clocking in at nearly an hour each, it's as if the writers tried to jam two seasons in one.
Similar bloat has plagued many great shows over the years. Remember the overly long later episodes of "Sons of Anarchy"?  The jam-packed yet substantially slight chapters that wound down "Game of Thrones"?
Notice, those are dramas. "Ted Lasso" is, or was, a comedy. But it veered into the same territory that lost Westeros for us, abandoning some of its humor's punch in the bargain.
Ted Lasso (Apple TV+)
A circle neatly divides into triangular pie slices, a manageable  way to consume treats. And "Ted Lasso" had a stalwart system made up of stable, three-sided shapes, along with appealing duos like Ted and Beard, Keeley (Juno Temple) and Rebecca; Keeley and Roy, who never should have broken up; Roy and his niece Phoebe (Elodie Blomfield); and the bromance between Roy and Jamie.
As for those triads, we had Ted, Beard and Roy; Rebecca, Ted and the team's kindly Director of Football Operations, Leslie Higgins (Jeremy Swift); Keeley, Roy and Jamie and others. Conceptually, there's also Ted, his guilt over leaving his son Henry (Gus Turner) and his urge to encourage the young men he's coaching to become their best selves. We have Ted, England and Kansas; and the three-way battle between Rebecca, her ex-husband and West Ham United owner Rupert Mannion (Anthony Head), and Rebecca's self-respect.
That's quite a stack, and was enough to support the plot. But with this third season – the only one of the three where executive producer Bill Lawrence did not have a direct grip on the reins – Sudeikis, Hunt, Kelly and the rest of the writers diluted the narrative stability by tossing in other conflicts without fully baking them. We saw a bit more of Sam but somehow learned less new information about him. We discover that left-winger Colin Hughes (Billy Harris) is gay, only to have the writers treat his journey with all the thoughtfulness of an afterschool special.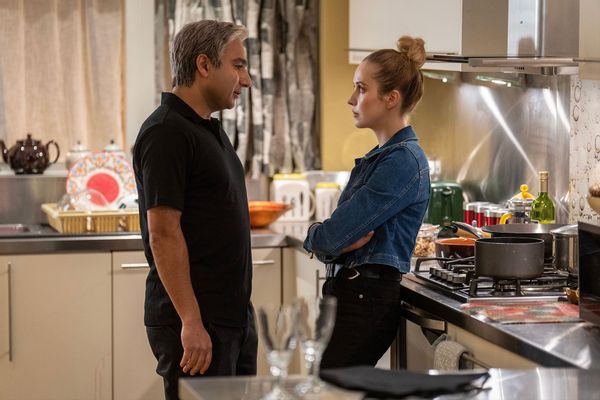 Ted Lasso (Apple TV+)
Most egregiously, a necessary redemption arc for Nate, teed up by his villainous transformation at the close of the second season, never materialized. Instead of steadily evolving Nate through regret and penitence, the writers magically dissolve his self-loathing by . . . getting him a nice girlfriend in Jade (Edyta Budnik), the hostess at his favorite restaurant. Somehow she, paired with the magical balm of his withholding father's declaration of love, is the cure for Nate's propensity to spit at his reflection.
This logic isn't only lazy, it's disconcerting. But it also returns us to our TV geometry lesson. Increasingly thinner triangles weaken the integrity of a slice until the portion crumbles into a pile, which is what happened to Nate's arc and Season 3.  Nate, who once angered everyone on the team, is welcomed back with open arms because, I guess, it's The Lasso Way.
That was always the main premise, and a very simple one. But some plot resolutions require more of an explanation than an ethos informed by kindness.
Ted came to England as a broken man with a gentle smile on his face, a head full of homespun similes, cornpone puns and a heart bursting with Midwestern niceness. He also fixed the dysfunction wrecking the team's chemistry.  Ted's sanguine optimism makes us believe, in all capital letters, in the first season, even when certain developments didn't entirely make sense.
Ted's way also calls for embracing a dizzying array of concepts, which may explain why we learned new details about many of the team's players, but not enough to truly matter, aside from constructing a basis upon which a spinoff or several can be built.
There's no reason to believe that "Ted Lasso" couldn't keep going in some form.
At least the show earns the title character's departure: Every episode that follows the team's Amsterdam sojourn solidified what had been nagging at Ted since the beginning of the season when he said goodbye to Henry after his long summertime visit to London.
The Amsterdam episode is titled "Sunflowers," Kansas' official state blossom; at the burger place, the server brings Ted his favorite barbecue sauce. The slow smoke over Kansas pine continues with an array musical cues, like playing a Brandi Carlile cover of "Home" from "The Wiz," and the scene from "You've Got Mail" where Meg Ryan and Tom Hanks meet in a blooming garden as Harry Nilsson's rendition of "Over the Rainbow" lilts in the background.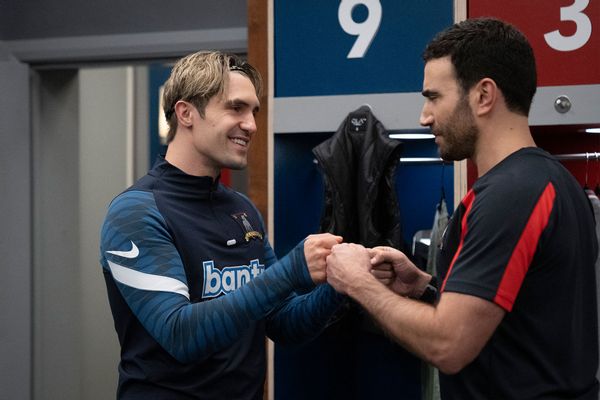 Ted Lasso (Apple TV+)
All of this builds up to the words Rebecca utters in a tender moment when it's only her and Ted in the stands at Nelson Road staring out at the empty pitch at nighttime. Rebecca tries to sell Ted on staying, saying that if she sells 49 percent of the team, she could make him one of the highest-paid coaches in the league. (Higgins ballparks the team's full worth at around £2 billion.) Henry could attend the finest schools. She adds that Michelle could teach too, presuming that Ted's ex would uproot her life for his career.
Still, Rebecca speaks for many when she says, "It's not that I refuse to talk about you going home, Ted. It's that I refuse to accept that you're not coming back."
---
Want a daily wrap-up of all the news and commentary Salon has to offer? Subscribe to our morning newsletter, Crash Course.
---
Along those lines, there's no reason to believe that the "Ted Lasso" story couldn't keep going in some form. "The Conners" went on without Roseanne Barr. TV is full of spinoffs of landmark series. Heck, "M.A.S.H." yielded several, the most successful being "Trapper John M.D." I am not saying that "Ted Lasso" is equivalent to "M.A.S.H." even if it is one of Apple TV+'s most popular titles.
But as Sudeikis hinted in many interviews at the start of the season, it was time for a triumphant Ted to return to Kansas, leaving "The Lasso Way" not just behind, but in the bin. One of the last shots of journalist-turned-author Trent Crimm (James Lance) shows him reading Ted's feedback on the book he wrote about Richmond's winning season, where Ted suggests that he change the title from "The Lasso Way."
"It's not about me," Ted wrote. "It never was." So Crimm calls his book. "The Richmond Way."
Whatever path this show takes next – if it moves forward at all – hopefully it'll prioritize simple direct routes over unnecessary chaotic side trips. That strategy is a proven path to scoring. Ask any coach you like.
All episodes of "Ted Lasso" are streaming on Apple TV+.
Read more
about Ted Lasso