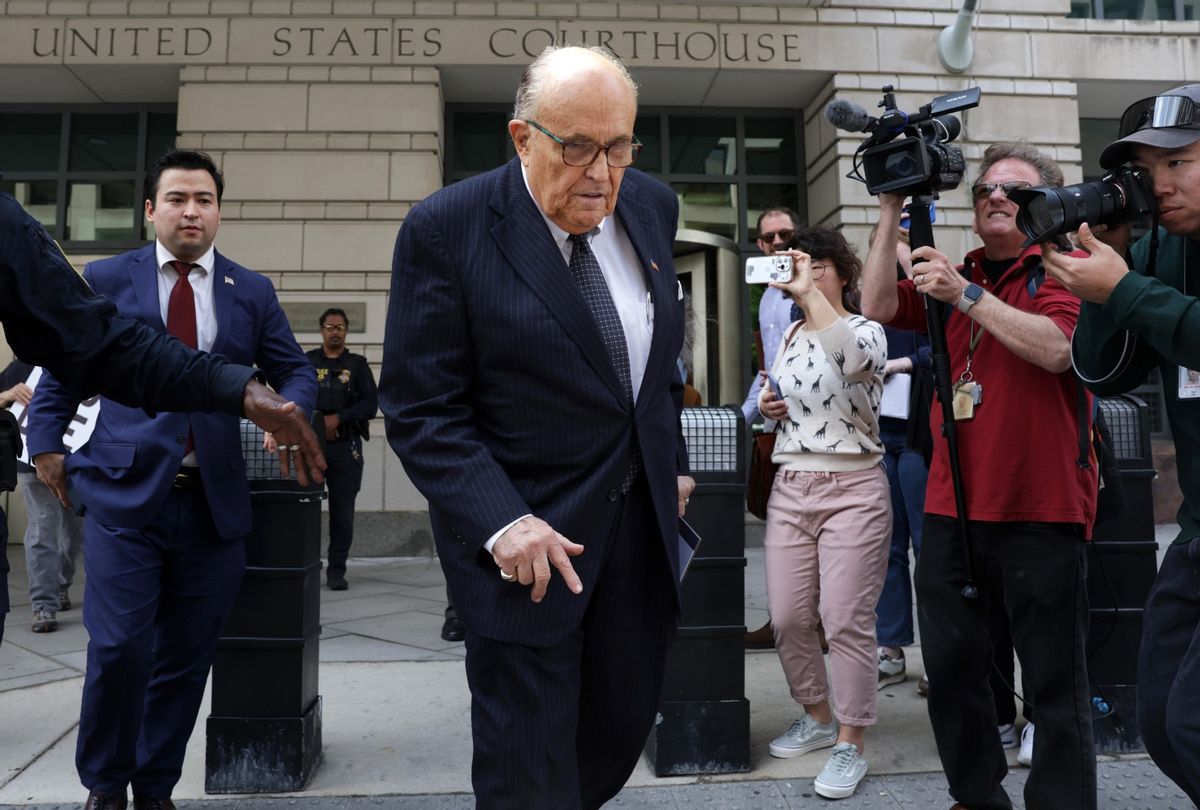 Former Trump attorney Rudy Giuliani was interviewed by special counsel Jack Smith's team last week as part of its investigation into efforts to overturn the 2020 election, sources told CNN and The New York Times.
The "voluntary interview, which took place under what is known as a proffer agreement," comes as the special counsel probe has ramped up in recent weeks, according to the Times.
Sources told the outlet that the interview "touched on some of the most important aspects" of the probe into the ways that former President Donald Trump tried to overturn his loss.
A proffer agreement is an understanding between prosecutors and subjects of a criminal investigation that can precede a formal cooperation agreement, the report noted. Subjects agree to provide information to the government in exchange for avoiding potential charges or to avoid testifying under a subpoena before a grand jury. In exchange, prosecutors agree not to use their statements against them in criminal proceedings unless they lied.
Smith's team pressed Giuliani about the fake elector scheme and the role played by Trump legal adviser John Eastman in the plot. Giuliani also discussed former Trump lawyer Sidney Powell, who pushed bizarre conspiracy theories that voting machines were hacked to steal the election before she was sanctioned by a federal judge.
Prosecutors also asked Giuliani about the scene at the Willard Hotel, where he, Eastman, and Trump advisers Steve Bannon and Borish Ephsteyn, among others, gathered to discuss strategies ahead of the deadly Jan. 6 Capitol riot.
Giuliani's interview came as prosecutors "appear to be nearing charging decisions" in the fake elector scheme, a source told CNN, as prosecutors have pressed attorneys to "quickly bring in other witnesses for interviews."
National security attorney Bradley Moss tweeted that the "big news is this wasn't just an interview: it was a proffer session."
"Rudy is trying to avoid indictment," he wrote, though he cautioned that "this isn't necessarily an indication he is turning on Trump."
"Those conversations are still privileged anyway," he explained. "But he could be ratting out Eastman and Powell, for example, in order to make a deal."
---
Want a daily wrap-up of all the news and commentary Salon has to offer? Subscribe to our morning newsletter, Crash Course.
---
Former federal prosecutor Noah Bookbinder, the head of Citizens for Responsibility and Ethics in Washington, wrote that Giuliani's interview is "very significant" because he had a "front row seat to Donald Trump's efforts to overturn the 2020 election and was himself a leading force behind that effort."
CNN legal analyst Norm Eisen pointed out that there is only "one reason" Smith's team would take a proffer from Giuliani.
"They're considering ways to move up the Jan. 6 food chain," he wrote. "That's ominous for Trump."
Former Watergate prosecutor Nick Ackerman told MSNBC that Giuliani was "smack-dab in the middle of everything."
"If he comes totally clean here, Donald Trump is in big trouble, John Eastman is in big trouble, right down the line, possibly General Flynn, Roger Stone, Steve Bannon," he said.
"I don't think they have anybody who was in place in that Willard Hotel war room, and what was going on there, and what was the connection between people in that war room and the Proud Boys and the Oath Keepers," he added. "That's what we want to find out, and that's what Jack Smith is going in for. Absolutely this is it. This is the big kill."
But former federal prosecutor Andrew Weissmann cautioned that while it's possible Giuliani could reach a deal with prosecutors, "it also could be far less than that."
"Remember Rudy went into the GA grand jury too and testified and apparently was adjudged by one juror as credible," he tweeted.
"Whether or not the Special Counsel buys what Rudy is selling," wrote former FBI Assistant Director Frank Figliuzzi, "this won't go well for Trump."
Read more
about Rudy Giuliani