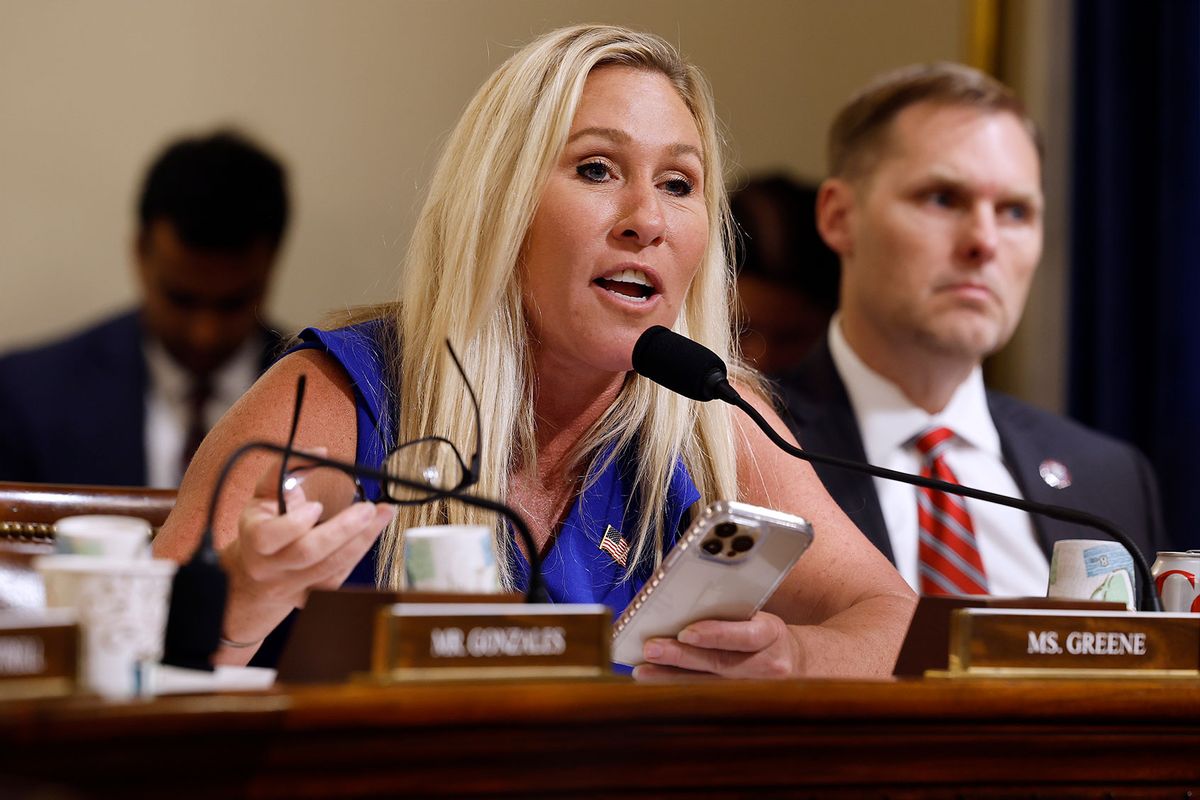 Reps. Marjorie Taylor Green, R-Ga., and Elise Stefanik, R-N.Y., unveiled joint resolutions Thursday to expunge former President Donald Trump's 2019 and 2021 impeachments.
Stefanik's measure pertains to Trump's 2021 impeachment on charges of inciting an insurrection, asserting that the facts the articles were based on did not meet the burden of proving that the former president committed "high Crimes and Misdemeanors" for his role in the Jan. 6 attack on the Capitol, or participate in "insurrection of rebellion against the United States."
Greene's resolution addresses Trump's 2019 impeachment on charges of abuse of power and obstruction of Congress for withholding aid to Ukraine in order to pressure the nation into launching investigations into then-presidential candidate Joe Biden ahead of the election. The document argues that the former president was wrongfully accused of misconduct and that the circumstances on which the impeachment was based did not prove he committed "high crimes and Misdemeanors."
The conservative congresswomen defended their legislation in a joint press statement Thursday.
"The American people know Democrats weaponized the power of impeachment against President Donald Trump to advance their own extreme political agenda," Stefanik said in a press release. "From the beginning of this sham process, I stood up against Nancy Pelosi and Adam Schiff's blatant attempt to shred the Constitution as House Democrats ignored the Constitution and failed to follow the legislative process.
"President Donald Trump was rightfully acquitted, and it is past time to expunge Democrats' sham smear against not only President Trump's name, but against millions of patriots across the country," she added.
"The first impeachment of President Trump was a politically motivated sham. The Democrats, led by Nancy Pelosi and Adam Schiff, weaponized a perfect phone call with Ukraine to interfere with the 2020 election. Meanwhile, the FBI had credible evidence of Joe and Hunter Biden's corrupt dealings, confirming their involvement in a foreign bribery pay-to-play scheme and receipt of over $5 million each. All of this information was revealed to Congress by the FD-1023 form from the FBI's most credible informant. The form vindicates President Trump and exposes the crimes of the Biden family," Greene said in a statement. 
"It's clear that President Trump's impeachment was a nothing [sic] more than a witch hunt that needs to be expunged from our history," she said. "I'm proud to work with Chairwoman Elise Stefanik on our joint resolutions to correct the record and clear President Trump's good name."
Stefanik's office also added in a press release that if the resolutions were passed, it would be "as if such Articles of Impeachment had never passed the full House of Representatives."
---
Want a daily wrap-up of all the news and commentary Salon has to offer? Subscribe to our morning newsletter, Crash Course.
---
According to Axios, the measures would be mostly symbolic because expungement processes normally pertain to lower-profile criminal cases that can easily disappear from the public record; Trump's impeachments, in contrast, were widely publicized.
Though it's unclear whether either resolution will solicit a vote, Stefanik, who chairs the House Republican Conference, has greater influence than others to ensure it happens. 
The measures also come amid moves by right-wing House Republicans to impeach President Joe Biden and five of his officials and investigate the Biden family's alleged financial schemes much to the chagrin of their more moderate colleagues. 
MSNBC host Joe Scarborough, a former Republican lawmaker, slammed Greene and Stefanik's actions on Friday's edition of "Morning Joe," deriding the efforts as "so stupid" and "shameless."
"Gesture, gesture, gesture. All they do are gestures," Scarborough complained. 
"It's totally unclear if such resolutions are even legally possible. House practices offer no guidance," co-host Mika Brzezinski said.
"I'm sorry, this is too stupid. I don't even want to read this story," Scarborough said, before repeating that the situation is "too stupid."
Brzezinski agreed, adding that we "already knew about Marjorie Taylor Greene — she came baked into the cake — but what the heck?"
"Well, just shameless. But that's okay. That's okay. This is so stupid," Scarborough responded.
"I mean, why would you do this? It makes no sense. It doesn't make any sense legislatively," he added. "But if their only focus is raising money for themselves, which they can do, the more the more freakish ideas they have, the more freaks out there send them $25, then this actually makes perfect sense for them, just not for the rest of the party."
Read more
about Marjorie Taylor Greene