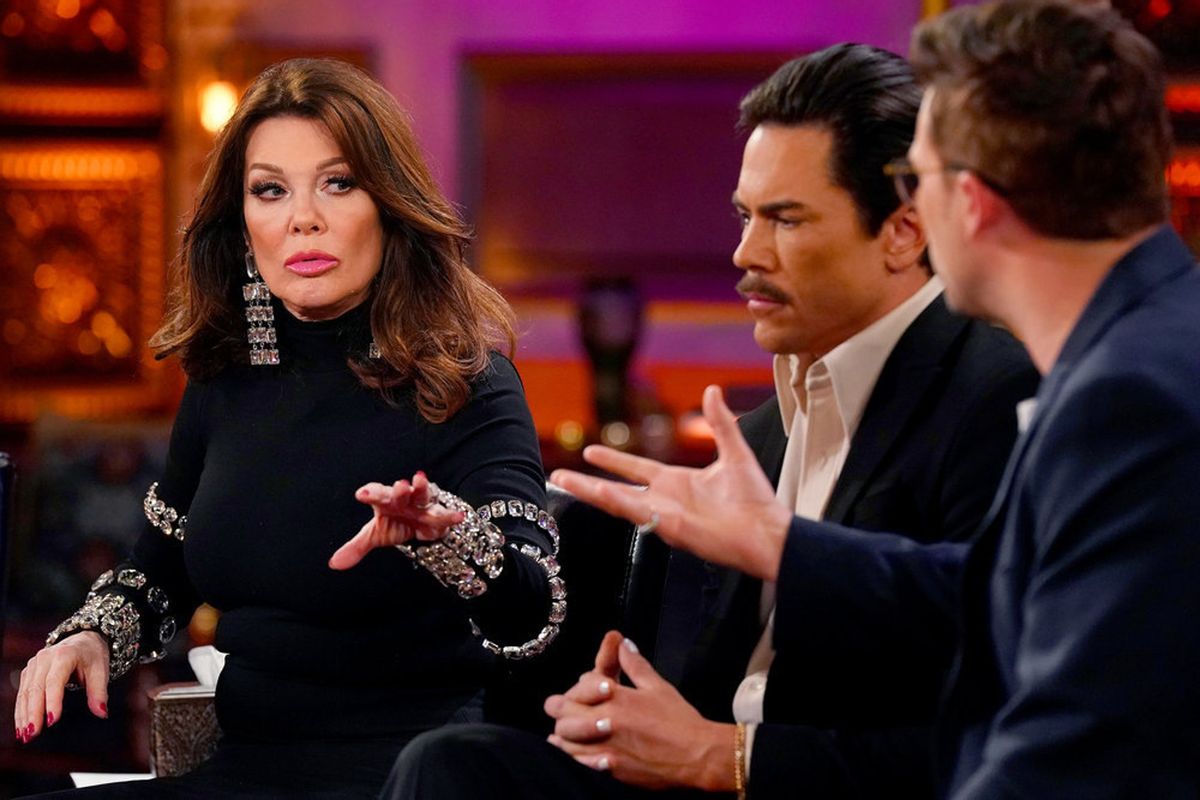 When you think about it, there's really not much difference between reality TV and televised sporting events. In order for both to be considered successful, or profitable, they rely on previously un-famous people who are good at only one thing to kick, throw, tackle and strategize to the delight of an assembly of spectators who, all the while, pray for something insane to happen. 
Since "Vanderpump Rules" first debuted on Bravo in 2013, the show's producers have put the staff of bars and eateries owned by "Real Housewives of Beverly Hills" alum, Lisa Vanderpump — SUR Restaurant & Lounge, and the now shuttered Villa Blanca and Pump, all located in Los Angeles — through a rigorous training program in an attempt to finalize their champion team, showcased in the series' 10th season and exalted in the three-part reunion that kicked off on May 24. 
High-scoring players in the original lineup (Jax "let me just steal these sunglasses" Taylor, Kristen "suck a d**k" Doute," Brittany "go to hell" Cartwright and Stassi "It's my birthday" Schroeder)  — all cut in Season 8 — made room for remaining VIP imperatives to bump pads and privates in what's now famously known as #SCANDOVAL — a high-stakes athletic fête of lies, deception and heartbreak shouldered by Tom "crocodiles are going to eat my family" Schwartz, Tom "greasy devil" Sandoval, James "It's not about the pasta" Kennedy, Raquel "I hate Winnie-the-Pooh" Leviss, Katie "call it like I see it" Maloney and Ariana "for you to die" Madix.
For anyone new to this, let's roll the tape back.
TMZ broke the news (in March) that Ariana Madix, Sandoval's girlfriend and "VPR" castmate, had ended their nine-year relationship after discovering that Sandoval was embroiled in a cheating scandal with yet another castmate, Raquel (Rachel) Leviss.

From there, the intricate and messy details of an affair that would affect no one outside of a relatively small circle of friends and co-workers — were they not part of a popular Bravo reality TV show — has evolved into a JFK/Grassy Knoll level piecing together of facts and rumors resulting in friends and fans taking sides.
---
Want a daily wrap-up of all the news and commentary Salon has to offer? Subscribe to our morning newsletter, Crash Course.
---
After a snooze-y ninth season, fans of "Vanderpump Rules" have been praying for this caliber of mess, and now it's finally here. Over the course of the next few weeks, we'll be assembling a highlight reel of the biggest Scandovals revealed during the reunion episodes.
There's no blood on the field, yet, but the stress of this all has caused some heavy self-tanner streaks, that's for sure.  And it's only going to get worse from here.
May it last forever. 
(l-r) Ariana Madix, Andy Cohen, Lisa Vanderpump, Tom Sandoval (Nicole Weingart/Bravo)
A good majority of Part 2 of the "Vanderpump" reunion centers on Sandoval splitting his screen time between theatrically crying while gaslighting women and/or calling them stupid. 
After a heated exchange with Lala in which he calls her a moron and a narcissist, Sandoval then accuses her of taking out her IUD in an effort to get pregnant with her first child, Ocean, only after learning that a past cast member (Stassi) is pregnant.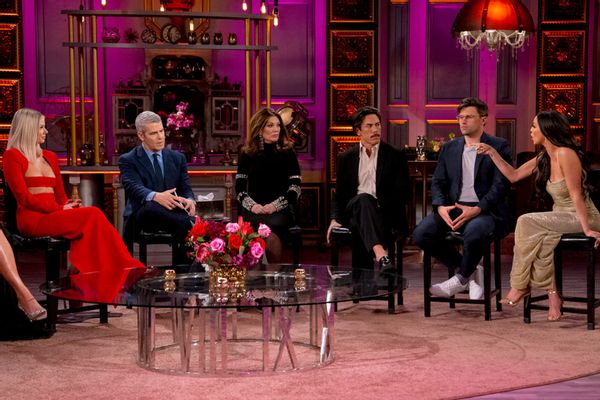 (l-r) Ariana Madix, Andy Cohen, Lisa Vanderpump, Tom Sandoval, Tom Schwartz, Scheana Shay (Nicole Weingart/Bravo)
Unable to withstand the discomfort of contributing absolutely nothing for one moment longer, Schwartz seems to forget that he's on camera and produces a gigantic bottle of Xanax from inside his blazer — popping one into his mouth and chewing it, much to the shock of everyone on stage. 
The moment of the pill-pop occurs shortly after a heated exchange between Sandoval and Ariana regarding whether or not Scheana punched Raquel/Rachel after finding out she and Tom had been sleazing around — a "did she/didn't she" act that got her slapped with a now revoked restraining order.
Seeing Schwartz with the bottle of pills, just before Raquel/Rachel appears on stage for the very first time, Sandoval conjures the presence of mind to ask, "What the f**k is that?"  
Off to the side, Lisa Vanderpump murmurs what everyone else is thinking, "Jesus."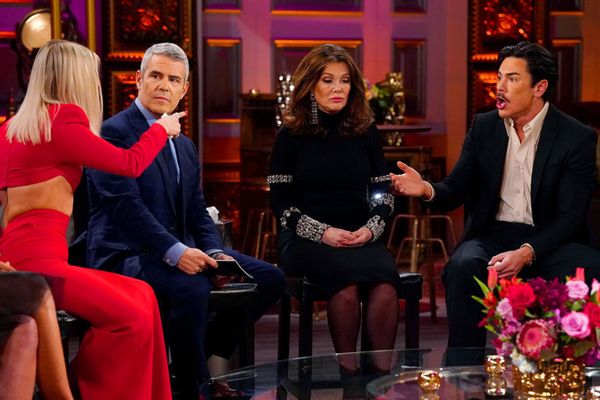 (l-r) Ariana Madix, Andy Cohen, Lisa Vanderpump, Tom Sandoval (Nicole Weingart/Bravo)
When the cast takes a break from filming to have lunch, Sandoval uses it as an opportunity to sneak away and visit Raquel/Rachel in her exile trailer. Wearing a long, dark coat and dark sunglasses in a quick costume change that reads very "suburban strip-mall magic shop owner," he fields questions from his mistress regarding the legitimacy of his and Ariana's "intimacy issues."
"I don't love the way it's coming across about your guys' intimacy," she says. ". . . Just watching what you guys taped right now, it looks like you guys had like, this solid relationship." 
In an attempt to ease Raquel/Rachel's concerns over whether or not he's been lying to her, he goes into a story about how Ariana was mean to him sometimes when he'd ask for her opinion on what outfit he should wear on such and such night. And while this is no explanation at all, it seems to be enough for her.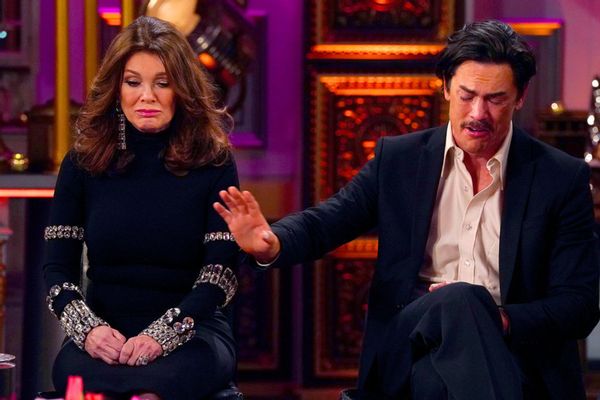 (l-r) Lisa Vanderpump, Tom Sandoval (Nicole Weingart/Bravo)
In a one-on-one with Andy Cohen at the top of Peacock's "Pumped Up Edition" of the first part of the "Vanderpump Rules" reunion, Sandoval gives a vague timeline as to how his affair with Raquel (Rachel) Leviss began.
After Cohen asks him to explain how it came to be that he cheated on his girlfriend of nine years with one of his closest friends, Sandoval makes the first of many attempts to put blame on Madix saying, "Ariana and I kept our relationship pretty private for many years. We had issues. I felt like I was like her gay BFF. We put on a front while we were filming."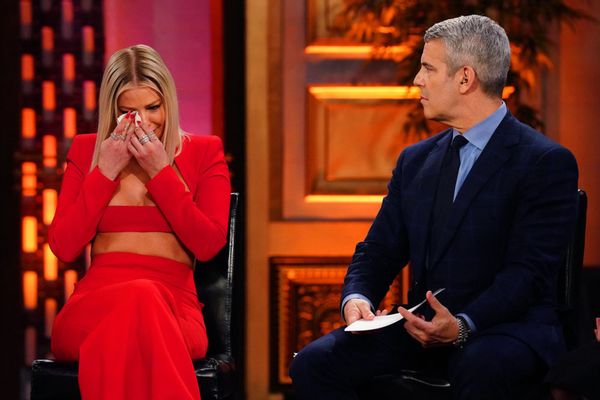 (l-r) Ariana Madix, Andy Cohen (Nicole Weingart/Bravo)
Visibly enraged any time Ariana spoke to — or about — Tom Sandoval, she holds back tears for most of the first reunion episode while talking about her ex-boyfriend cheating on her three times (that he's admitted to) with Raquel, "Miami Girl" and one yet to be identified woman during the course of their nine-year relationship.
Admitting that she and Sandoval did have intimacy issues, but that they were intimate perhaps a tad more than he would now like everyone to believe, Ariana grows frustrated trying to drive home the point that issues along those lines are not an excuse for cheating. 
"It's victim blaming is what it is," she says while being spoken over by Sandoval's best friend and flying monkey, Tom Schwartz.
When asked by Andy Cohen why she forgave Sandoval for cheating on her with "Miami Girl" at the start of their relationship, she says that the two weren't "serious" at the time, but that she could see the rest of her life with him and wanted everyone else to see the best of him. 
After being upset for 98% of the episode, Madix finds some pleasure towards the end talking about "Team Ariana" graffiti that supporters have been leaving at her ex's new bar, Schwartz & Sandy's.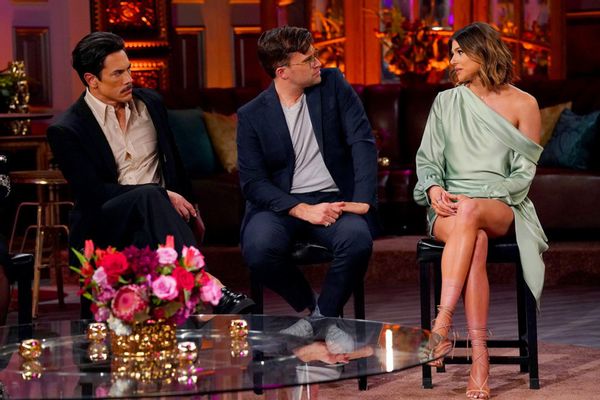 (l-r) Tom Sandoval, Tom Schwartz, Raquel Leviss (Nicole Weingart/Bravo)
Kept in exile in a run-down trailer situated on the outskirts of the reunion's filming location — due, in part, to the legal stipulations of a restraining order filed against Scheana Shay, but also because the ladies on set all want to rip her to shreds — Raquel (Rachel) Leviss makes her first public appearance since engaging in a sexual affair with her friend's boyfriend, Tom Sandoval, via quick cuts to her trailer, sans dialogue apart from a few squeaks and peeps.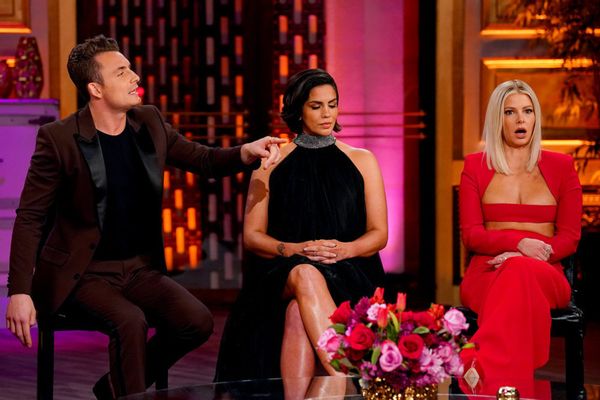 (l-r) James Kennedy, Katie Maloney, Ariana Madix (Nicole Weingart/Bravo)
When referenced as being the only likely contender to take on the title of "No. 1 guy in the group" now that both Toms are about as popular as genital warts, James Kennedy seems to take very little pride in moving up in rank saying, "It's not hard to compete when I'm working with Schwartz and a clown." 
After seeing Sandoval break into tears, theatrically beginning an apology quickly interrupted by the cast's audible disgust, James jabs at his castmate telling him to pull himself together and calling him a "p***y." 
Later, asking Sandoval to summarize what their friendship means to him, after the two were described by castmates as being "like brothers," Sandoval throws out a pointed barb saying they only spoke "like once a month." An odd statement coming from someone who paid for his engagement event. Engagement to whom? Oh, yeah, Raquel Leviss.
"You've been like a big bro," James says to Sandoval, in disbelief.
"Yeah, that's what you called me," Sandoval, a walking turd, responds.
From here, a near-physical altercation is defused by Cohen physically restraining James, keeping him from coming *this close* to seriously messing up Sandoval's hair.  
Managing to still get the last word in, James tells Sandoval that his band sucks and calls him "a worm with a mustache" before stalking off stage to go compose himself.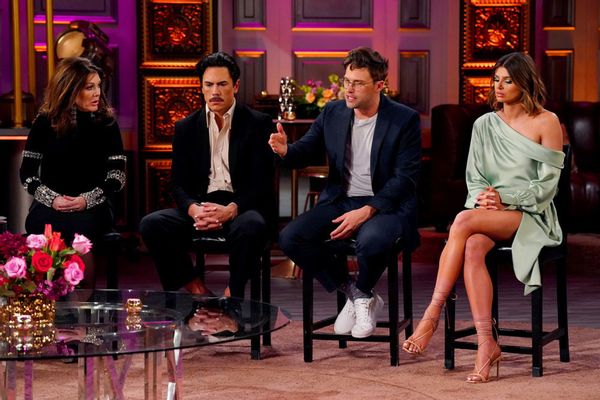 (l-r) Lisa Vanderpump, Tom Sandoval, Tom Schwartz, Raquel Leviss (Nicole Weingart/Bravo)
In a heated response to ex-wife Katie Maloney referring to his "friend" and recent roommate, Jo, as a "creep," Tom Schwartz threatens that his ex will be hit with a cease and desist if she continues to attack his mysterious roomie via comments made on social media. 
Cutting to a screengrab of a tweet by Katie in which she calls Jo "spooky" and someone with "energy on par with a crack head," Schwartz then calls his ex-wife a "troll," making a little sound effect to go along with it.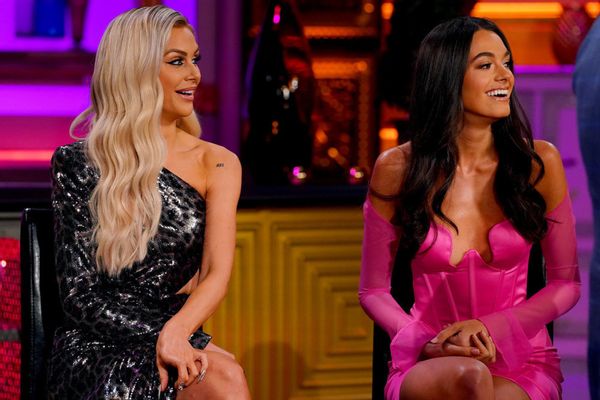 (l-r) Lala Kent, Ally Lewber (Nicole Weingart/Bravo)
Newly split from film producer Randall Emmett — with whom she shares a child — after discovering that he'd been cheating on her for almost the totality of their relationship, Lala pulls no punches in comparing Sandoval to her own own lying ex.
"Sandoval is Randall," Lala says to Cohen when asked if she thought it was a good idea that Sandoval and Ariana had (up until recently) continued to live in the same home together. "Give it 10 years. He is Randall Emmett. It's absolutely terrifying. I couldn't get Randall to stay home, and then when s**t hit the fan, I couldn't get him the f**k out of the house."  
With her sentiments punctuated by Ariana saying, "There you go," in agreement, Lala then warns the cast to stay away from Sandoval, calling him a narcissist and a "dangerous human being." To this, Lisa Vanderpump surprisingly comes to Sandoval's defense telling Lala that her stance is ridiculous, creating tension between the two women and flustering Lisa in a way that viewers don't often get to see. 
"We're here for like 10 hours, for God's sake," Lisa says after being dismissed by Lala. "You cannot start like this."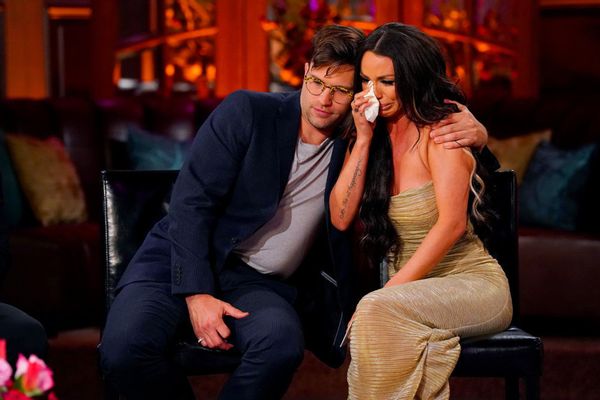 (l-r) Tom Schwartz, Scheana Shay (Nicole Weingart/Bravo)
When asked to divulge when Sandoval first told him about his affair with Leviss, Schwartz fails to maintain the previously established story.
"Come like, late August, I met up with Tom and he broke it down for me," Schwartz says.
Hearing Sandoval begin to edit on the fly with "late August?" Lala steps in to make sure everyone caught what had just happened saying, "Did you guys not put your timelines together to match?" 
Befuddled, but continuing to (albeit incorrectly) co-sign for his friend, Schwartz says, "I'm not a f**king idiot" eliciting an eye roll from Lisa. 
Read more
about this topic