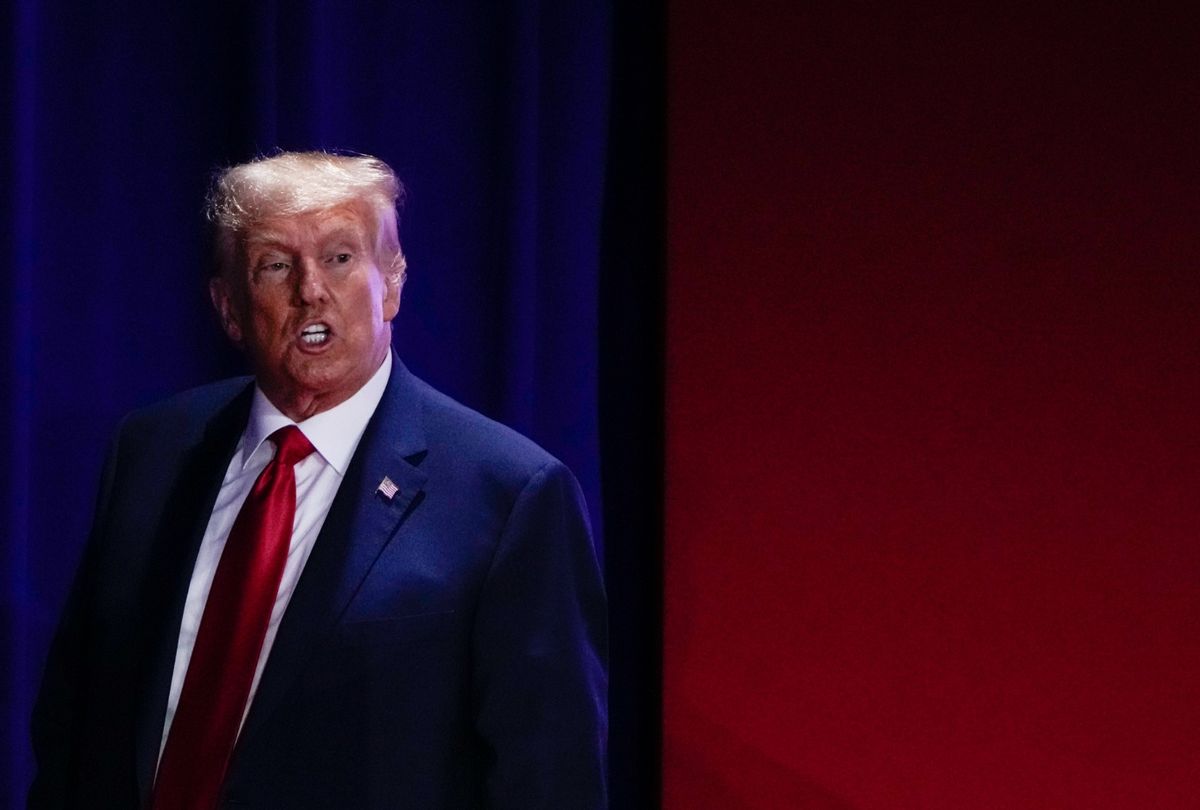 Former President Donald Trump claimed on Saturday that he had the "absolute right" to keep documents after leaving the White House but legal experts say that defense won't hold up in court.
Trump, who pleaded not guilty earlier this month to 37 charges related to his handling of classified documents, has repeatedly claimed that he had the right to take the documents under the Presidential Records Act, which legal experts have refuted.
Trump reiterated his defense during a speech at the Faith & Freedom Coalition's annual conference on Saturday.
"Whatever documents a president decides to take with him, he has the absolute right to take them," Trump claimed.
"He has the absolute right to keep them or he can give them back to NARA if he wants, he talks to them like we were doing and he can do that if he wants," he added, referring to the National Archives and Records Administration. "That's the law and it couldn't be more clear."
Legal experts rejected Trump's claim.
"That's not the law," warned former federal prosecutor Andrew Weissmann, who served on special counsel Bob Mueller's team. "You knew you had to return the docs, cause multiple lawyers told you that."
The Washington Post reported earlier this month that Trump rejected advice from his attorneys to return all of the documents and reach a settlement with the National Archives before the FBI searched his Mar-a-Lago residence in August and found over 100 secret documents.
Trump instead listened to the advice of Judicial Watch activist Tom Fitton, who is not a lawyer and who told him that he had the right to keep the documents.
"Absolutely nothing about this is true," the watchdog group Citizens for Responsibility and Ethics in Washington (CREW) tweeted in response to Trump's claim. "If this is his defense, he's in for a world of trouble."
Rep. Dan Goldman, D-N.Y., a former federal prosecutor who served as the lead Democratic counsel in Trump's first impeachment, tweeted that Trump's "argument should be precluded at trial by the judge because it's a false representation of the law."
"The Special Counsel will likely move to preclude it and would win that motion with any objective judge," he predicted.
Longtime Harvard Law Prof. Laurence Tribe called the former president's defense "ludicrous."
"There are only 2 ways for Trump to avoid conviction in the MAL case," he predicted. "Get Judge Cannon to delay trial till a new president pardons him, or get a Florida juror pre-committed to acquit regardless of the facts and the law. His odds look good."
---
Want a daily wrap-up of all the news and commentary Salon has to offer? Subscribe to our morning newsletter, Crash Course.
---
Legal experts previously told Salon that Trump's defense would not fly given the allegations in the indictment.
"The records Trump is alleged to have illegally retained are agency records, such as records of the CIA, NSA, and Department of Defense, not presidential records," former U.S. Attorney Barb McQuade told Salon.
"Trump isn't charged with any violations of the Presidential Records Act," added former Assistant U.S. Attorney William "Widge" Devaney. "Trump is charged with having secret and top secret information, refusing to turn it over, obstructing the government's attempts to turn it over and causing people to lie about those records. I mean, it's really apples and oranges."
Read more
about the Trump indictment