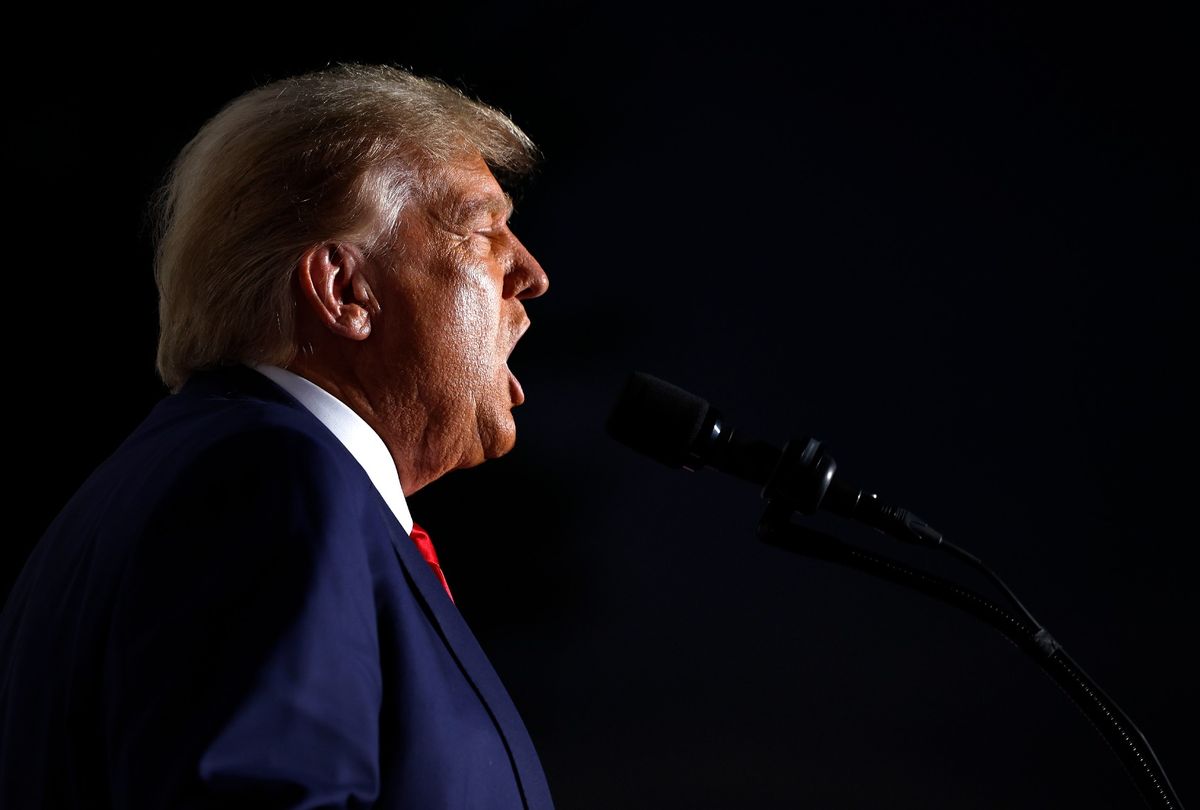 Former President Donald Trump on Tuesday spoke to supporters at his Bedminster, N.J. golf club hours after he was fingerprinted, booked and pleaded not guilty to 37 federal criminal charges in Miami, declaring that he had "every right to take these documents."
Trump pleaded not guilty to charges that he illegally retrained national security information and sought to obstruct the investigation into the missing records.
"Whatever documents a president decides to take with him, he has the right to do so. It's an absolute right. This is the law," Trump declared in his speech.
That is not the law. While the Presidential Records Act allows Trump to retain "personal" records like family photos, it requires the National Archives to "assume responsibility for the custody, control, and preservation of, and access to, the Presidential records of that President."
"There is absolutely no legal authority that supports the idea that a president could assert, for example, that classified records are 'personal.' That would still be true even if such records were declassified," Jason Baron, former director of litigation for the National Archives and Records Administration, told CBS News, adding that Trump  "simply is wrong in saying that he had an absolute right to take official documents with him when he left office."
Trump also claimed that "the president enjoys unconstrained authority to make decisions regarding the disposal of documents."
But the Presidential Records Act says that the National Archives must sign off on any disposal of presidential records.
Trump during his speech decried his indictment as "the most evil and heinous abuse of power in the history of our country" even though more than a dozen of his former administration officials admit the allegations in the indictment are damning.
"There is not an Attorney General of either party who would not have brought today's charges against the former president," prominent conservative Judge Michael Luttig tweeted on Tuesday. "He has dared, taunted, provoked, and goaded DOJ to prosecute him from the moment it was learned that he had taken these national security documents."
---
Want a daily wrap-up of all the news and commentary Salon has to offer? Subscribe to our morning newsletter, Crash Course.
---
Trump accused President Joe Biden of having his "top political opponent arrested on fake and fabricated charges of which he and numerous other presidents would be guilty, right in the middle of a presidential election in which he is losing very badly."
Trump then went on to vow to do the same thing he accused Biden of doing – appointing a prosecutor to investigate his opponent.
"I will appoint a real special prosecutor to go after the most corrupt president in the history of the United States of America, Joe Biden, and the entire Biden crime family," Trump said.
Former federal prosecutor Andrew Weissmann, who served on special counsel Bob Mueller's team, zeroed in on Trump's claim that he had "every right" to take the documents he is charged with violating the Espionage Act over.
"Those statements that you just played are admissible as admissions, regardless of whether Donald Trump takes the stand or not. Those are admissions. So, that is–part of what he said is just a straight-out confession. It's not a defense. It's a confession," Weissmann told MSNBC.
"He said, 'I could take these,'" Weissmann later added. "When you are charged with the illegal retention, the illegal possession of the documents, it is not a good idea to say, 'Hey, you want to know why I took these? Because I could. That is not a defense to that charge. That is an admission to the charge."
Read more
about the Trump indictment