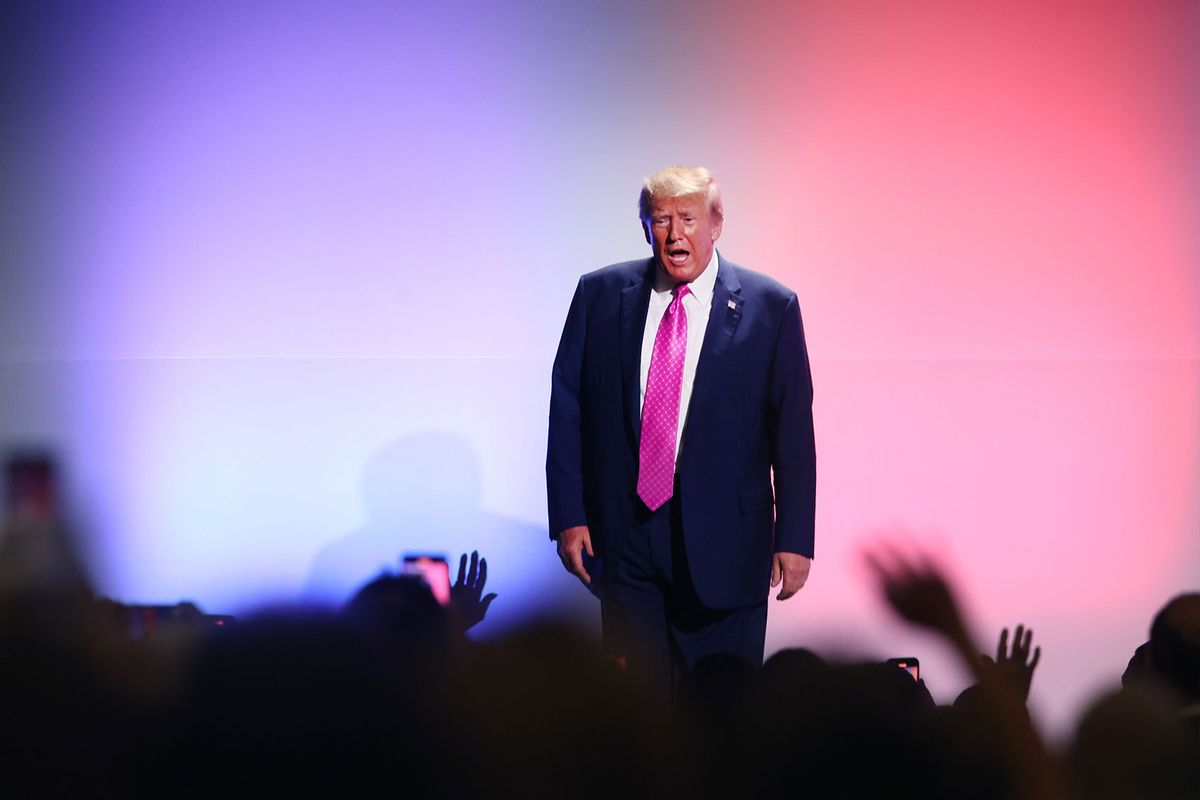 A federal judge on Tuesday was unswayed by former President Donald Trump's request to move his hush-money case from a New York state court to federal court, leaving the case before the same judge who sentenced the Trump Organization for tax fraud earlier this year.
After a three-hour hearing that yielded poor results for Trump's team, U.S. District Judge Alvin Hellerstein indicated that he would rule against the former president in the days to come. According to The Daily Beast, Trump's lawyer, Todd Blanche, failed to prove that Manhattan District Attorney Alvin Bragg's case prompts legal concerns that are better addressed in federal court such as "matters relating to whether a president can be sued for conduct relating to his official duties or committing federal crimes, as opposed to local ones." 
The judge, instead, countered that all of Trump's alleged crimes revolve around his personal affairs.
"There's no relation to any act of the president," Hellerstein said, calling Trump's relationship with lawyer Michael Cohen, who illegally paid off an adult film star, a "private hiring."
Trump was indicted in late March over his alleged role in the scheme to pay off adult film actress Stormy Daniels in an effort to keep knowledge of their alleged extramarital affair from nearly a decade prior away from the public. Bragg charged Trump with 34 counts of falsifying business records to cover up the $130,000 expense and the $420,000 reimbursement he later gave Cohen.
Cohen was sent to federal prison for his role in the scheme in 2019, but Trump, who was still president, evaded prosecution at the time. Bragg's predecessor, Cyrus Vance, however, launched an investigation into Trump, which ended in Bragg convening the grand jury this year that voted to indict him. 
The case being arguably better suited for the federal court system has largely motivated Trump's attempts to have it moved, according to the report. But he and his team have also been trying to avoid Justice Juan Merchan, the state court judge who oversaw the criminal trial in which the Trump Organization was convicted of tax fraud. Even-tempered despite the former president's jabs at him and his family, Merchan has also restricted Trump's access to the documents in the case.
A month after his indictment, Trump lawyers asked a federal judge to take over the case on the grounds that it "involves important federal questions since the indictment charges President Trump for conduct committed while he was President of the United States." They also argued that his actions fell "within the 'color of his office,'" a go-to claim of Trump's legal defense in recent years.
---
Want a daily wrap-up of all the news and commentary Salon has to offer? Subscribe to our morning newsletter, Crash Course.
---
Trump's lawyers even brought in a surprise witness, Trump Organization chief legal officer Alan Garten, to testify about Trump's personal arrangement with Cohen but the attorney's testimony may have hurt Trump's case more than it helped because he was unable to provide details of the arrangement, legal experts say.
The judge disregarded the legal team's argument at every turn. At one point, Hellerstein even said that Trump's decision to hire Cohen only further supports the fact that Cohen's work was unrelated to government affairs.
"It doesn't lower the suspicion; it raises it," Hellerstein said.
Matthew Colangelo, a prosecutor for the D.A.'s office, undermined Trump lawyer's arguments by telling the courtroom that the case is about "personal payments from personal accounts to a personal attorney handling his personal affairs," and citing multiple examples of Trump himself and his colleagues — including his other lawyer Rudy Giuliani — asserting years ago that the hush money payment was a "personal" matter.
Trump's attorneys also argued Tuesday that Bragg's case involves alleged federal law violations, which would allow the federal government to preemptively seize control of it.
"If there was no federal elections violation, then there is no crime… and that's exactly why it belongs in this courthouse, not across the street," Blanche told the judge.
But the D.A.'s office refuted his statement, arguing that Trump committed a crime in New York state by intending to break the law even if the law in question was a federal one. Though Hellerstein didn't say much about the issue, he seemed convinced that the case could stay in the state court.
"And the fault was Team Trump's," MSNBC legal analyst and lawyer Lisa Rubin tweeted late Wednesday of the legal team's failure. "Not only did they violate a prior agreement with the DA's office not to call live witnesses, but they called the chief legal officer of Trump's business, who could not attest to some of their key points and made some damaging admissions."
"It was a bold gamble without any payoff. And something tells me that tonight, Todd Blanche, Trump's shiniest new legal toy, is no longer feeling so golden," she added.
"So much winning," lawyer George Conway added in response to Rubin's thread about the hearing.
Read more
about Trump's hush-money case