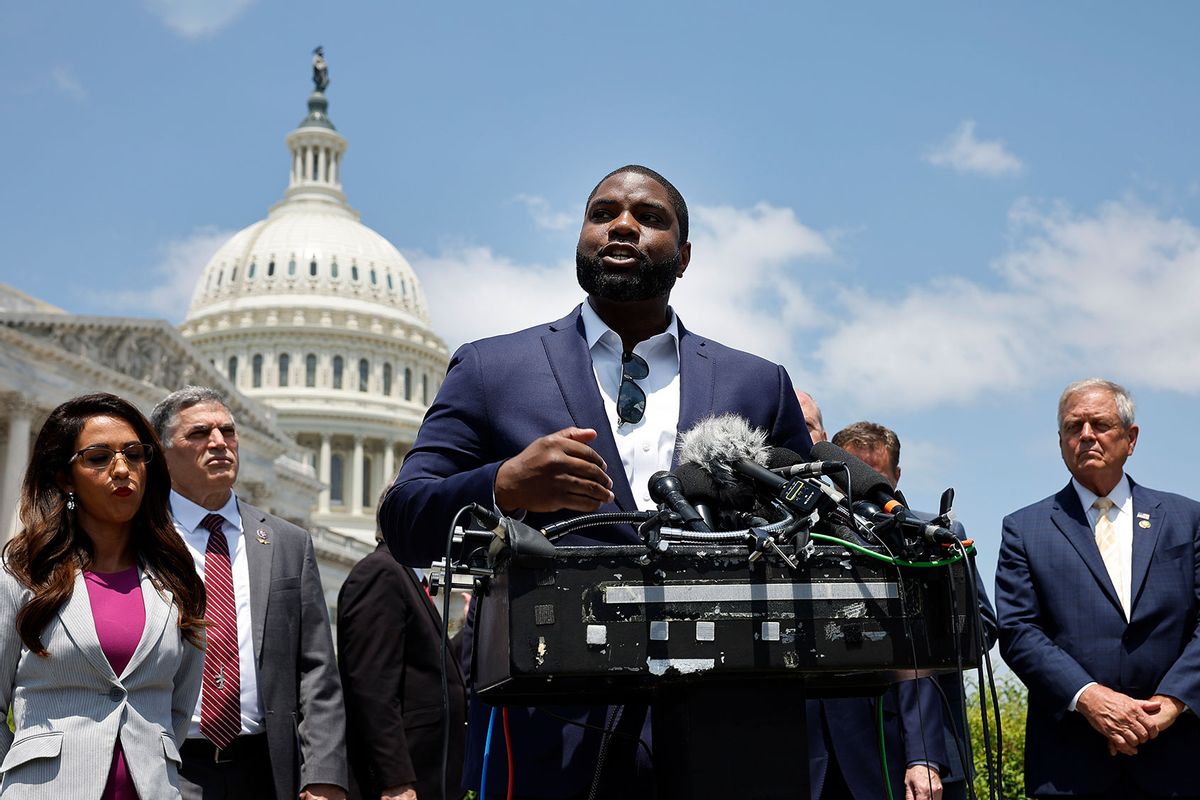 Rep. Byron Donalds, R-Fla., offered a bizarre defense of indicted former President Donald Trump after he was accused of storing sensitive national security secrets in a Mar-a-Lago bathroom.
Donalds hours before Trump's arraignment on Tuesday argued on CNN that special counsel Jack Smith's indictment is "plain ridiculous" before turning to discuss images of documents being stored in a bathroom at Mar-a-Lago.
"You guys are throwing up the pictures about they were in a bathroom or on a stage," Donalds said. "As somebody who has been to Mar-a-Lago, you can't walk through Mar-a-Lago of your own accord because Secret Service is all over the place. So if the documents are in a place, they are in a room, depending on the time of year, you can't even get into said room."
"There are 33 bathrooms at Mar-a-Lago!" Donalds added. "So don't act like it's in some random bathroom that the guests can go into. That's not true!"
Donalds' comments came one day after House Speaker Kevin McCarthy, R-Calif., was asked whether it was a "good look" for Trump to have stowed documents in the bathroom and attempted to compare Trump's case to classified documents found in the garage of President Joe Biden's Delaware home 
"I don't know. Is it a good picture to have boxes in a garage that opens up all the time? A bathroom door locks," he said.
The lawmakers' defense of Trump was widely mocked.
"Needless to say, this is not an argument Trump's lawyers will make in court," tweeted national security attorney Bradley Moss.
"When is someone going to tell these people that bathrooms lock from the inside?" tweeted Jonah Goldberg, editor-in-chief at The Dispatch.
Former FBI agent Pete Strzok pointed out that the photos included in the indictment show that files were also stored on stage at a Mar-a-Lago ballroom, not just the bathroom.
---
Want a daily wrap-up of all the news and commentary Salon has to offer? Subscribe to our morning newsletter, Crash Course.
---
"Everyone knows that hiding top secret materials in your bathroom and refusing to turn them over to the feds isn't a crime as long as it might be challenging for the thousands of people passing through your club to access them," quipped The Daily Beast's Matt Fuller.
"No one ever talks about the 32 bathrooms that didn't have boxes of classified documents in them," tweeted George Washington University Prof. Jeffrey Bingenheimer. 
Read more
about the Trump indictment