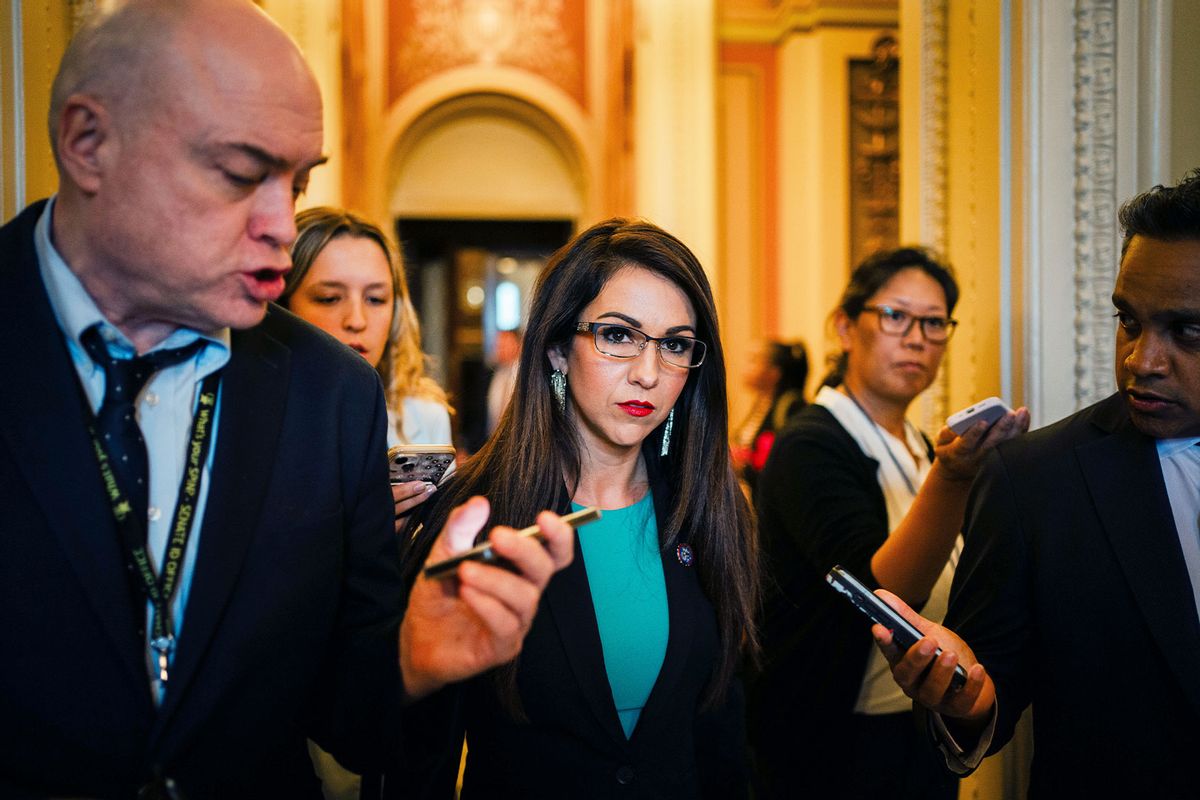 House Republicans are growing tired of their right-wing colleagues' attempts to impeach President Joe Biden and investigate his family after Rep. Lauren Boebert, R-Colo., filed a privileged motion Tuesday on articles of impeachment she introduced against the president.
Boebert surprised many of her colleagues on the floor when she filed the motion, which would force a vote to impeach Biden as early as this week. The articles relate to Biden's handling of the U.S.-Mexico border and allege his dereliction of duty and abuse of power. 
The hardline conservative's critics have called her move premature and assert that it will harm the ongoing Republican investigation into the Biden family's alleged international financial schemes and undermine future attempts at impeachment, The Hill reports. 
During a Tuesday closed-door GOP Conference meeting at the Capitol, Speaker Kevin McCarthy, R-Calif., encouraged his colleagues to oppose the resolution when it hits the floor, an unnamed Republican representative told the outlet.
"I don't think it's the right thing to do," McCarthy later told reporters.
"This is one of the most serious things you can do as a member of Congress. I think you've got to go through the process. You've got to have the investigation," he continued. "And throwing something on the floor actually harms the investigation that we're doing right now."
McCarthy added that he called and asked Boebert to speak at the House GOP conference meeting about the impeachment resolution before moving to force the vote, to which he said Boebert responded that she would think about it. However, Boebert then went ahead with filing the motion on Tuesday and did not appear at Wednesday's meeting.
She instead joined former Trump adviser Steve Bannon for an interview about the impeachment articles on the Wednesday morning edition of his show, ultimately defending her move despite pushback from leadership.
"I would love for committees to do the work, but I haven't seen the work be done on this particular subject," Boebert said, adding later that the GOP does not have enough votes to pass impeachment articles outside of the committee.
"This, I'm hoping, generates enthusiasm with the base to contact their members of Congress and say, 'We want something done while you have the majority,'" she said.
During Bannon's show, she also advised Republicans against voting to table her resolution. 
"We have the majority. This does not have to be tabled," Boebert said. "If we have Republicans stick together, we can have that debate about the sovereignty of our nation and how important it is to shut the southern border down and secure it."
---
Want a daily wrap-up of all the news and commentary Salon has to offer? Subscribe to our morning newsletter, Crash Course.
---
The House on Thursday voted to refer her articles of impeachment to committees as part of a deal between McCarthy and the MAGA wing, according to The Washington Post.
Several Republicans told Axios that they oppose Boebert's measure.
"I think they've kind of gone rogue," McCarthy ally Rep. Ken Calvert, R-Calif., told Axios.
"This motion is not going to pass. It's probably going to have quite a bit of opposition from both parties," Rep. John Duarte, R-Calif., told the outlet.
Rep. Carlos Gimenez, R-Fla., said he is "probably not" voting for the "premature" impeachment.
"I may vote to impeach the president, but we need to go through a process," he added.
"Impeachment [is] one of the awesome power of the Congress. It's not something you should flippantly exercise in two days," Rep. Garret Graves, R-La., said, arguing it "actually undermines" future attempts.
They also added that Boebert's move puts them in a difficult position politically. Duarte told Axios that he is "frustrated" with the Colorado representative for even bringing it up, while an anonymous House Republican accused colleagues of "just using [these motions] for raising campaign cash."
Several Senate Republicans also questioned Bobert's move when first hearing of the surprise motion. 
"Really?" Sen. Cynthia Lummis, R-Wyo., asked in disbelief when asked about movement on the articles, The Hill reports.
"I know people are angry. I'm angry at the Biden administration for their policies at the border and a whole host of other things, but I think we also need to look at what's achievable," Sen. John Cornyn, R-Texas, said. "And with a Democratic majority in the Senate, I don't think that's achievable."
"I've got a pretty high bar for impeachment," Sen. Todd Young, R-Ind., added, noting that he maintained the same stance in his votes against convicting former President Trump. "I fear that snap impeachments will become the norm, and they mustn't," he said.
Sen. Mitt Romney, R-Utah, who voted to convict Trump both times, even responded in the affirmative when asked if the impeachment articles were a waste of time.
"If someone commits a high crime or misdemeanor, of course. If they don't, it's a waste of time," he said. 
Boebert's push for impeachment comes alongside another right-winger's measure this week in the ultra-conservative Republicans' seeming revolt against the current state of the party's agenda. Representatives voted Wednesday to pass Rep. Anna Paulina Luna's, R-Fla., resolution censuring Rep. Adam Schiff, D-Calif., for his actions while leading investigations into then-President Donald Trump as chair  of the House Intelligence Committee. The measure had failed on the floor last week.
Prior to the vote, McCarthy argued that Schiff's censure was a reason why they shouldn't jump the gun on impeachment articles, according to The Hill.
"We're going to censure Schiff for actually doing the exact same thing — lying to the American public and taking us through impeachment," McCarthy said. "We're going to turn around the next day and do try to do the same thing that Schiff did? I just don't think that's honest."
Rep. Marjorie Taylor Greene, R-Ga., has also previously filed articles of impeachment against five Biden officials and has said that she will convert all of the articles into privileged motions to employ "when I feel it's necessary."
Right-wing House Republicans are also maintaining their attention on the Bidens after Hunter Biden took a plea deal Tuesday regarding federal tax and gun charges. The representatives have reportedly since burrowed into their investigation into the Biden family's alleged bribery and money laundering schemes, much to the ire of some of their less-radical party members.
Brendan Buck, the former top advisor to former House Speaker Paul Ryan, told MSNBC that House Republicans are increasingly growing impatient over "politically dumb" investigations, like the Biden crusade led by Reps. Jim Jordan, R-Ohio, and James Comer, R-Ky.
"I feel for Kevin McCarthy," Buck said. "A not insignificant part of the job of being speaker is stopping your members from doing something politically dumb — and that's clearly what is going on here."
"But the reality is, House members are losing patience with a lot of these investigations. That's because they rushed out right after the election and said that, pretty plainly, that Joe Biden is part of some corruption deal with his son," he continued. "In fact, Jim Jordan and James Comer, the two party chairman came out and said they have direct evidence that Joe Biden was part of some schemes with overseas dealings. Of course, six months later, we've not seen any of that."
"So, at some point, your members get tired, lose patience, and they want to see action — that's what came to a head with Rep. Lauren Boebert," he added. "Kevin McCarthy has put that to bed, but I wouldn't be surprised if that doesn't bring itself back up in the not-too-distant future." 
Read more
about GOP investigations