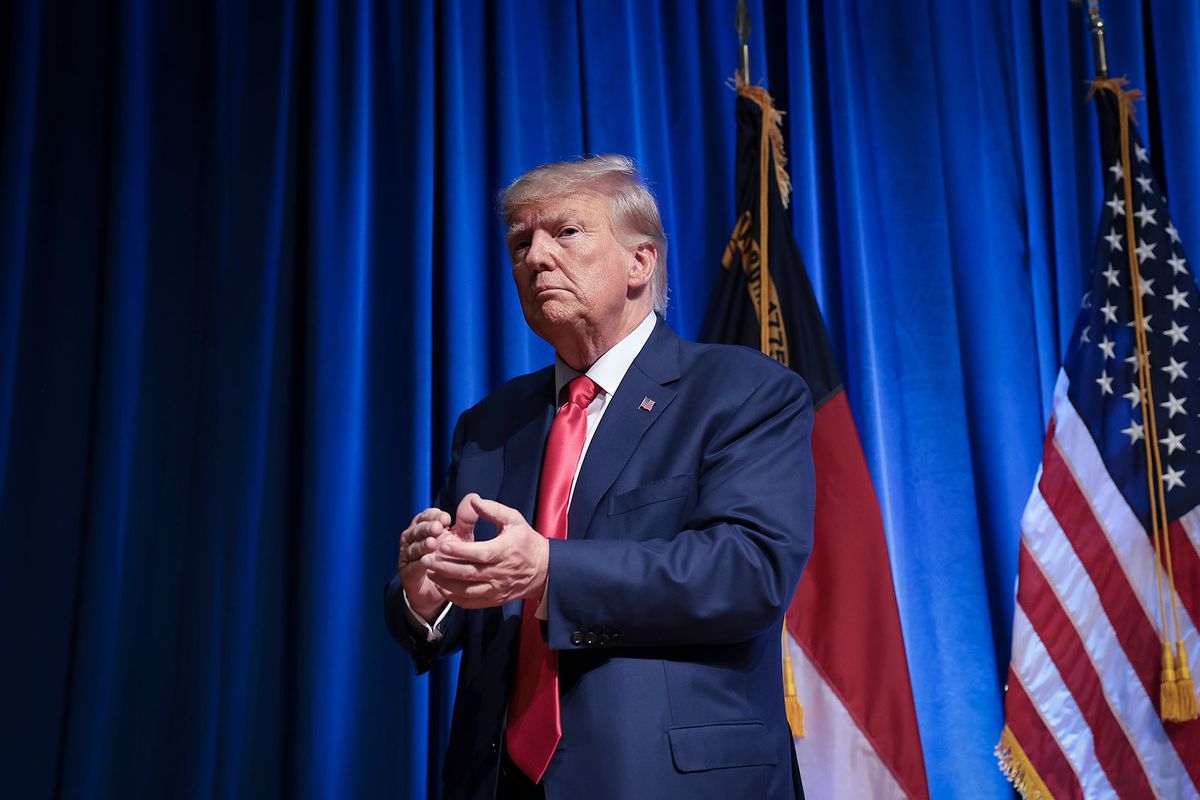 Former President Donald Trump lashed out at special counsel Jack Smith on Truth Social just hours before his arraignment in a Miami courthouse on Tuesday.
Trump was criminally charged last week in connection to his mishandling and retaining of troves of national security documents at his Mar-a-Lago estate in Florida after departing from the White House.
On Monday, the former president vowed to "go after" President Joe Biden and his family in an all-caps post.
"NOW THAT THE 'SEAL' IS BROKEN, IN ADDITION TO CLOSING THE BORDER & REMOVING ALL OF THE 'CRIMINAL' ELEMENTS THAT HAVE ILLEGALLY INVADED OUR COUNTRY, MAKING AMERICA ENERGY INDEPENDENT, & EVEN DOMINANT AGAIN, & IMMEDIATELY ENDING THE WAR BETWEEN RUSSIA & UKRAINE, I WILL APPOINT A REAL SPECIAL 'PROSECUTOR' TO GO AFTER THE MOST CORRUPT PRESIDENT IN THE HISTORY OF THE USA, JOE BIDEN, THE ENTIRE BIDEN CRIME FAMILY, & ALL OTHERS INVOLVED WITH THE DESTRUCTION OF OUR ELECTIONS, BORDERS, & COUNTRY ITSELF!" Trump wrote.
On Tuesday, Trump took specific aim at Smith, who has spearheaded the Mar-a-Lago probe since being appointed to the case by Attorney General Merrick Garland in November 2022. Smith is also investigating the ex-president for his efforts in attempting to overturn the results of the 2020 presidential election, as well as his role in stoking the violence that led to the deadly Capitol insurrection. 
Trump, who initially claimed that the FBI may have "planted" evidence during its August 2022 search of Mar-a-Lago, recycled his claim once again on Truth Social
"This is the Thug, over turned consistently and unanimously in big cases, that Biden and his CORRUPT Injustice Department stuck on me," Trump raged. "He's a Radical Right Lunatic and Trump Hater, as are all his friends and family, who probably 'planted' information in the "boxes" given to them. They taint everything that they touch, including our Country, which is rapidly going to HELL!"
Trump intends to plead not guilty at his Tuesday afternoon arraignment, he told conservative radio host Howie Carr.
"I'll just say not guilty," Trump said. "I didn't do anything wrong. I did nothing wrong. Presidential Records Act, it's not even a criminal event. There is no criminality here. It's ridiculous."
After several of his top attorneys resigned following news of the indictment, Trump and his legal defense team were forced to scramble for reinforcements. The Guardian reported that the MAGA team was ultimately unsuccessful after several Floridian lawyers declined the opportunity — including Howard Srebnick and David Markus — partly owing to Trump's highly volatile, risky, and difficult nature as a client. Other expressed concerns included reputational damage and the strength of the indictment, The Guardian reported. 
MAGA attorneys Todd Blanche and Chris Kise will appear in court to represent Trump on Tuesday. The former president's co-defendant and personal valet, Walt Nauta, will be represented by lawyer Stanley Woodward.