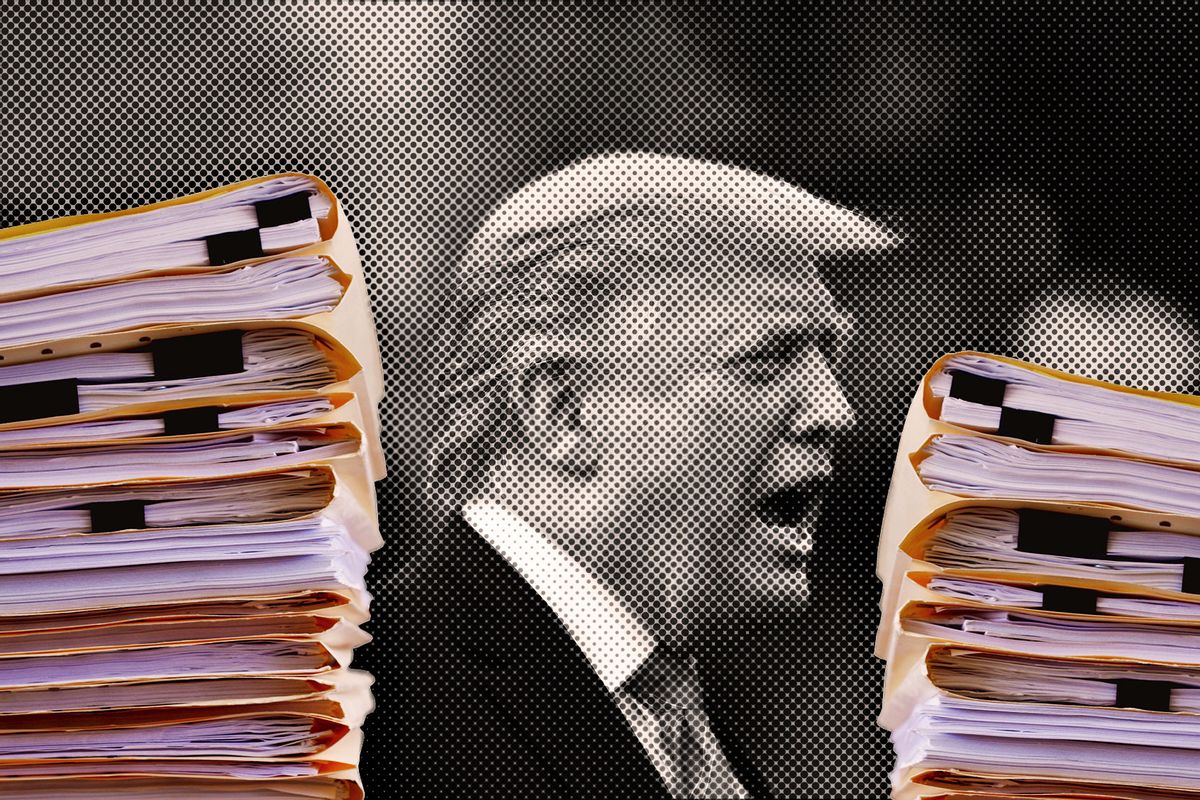 Former President Donald Trump pleaded not guilty to 37 charges in the Justice Department's Mar-a-Lago probe during his formal arraignment in Miami on Tuesday.
"Not guilty," Trump attorney Todd Blanche told Magistrate Judge Jonathan Goodman after the former president was arrested, taken into custody by U.S. Marshals and booked at the courthouse.
Trump reportedly underwent fingerprinting but did not take a mugshot.
The judge allowed Trump to leave the courthouse without any bail or conditions, according to CNN. Prosecutor David Harbach told the judge that the government "does not view either defendant as a flight risk."
Trump is expected to be assigned a probation officer, according to CNN. The judge also ordered him not to have any contact with witnesses in the case, according to ABC News.
"Trump had his arms folded and periodically spoke to his attorney Todd Blanche while in the courtroom," according to CNN. The former president was "stonefaced" during his appearance, according to MSNBC.
Trump is charged with 31 counts of violating the Espionage Act by illegally retaining secret national security documents after leaving office, five counts related to concealing possession of the classified documents and making false statements to the FBI.
Trump's co-defendant, his body man Walt Nauta, is also expected to plead not guilty.
Trump called on his supporters to "FIGHT" and protest outside the courthouse but few Trump fans actually showed up.
Trump lashed out on Truth Social ahead of the arraignment, attacking special counsel Jack Smith, who led the investigation after he was appointed by Attorney General Merrick Garland last fall.
"This is the Thug, over turned consistently and unanimously in big cases, that Biden and his CORRUPT Injustice Department stuck on me," Trump fumed. "He's a Radical Right Lunatic and Trump Hater, as are all his friends and family, who probably 'planted' information in the 'boxes' given to them. They taint everything that they touch, including our Country, which is rapidly going to HELL!"
The indictment, unsealed last week, alleges that Trump illegally took highly sensitive national security documents home and sought to prevent his attorney from turning over all of the classified documents in his possession to the government in response to a grand jury subpoena and having his attorneys submit a false declaration claiming all the documents had been returned. Trump is also accused of holding sensitive documents in a Mar-a-Lago bathroom and a ballroom where events were held and showing them to others.
Trump has denied any wrongdoing while firing off a series of dubious defenses, including a claim that he declassified all of the documents that he took home, which he claimed he could do with his mind. But a recording obtained by the special counsel's team revealed Trump admitting that he had a classified document that he could not show to others because it was not declassified.
---
Want a daily wrap-up of all the news and commentary Salon has to offer? Subscribe to our morning newsletter, Crash Course.
---
Much of the indictment is based on notes and testimony provided by Trump attorney Evan Corcoran after a D.C. judge allowed prosecutors to pierce attorney-client privilege after agreeing with the DOJ that Trump may have used the attorney's services in furtherance of a crime.
Trump's team is expected to ask Judge Aileen Cannon, a controversial Trump appointee expected to be the lead judge on the case, to block the evidence from being used at trial. Trump's lawyers have also alleged prosecutorial misconduct because one of the prosecutors mentioned Walt Nauta's lawyer's application for a judgeship during an interview.
Legal experts say that while Cannon could influence certain things in the case, as she did when she appointed a special master and blocked the FBI from using the seized classified documents, the evidence against Trump is damning.
"It's a very detailed indictment, and it's very, very damning," former Trump Attorney General Bill Barr told Fox News on Sunday. "This idea of presenting Trump as a victim here, a victim of a witch hunt, is ridiculous. Yes, he's been a victim in the past. Yes, his adversaries have obsessively pursued him with phony claims. And I've been at his side defending against them when he is a victim, but this is much different."
Barr said he was "shocked by the degree of sensitivity of these documents and how many there were, frankly."
"We can't forget here that this entire thing came about because of reckless conduct of the president," Barr furthered. "If he had just turned over the documents, which I think every other person in the country would have done. They're the government's documents. They're official records. They're not his personal records."
Read more
about the Trump charges