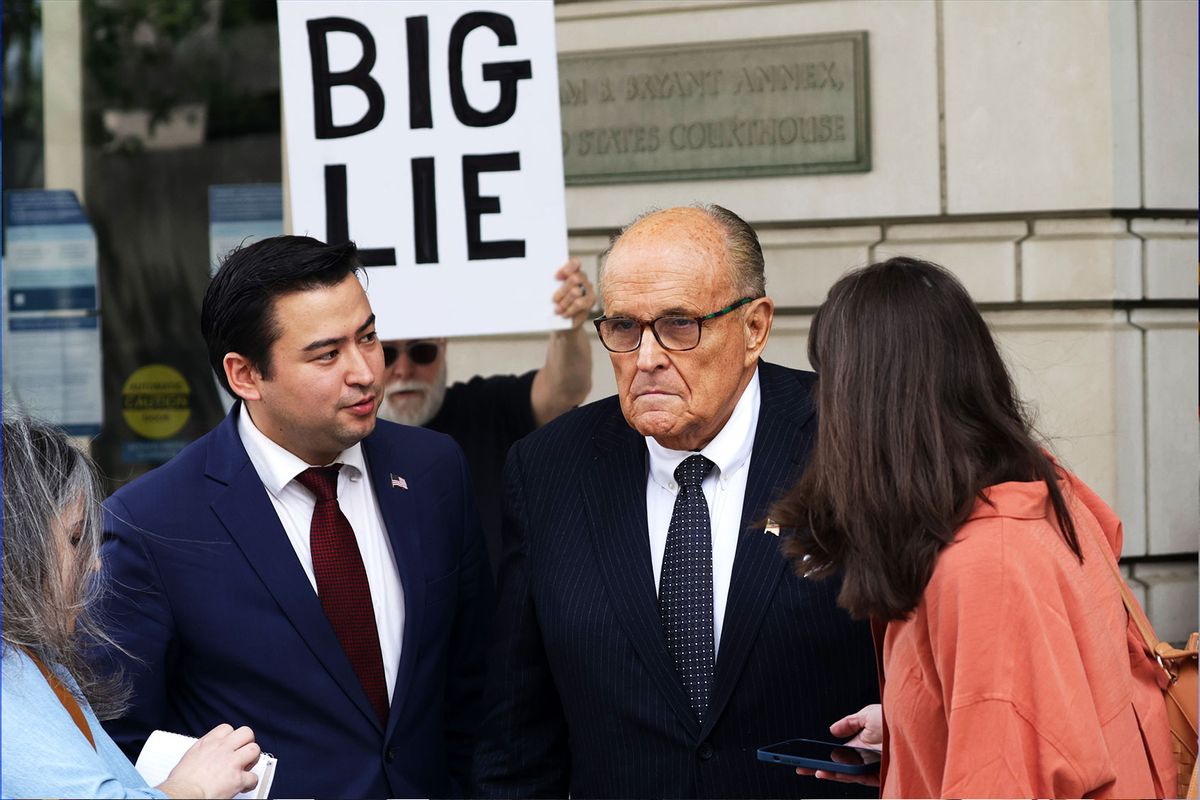 As the Justice Department's investigation into former President Donald Trump's role in overturning the 2020 election advances swiftly, prosecutors are examining the role his allies played in pushing out false claims about election fraud, including plans to assemble "fake electors" in key swing states that were won by President Joe Biden, according to The New York Times. 
Federal prosecutors last week interviewed Trump's former personal lawyer Rudy Giuliani, who actively promoted baseless legal theories challenging the presidential election results, individuals familiar with the matter told The Times. 
Trump's legal team also filed lawsuits in key states, asserting unsubstantiated allegations of extensive election fraud, despite statements from officials, including Trump's own Attorney General William Barr, who confirmed that there was no evidence of widespread voter fraud.
"Trump's lawyers can be charged with conspiring to overturn the election results," former federal prosecutor Neama Rahmani told Salon. "There is legal advocacy on behalf of a client and there is criminal conduct in coordination with a defendant, and Trump's lawyers may have crossed that line."
Giuliani's role has made him a prominent figure in ongoing investigations. He faced questioning last year by a House committee investigating the events leading up to the January 6 attack and was interviewed by prosecutors in Fulton County, Georgia, who are examining attempts to undermine the state's election.
"Giuliani, in particular, may be charged as a co-conspirator for coordinating the fake electors," Rahmani said. "A conspiracy is an agreement to do something unlawful and an overt act in furtherance of the conspiracy."
For several months, Justice Department prosecutors have been investigating the involvement of Trump's legal advisers in their attempts to overturn the election. The DOJ is examining the roles Jenna Ellis, John Eastman, Kurt Olsen, Kenneth Chesebro, and then-Justice Department lawyer Jeffrey Clark played in helping push false claims regarding election fraud, a source told the Washington Post. 
In July of last year, Eastman, a conservative lawyer who assisted Trump in contesting the election results, revealed that federal agents had confiscated his phone.
Special counsel Jack Smith's team has questioned multiple witnesses about the lawyers' actions related to creating fake slates of pro-Trump electors in key swing states that were actually won by Biden, one person familiar with the matter told the Times. 
"The fake electors scheme, which can be described as unapologetically brazen in its disregard for the law, appears to be at the center of the special counsel's January 6th inquiry and has been a focus of Fulton County District Attorney's investigation into President Trump and his team," Temidayo Aganga-Williams, partner at Selendy Gay Elsberg and former senior investigative counsel for the House Jan. 6 committee, told Salon.
Trump's allies have defended their actions arguing that there was nothing criminal about preparing alternate electors in case they were needed, the Post reported. 
"Assuming the agreement to overturn the election was unlawful, then preparing fake electors in case they were needed is not a legal defense and satisfies the overt act requirement," Rahmani said.
Former U.S. Attorney Barb McQuade, a University of Michigan law professor, told Salon that several lawyers, including Giuliani, Eastman and Clark, "appear to have criminal exposure."
"One potential crime is conspiracy to defraud the United States by interfering in the lawful transfer of presidential power," McQuade said. "Anyone who knowingly entered into that agreement could face charges. Conduct such as knowingly promoting false claims of election fraud, coordinating fake electors, pressuring Mike Pence to overturn the election or persuading state legislatures to replace their states' duly elected electors could constitute criminal conduct."
---
Want a daily wrap-up of all the news and commentary Salon has to offer? Subscribe to our morning newsletter, Crash Course.
---
Trump was indicted earlier this month on 37 federal counts arising from his possession of classified material and government records after he left the White House. Smith alleges that the former president willfully retained classified documents at Mar-a-Lago and obstructed government efforts to retrieve them.
Now, Smith is also examining Trump and his allies' efforts during and around January 6, 2021, when a violent mob of his supporters forcefully breached the Capitol in a violent effort to overturn the outcome of the 2020 presidential election. 
Former acting Solicitor General Neal Katyal told MSNBC that the recent activity in the probe, including the testimony of at least five Secret Service agents being questioned by a grand jury in the probe, suggests the walls are closing in on the former president.
"Jack Smith is certainly moving – it looks to me – to indict Trump for Jan 6," Katyal said. "The Secret Service, bringing them in to testify before the grand jury, is an extraordinary step."
Read more
about the Jan. 6 probe