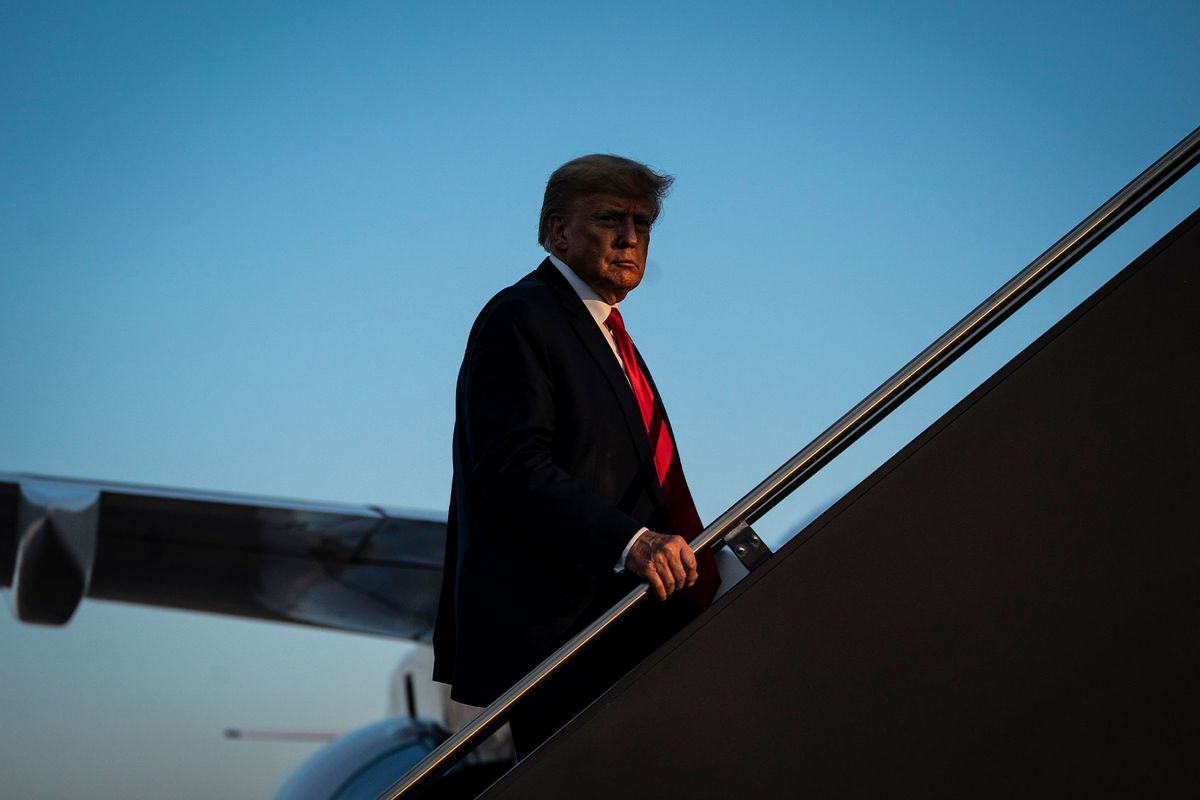 Former President Donald Trump is struggling to find a new Florida attorney to represent him ahead of his Tuesday arraignment in Miami in the Mar-a-Lago classified documents investigation.
Trump has been turned down by multiple attorneys, according to The Messenger, and NBC News' Ken Dilanian reported that if the former president cannot find someone by Tuesday, "the arraignment may have to be postponed."
"The surrender and first appearance will happen regardless," he tweeted. 
The Guardian's Hugo Lowell reported that Trump will spend Monday meeting with potential attorneys but is currently expected to be represented by his New York lawyer Todd Blanche and Florida attorney Chris Kise, who was reportedly sidelined last year after urging Trump to calm tensions with Justice Department investigators.
Trump is also represented by Linsdsey Halligan, an inexperienced Florida attorney he hired last year during another stretch when he struggled to find prominent attorneys to represent him.
"No offense to Ms. Halligan but this is an Espionage Act prosecution of a former president," tweeted national security attorney Bradley Moss. "The idea an insurance lawyer will have to take point on this right now is simply unacceptable."
Trump has already been turned down by Florida attorney David Markus, who recently represented former Florida gubernatorial candidate Andrew Gillum, according to Lowell. 
Trump is also expected to meet with Florida attorney Ben Kuehne, who was previously indicted on money laundering charges that were later dropped.
---
Want a daily wrap-up of all the news and commentary Salon has to offer? Subscribe to our morning newsletter, Crash Course.
---
Trump's struggles come after two of his attorneys in the Mar-a-Lago case, Jim Trusty and John Rowley, resigned from his defense team just hours after the indictment.
Trump posted news of their resignation, thanking Trusty and Rowley for their efforts against "a very dishonest, corrupt, evil, and 'sick' group of people, the likes of which has not been seen before." 
"We will be announcing additional lawyers in the coming days," Trump added, also stating that he would be represented by Blanche, who is also representing him in the Manhattan district attorney hush-money indictment.
The Messenger reported that Trump's legal team has interviewed six Southern Florida law firms thus far but many have passed on the opportunity to work for the ex-president, largely owing to his inflammatory and polarizing nature. 
"The problem is none of us want to work for the guy. He's a nightmare client," a leading federal criminal defense lawyer in the Southern District of Florida told the outlet, also commenting on the ongoing rumors of infighting and deep-seated distrust amongst Trump's legal team. 
"I would love to do it. I think the case is weak," another attorney who spoke with Trump's defense team said. "But my wife would divorce me and my kids wouldn't talk to me if I defended Trump." 
Read more
about the Trump indictment