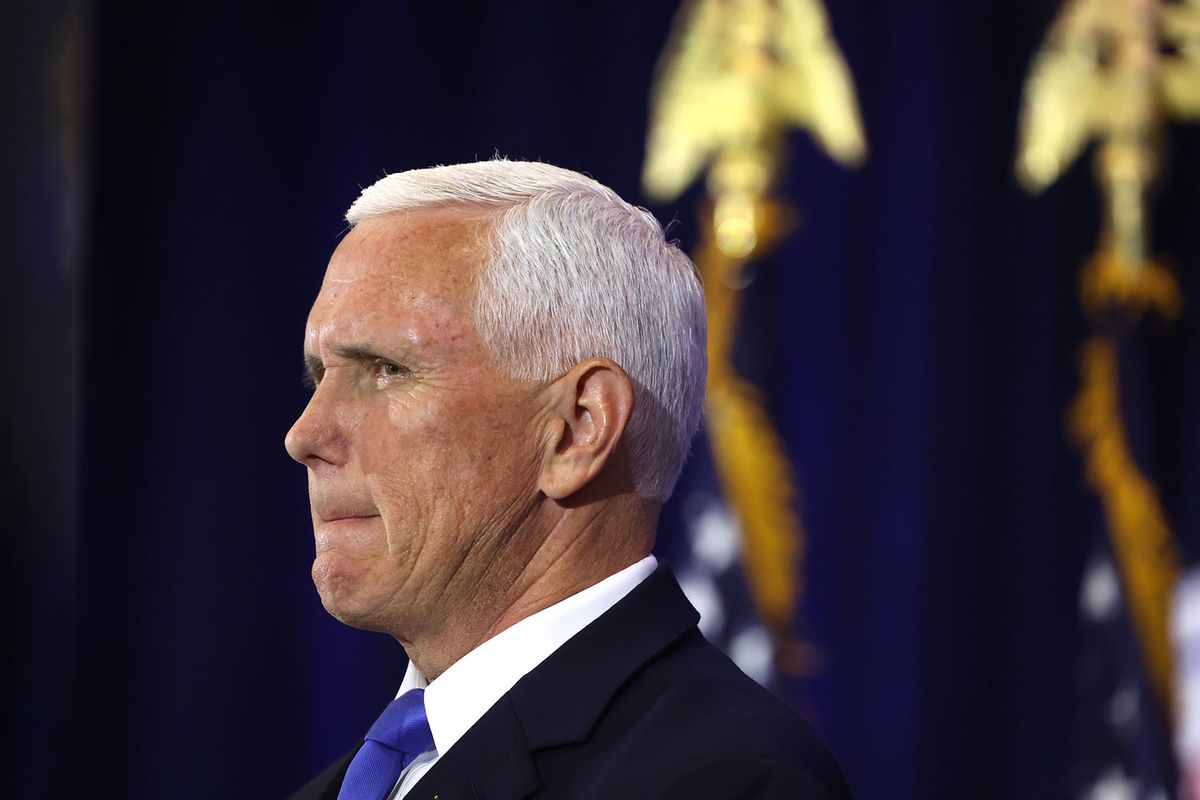 Former Vice President Mike Pence on Wednesday flailed over the question of whether former President Donald Trump, his former boss and Republican primary rival, should be indicted in the special counsel investigation into his handling of classified documents. 
The freshly announced 2024 candidate ultimately declined to rule out pardoning the former president in the event of a criminal indictment if he were to take office.
During the CNN town hall on the same day he announced his bid for the oval office in Iowa, Pence responded to a question from moderator Dana Bash about the Mar-a-Lago classified documents case, admitting that while he didn't know the facts of the probe, "what we've got to have in this country is equal treatment under the law."
But when Bash asked if federal investigators should pursue an indictment of Trump if they have enough evidence to support the accusations, Pence seemingly backtracked on his stance.
"Well, I would hope not," he said, repeating a common defense among Trump's camp of defenders that it would be "terribly divisive to the country."
"I hope the DOJ thinks better of it and resolves these issues without an indictment," Pence added.
Bash quickly jumped to address the inconsistency in Pence's comments.
"Sir, I just want to clarify. What you're saying is that if they believe he committed a crime, they should not go forward with an indictment?" she asked. "You just talked before about committing to the rule of law."
"Let me be clear that no one's above the law, but with regard to the unique circumstances here," Pence responded with a pause before continuing.
"I had no business having classified documents in my residence, and I took full responsibility for it," he said. "President Biden had no business having them in his residence from when he was vice president as well. And the same with former President Trump.
"But I would just hope that there would be a way for them to move forward without the dramatic and drastic and divisive step of indicting a former president of the United States. We've got to find a way to move our country forward and restore confidence in equal treatment under the law in this country. We really do," he concluded.
---
Want a daily wrap-up of all the news and commentary Salon has to offer? Subscribe to our morning newsletter, Crash Course.
---
Bash then asked Pence if, during his potential presidency, he would pardon Trump if he were convicted of a crime.
"Well, I don't want to speak about hypotheticals. I'm not sure I'm going to be elected president of the United States," Pence said before dismissing Dana's question with more jokes.
"There are real issues the American people are facing," he added. "Rather than talking about that, I want to talk about what the people in Iowa are talking about, which is the failed policies of the Biden administration."
Pence earlier in the day disavowed Trump during his campaign announcement, telling the audience he believes "anyone who puts themselves over the Constitution should never be president of the United States. And anyone who asks someone else to put them over the Constitution should never be president of the United States again."
Yet in a later interview with Fox News, he said he would "absolutely support" whoever the 2024 GOP nominee is. 
Trump is currently the frontrunner for the nomination.
Read more
about Mike Pence