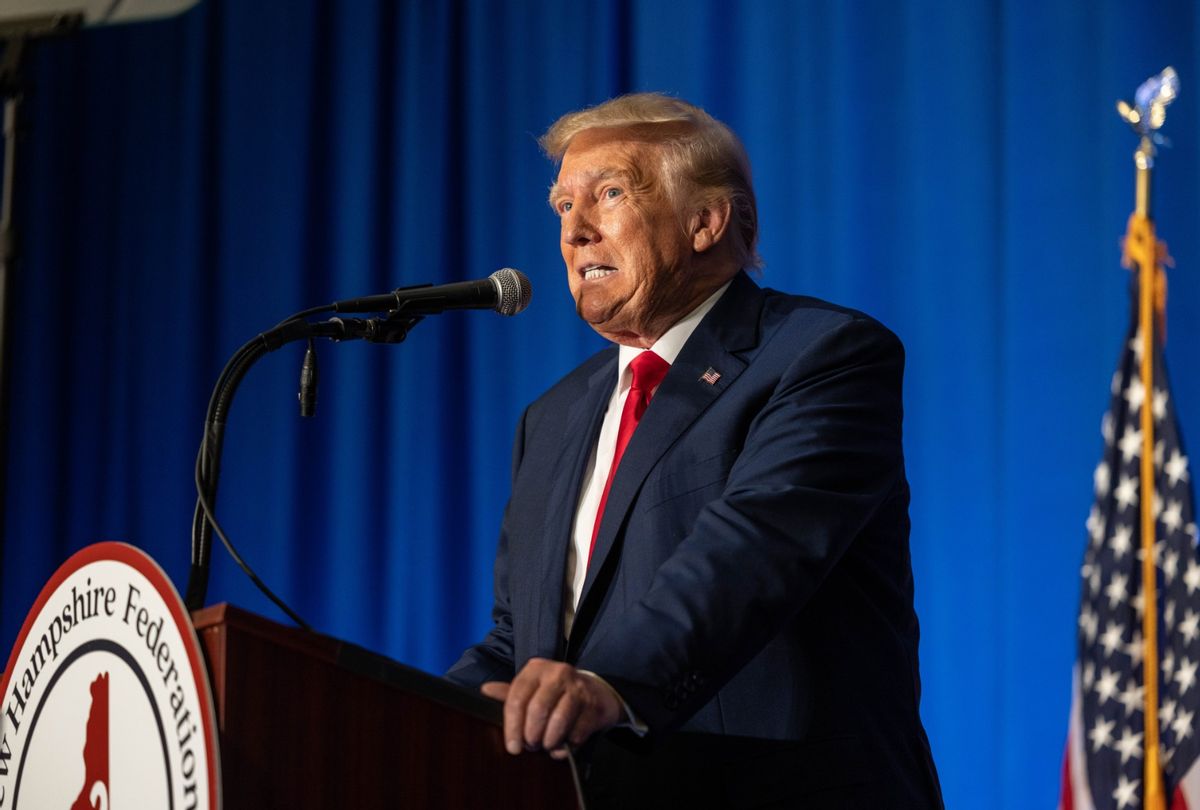 Former President Donald Trump tried to defend a recording of him discussing a secret document that he did not declassify but legal experts say he is only digging himself "deeper and deeper."
CNN and other outlets on Monday released an audio recording cited in special counsel Jack Smith's 37-count indictment against the former president in the Mar-a-Lago documents case. Trump in the recording discusses a secret contingency plan to attack Iran that he acknowledges he cannot show to others in the room because he did not declassify it as president. Legal experts say the "damning" recording shows Trump's intent in his handling of classified documents.
Trump attempted to do damage control on Tuesday seeking to downplay his words on the recording.
"I don't know of any recordings that we should concerned with because I don't do things wrong. I do things right. I'm a legitimate person," Trump told Fox News Digital, adding that his desk was full of "lots of papers, mostly newspaper articles, copies of magazines, copies of different plans, copies of stories, having to do with many, many subjects."
"My voice was fine. What did I say wrong on those recordings? I didn't even see the recording. All I know is I did nothing wrong," Trump said. "We had a lot of papers, a lot of papers stacked up. In fact, you hear the rustle of the paper. And nobody said that I did anything wrong other than the fake news, which of course is Fox, too."
Trump later aboard his plane claimed to reporters from Semafor and ABC News that he was not showing the actual document he was discussing.
"I would say it was bravado, if you want to know the truth, it was bravado," Trump said. "I was talking and just holding up papers and talking about them, but I had no documents. I didn't have any documents."
---
Want a daily wrap-up of all the news and commentary Salon has to offer? Subscribe to our morning newsletter, Crash Course.
---
Semafor's Shelby Talcott noted that Trump during the interview "gestured to the seat next to him on the plane, where a stack of various papers" and "grabbed some from the pile and placed them in front of him, moving them around as he spoke and offering up a physical reenactment of what he said was occurring on the audio tape."
Reporters pressed Trump about his use of the word "plans" in the earlier Fox News interview.
"Did I use the word plans?" he said. "What I'm referring to is magazines, newspapers, plans of buildings. I had plans of buildings. You know, building plans? I had plans of a golf course."
Legal experts raised skepticism about Trump's new defense.
"No one believes this for a second, mind you. And I doubt Smith would have included the issue in the indictment if the witness testimony wasn't clear," tweeted national security attorney Bradley Moss.
"He is digging himself deeper and deeper," warned former federal prosecutor Andrew Weissmann, who served on special counsel Bob Mueller's team.
"He does realize that other people in the room who do not want to get nailed for false statements or perjury were in the room… so, if he's lying (as he is one to do) he's going to have more explaining to do that will only further implicate a guilty conscience," tweeted Georgia State Law Prof. Anthony Michael Kreis.
Former U.S. Attorney Joyce Vance warned that Trump's defense would not fly in court.
"If your best defense is 'bravado,' in essence you're saying 'my defense is that I was lying,'" Vance told MSNBC. "That's a terrible defense, certainly for a former president and for anyone to make in front of a jury."
Trump himself would have to take the witness stand to present this claim, she explained.
"And that's just something he can't do," she said. "No lawyer could let Donald Trump take the witness stand in his own defense without committing malpractice."
Read more
about the Trump indictment