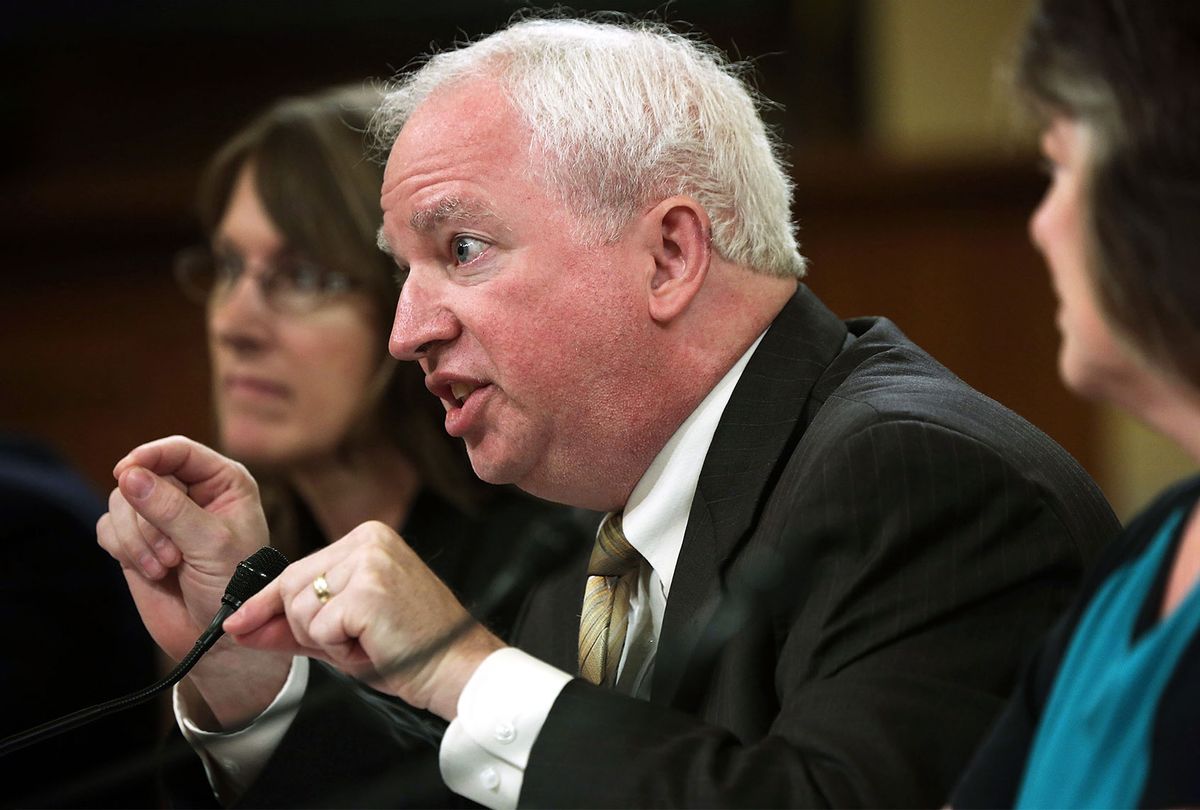 Proceedings for the disbarment hearing of Donald Trump's "coup memo" author John Eastman began Tuesday in Los Angeles and they're not looking good for the former president's key adviser on his Jan. 6 plot.
Eastman became a central figure in the House Jan. 6 Committee's investigation into the insurrection for his efforts in advising Trump on ways to overturn the 2020 election in Congress. Additionally, a Politico report showed that Eastman also encouraged Republican poll workers and allies to file complaints that could be compiled to challenge the then-upcoming midterm and presidential elections.
On Tuesday, Eastman called a man named Joseph Fried to the stand, referring to him as an "expert witness." The Daily Beast reported that Fried is a public accountant and author of an eBook that detailed his skepticism about President Joe Biden's 2020 election win.
California State Bar Court Judge Yvette Roland was less than impressed with Eastman's attempt to pass off Fried as an expert. 
"I don't see how Mr. Fried is qualified to be an expert. He has no experience in voting or election matters," the judge said.
"We don't believe the opinion of a CPA … is relevant," reiterated state bar attorney Duncan Carling, adding that Fried "never identified any instances of fraud" in the 2020 presidential election.
Eastman is facing 11 disciplinary charges and is at risk of having his law license suspended or revoked in the state of California. Eastman's attorney, Randal Miller, tried to invoke the First Amendment in defense of his client's alleged actions.
"Lawyers get to argue debatable issues, which is what Dr. Eastman did," Miller said. 
---
Want a daily wrap-up of all the news and commentary Salon has to offer? Subscribe to our morning newsletter, Crash Course.
---
Carling, however, said Eastman's purported behavior was a "last-ditch effort" in a series "of increasingly desperate attempts to overturn the election."
"He was fully aware in real time that his plan was damaging the nation," Carling said. "Dr. Eastman sought at every turn to avoid every public test of his theory, and he privately confessed … that his theory had no chance of persuading the court."
Carling also cited email correspondence between Eastman and former Vice President Mike Pence's then-attorney Greg Jacob, in which Jacob informed Eastman that it was "gravely irresponsible" to "entice the president with an academic theory that had no legal viability and you would well know we would lose in front of any judge who heard the case."
In a separate email shared by an independent journalist, Jacob wrote, "And thanks to your bullshit, we are now under siege."
Miller, however, described the email exchange as "two smart people" having "an honest debate held in good faith."
Read more
about this topic