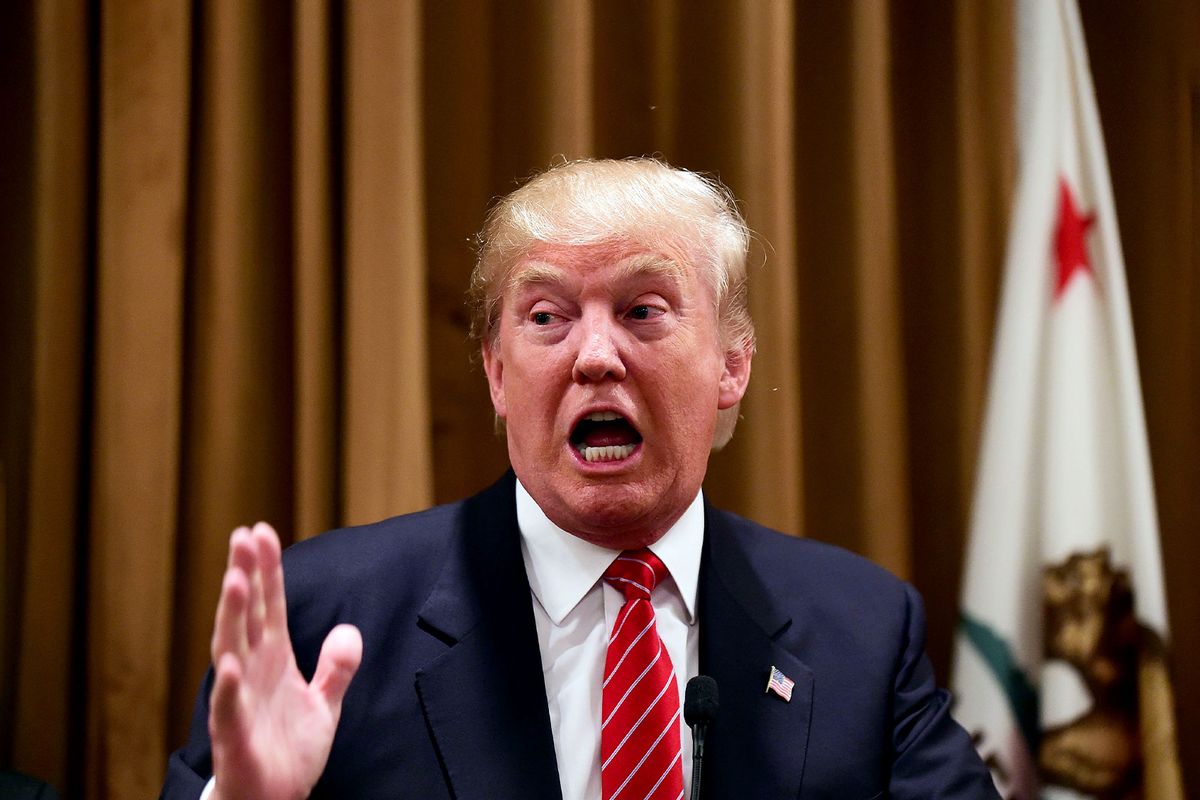 Former President Donald Trump displayed an unusual attachment to the boxes of materials he brought home from the White House before he was charged with hoarding national security secrets and obstructing government efforts to retrieve them.
Trump's aides called the boxes he "carted around with him almost everywhere" his "beautiful mind" material, a reference to the book and film about John Nash, a mathematician with schizophrenia who covered his office with newspaper clippings that he believed held a Russian code he needed to crack, according to The New York Times. His aides used the phrase to capture the "organized chaos" that Trump insisted on — transporting the boxes "that he kept close and that seemed to give him a sense of security."
One former White House official told the Times that Trump would notice if anyone had riffled through the materials and or were not arranged in a particular way.
When one employee asked another if some of Trump's boxes could be moved to storage, according to the indictment, the second employee, identified as former aide Molly Michael, replied, "Woah!! so potus specifically asked Walt for those boxes to be in the business center because they are his 'papers.'"
At another point, she used the phrase "the beautiful mind paper boxes" in a text, according to prosecutors.
The Times report noted that Trump has a long-running habit of storing news clippings, documents and other mementos dating back decades. Early in his administration, Trump began using a cardboard box to store papers and documents from the West Wing in his residence and was "meticulous" about putting things into specific boxes, a source told the outlet.
When former White House chief of staff John Kelly took over, he and other aides grew concerned that some of the documents were presidential records and "might go missing" if they were kept in the residence. They told Trump that the papers had to be tracked but "he was not especially interested," sources told the Times.
Aides began checking the boxes for presidential records but Trump continued to find ways to bring materials into the residence and the boxes began to multiply, according to the report. Trump could point to specific boxes he wanted with him on Air Force One, appearing aware of the contents in the boxes, two former officials told the outlet.
Trump during a speech at his Bedminster, N.J., resort on Tuesday insisted that the dozens of boxes he stored at Mar-a-Lago contained "newspapers, press clippings" and "thousands and thousands of White House pictures," as well as "clothing, memorabilia and much, much more."
"I hadn't had a chance to go through all the boxes," he said. "It's a long, tedious job, takes a long time. Which I was prepared to do, but I have a very busy life."
Trump's lawyers also claimed in a letter to Congress in April that his aides had packed the boxes and he was unaware of their contents.
 "The White House staff simply swept all documents from the president's desk and other areas into boxes, where they have resided ever since," the letter said.
But the indictment charges that Trump and other White House employees, including co-defendant Walt Nauta, packed the materials in January 2021.
"Trump was personally involved in this process," the indictment says, adding that Trump on at least two occasions brought numerous boxes to review after demands from the National Archives for the return of the documents and a grand jury subpoena seeking their return.
Trump repeatedly insisted to aides and attorneys that the boxes were "mine," according to the Times report.
---
Want a daily wrap-up of all the news and commentary Salon has to offer? Subscribe to our morning newsletter, Crash Course.
---
The report suggests that "in addition to being a bad person, Donald Trump is a deeply weird person," Washington Post columnist Eugene Robinson said on MSNBC.
"It is almost a Gollum in 'Lord of the Rings' moment. He has a hoarding instinct about the documents. Some weird security blanket, some sort of — it boosts his ego and reminds him that he actually somehow became president of the United States," he said, adding, "I don't know what it is about it, but it's pathological, in addition to being criminal."
MSNBC's "Morning Joe" host Joe Scarborough, a former GOP lawmaker, suggested that there may be a more nefarious reason behind Trump's attachment to the boxes, noting that Trump was "enraged" when his son-in-law Jared Kushner got $2 billion in private equity funds from the Saudis due to his role in Trump's administration.
"Why is he keeping this just so he can hug boxes? … We've said from the beginning: This is all about money," he said.
"If you're trying to figure out Donald Trump's motive, whatever it is we've been saying for eight years, it's all about money," Scarborough continued. "We have absolutely no evidence that he was selling this information to anybody. But I would never say, 'oh, he was just doing this to hug the boxes.' There's every reason to believe, given his past that there would be a possibility that he might trade this information, if not dramatically for money, maybe for access, maybe just so he can make contacts and build a hotel of this place or that place. Not saying he did it, but we would be foolish to be thinking he's just keeping all of this information because he's just a weird, quirky dude."
Read more
about Trump's indictment