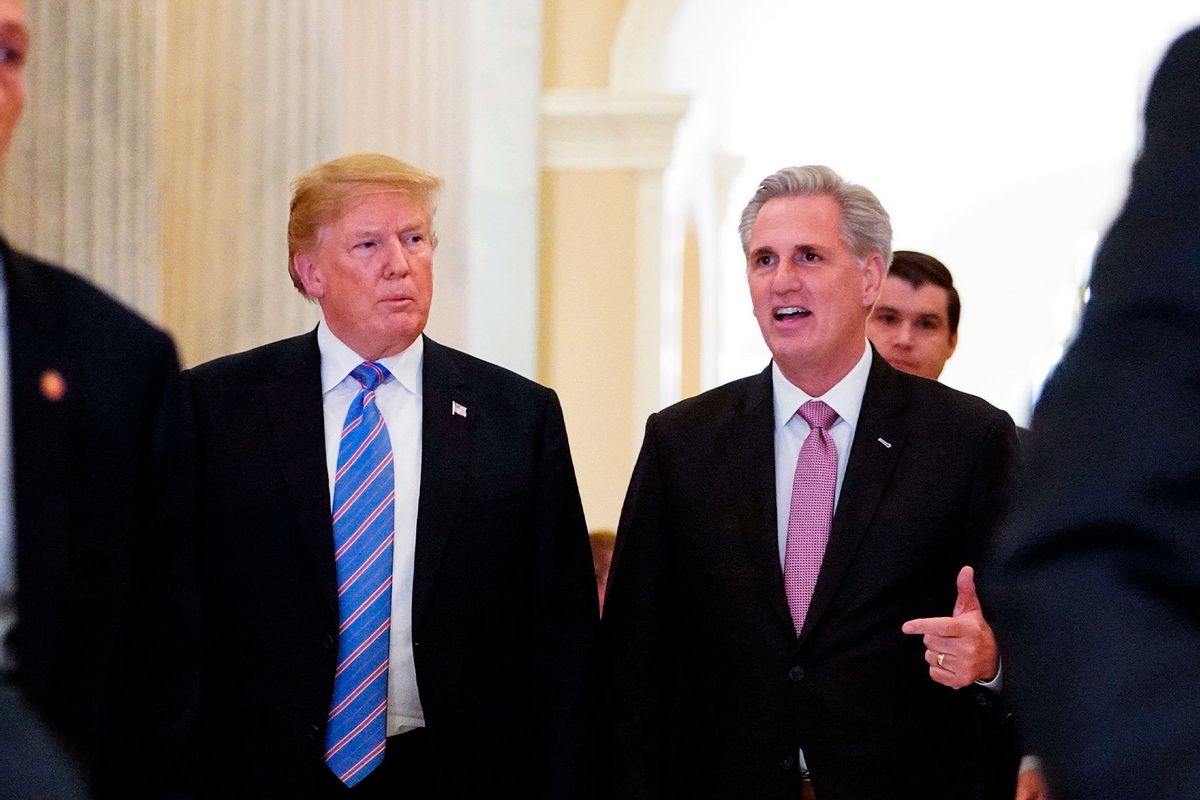 House Speaker Kevin McCarthy, R-Calif., scrambled to do damage control on Tuesday after he seemed to imply that former President Donald Trump would not be the "strongest" GOP candidate to win the upcoming 2024 presidential election. 
"Can he win that election? Yeah he can," McCarthy said during a Tuesday appearance on CNBC's "Squawk Box." "The question is, is he the strongest to win the election?"
"I don't know that answer," he said.
"But can anybody beat Biden? Yeah, anybody can beat Biden. Can Biden beat other people? Yes, Biden can beat them. It's on any given day," McCarthy added.
McCarthy seemingly tried to ameliorate the situation later that day during an interview with far-right news outlet Breitbart News by backpedaling and saying the former president is "stronger today than he was in 2016."
The House Speaker also alleged that media organizations were "attempting to drive a wedge between President Trump and House Republicans."
"The only reason Biden is using his weaponized federal government to go after President Trump is because he is Biden's strongest political opponent, as polling continues to show," he added. 
New York Times journalist Annie Karni reported that McCarthy also called Trump personally to redress the slight, according to three people familiar with the exchange.
Politico reported that Trump's closest allies and advisors did not take lightly to McCarthy's gaffe.
"We're told top aides to the former president and allies who know both men quickly traded messages asking, in short: What the f**k? Some called McCarthy a 'moron,' we're told," according to the report.
---
Want a daily wrap-up of all the news and commentary Salon has to offer? Subscribe to our morning newsletter, Crash Course.
---
Anger over McCarthy's remarks stems largely from the fact that Trump has long advocated for McCarthy — once painted as a RINO sellout — and his political position. While president, Trump "elevated the California Republican as he feuded with other GOP Congressional leaders," per Politico. In January, Trump endorsed McCarthy for speaker and pushed other Republicans to vote for him, despite the fact that McCarthy considered censuring Trump over the Jan 6 Capitol insurrection and was later caught on tape planning to tell Trump to resign. 
More recently, the ex-president was mum about McCarthy's recently brokered debt ceiling deal with President Joe Biden, which Politico described as "​​a major, and intentional, boost for the speaker that was crucial in ensuring the deal could withstand a conservative pile-on."
Despite McCarthy's attempts to smooth over his Tuesday comments, Politico reported that those efforts were in vain, as Trump's inner circle feels strongly that the House speaker has "taken advantage of the former president when it benefits him and failed to show unflinching loyalty in return. They don't understand how he could 'misspeak' — as McCarthy, we're told, put it to Trump — on something so critical."
"At what point is it okay for Kevin McCarthy not to endorse Trump?", one GOP campaign consultant asked, speaking to Politico. "Donald Trump has been very good to Kevin McCarthy."
"If Donald Trump wanted … he could have him out as speaker by the end of the week," they added. 
Read more
about GOP infighting