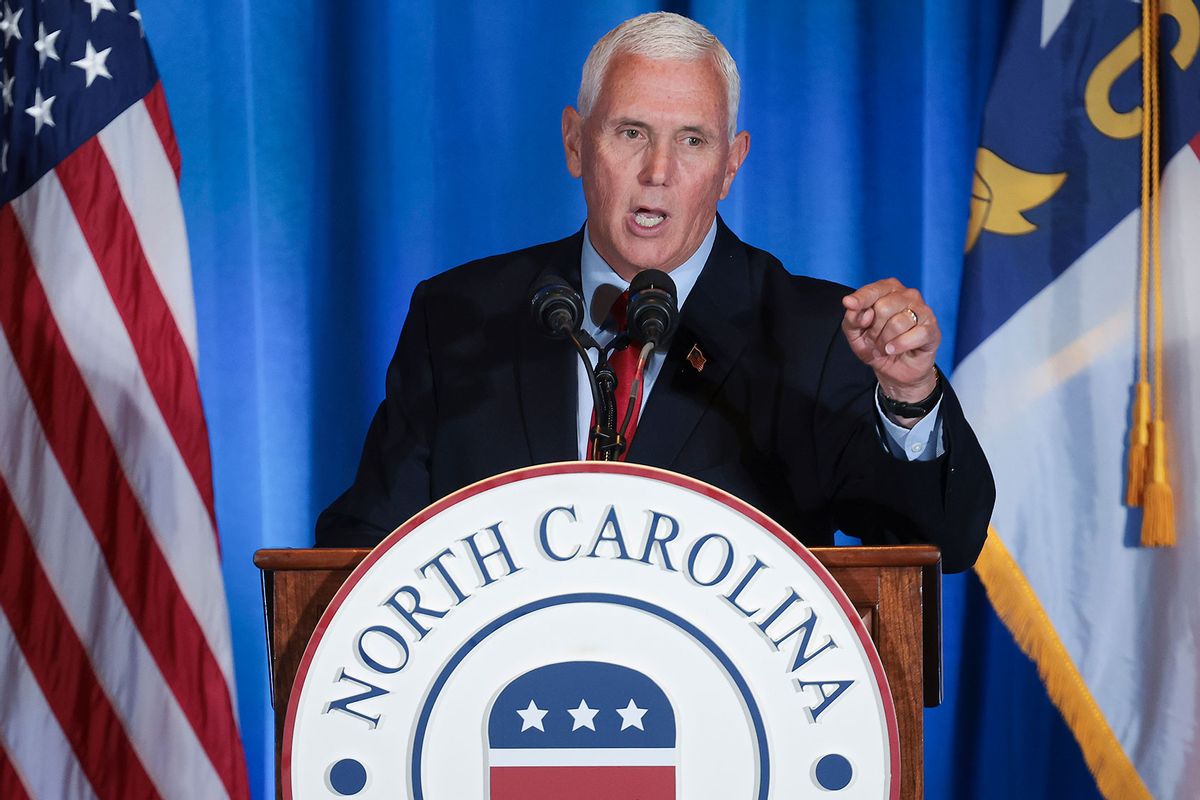 Former Vice President Mike Pence told The Wall Street Journal that he cannot defend former President Donald Trump's actions alleged in the Justice Department's indictment.
Pence, who previously said he opposed indicting Trump, told the outlet that "these are very serious allegations.
"And I can't defend what is alleged," he said. "But the President is entitled to his day in court, he's entitled to bring a defense, and I want to reserve judgment until he has the opportunity to respond." 
"No one is above the law" the former veep added, while cautioning that "as Americans, you're innocent until proven guilty."
"The suggestion that there were documents pertaining to the defense capabilities of the United States and our allies, our nuclear program, to potential vulnerabilities of the United States and our allies . . . " Pence said. "Even the inadvertent release of that kind of information could compromise our national security and the safety of our armed forces. And, frankly, having two members of our immediate family serving in the armed forces of the United States, I will never diminish the importance of protecting our nation's secrets."
While Pence was unwilling to back Trump — who defended MAGA supporter's threats to "hang Mike Pence" during the Jan 6 Capitol insurrection — he underscored the Justice Department's role in Trump's arrest, which he claimed came "after years of politicization."
Pence cited the DOJ's part in "two and a half years of a Russia hoax," adding that "it's hard for me to believe that politics didn't play some role in this decision" to indict Trump. The former veep also indicated that he feels Attorney General Merrick Garland, who appointed special counsel Jack Smith to head the Mar-a-Lago documents probe, should publicly disclose "what if any role he played, or his judgment played, in the decision to move forward with an unprecedented indictment of a former President of the United States."
Like many other disgruntled members of the GOP — such as Sen. Lindsey Graham, S.C., and House Judiciary Chairman, Jim Jordan, R-Ohio — Pence bemoaned the parallels he and other Republican lawmakers have identified between Trump's indictment and Hillary Clinton's emails, sent from a personal account in 2016.
"I think millions of Americans are deeply troubled by this indictment, particularly given the fact that Hillary Clinton engaged in very similar behavior in the 2016 campaign and did not face indictment. And we've got to have equal treatment under the law in this country," Pence told the Journal. "My bottom line is this: I think the American people have lost confidence in the Department of Justice, not just because of this, but because of, really, a long series of abuses that have come to light."
---
Want a daily wrap-up of all the news and commentary Salon has to offer? Subscribe to our morning newsletter, Crash Course.
---
Pence, who is running against Trump in the Republican presidential primary, also stated that if elected, he would "give the Department of Justice a fresh start, with men and women who are respected on both sides of the aisle for their commitment to the law. And I'll leave it at that."
Longtime conservative Judge J. Michael Luttig, who advised Pence ahead of his role in certifying the 2020 election results on Jan. 6, rejected allegations of political bias in the charges against Trump.
"There is not an Attorney General of either party who would not have brought today's charges against the former president," Luttig wrote on Twitter. "He has dared, taunted, provoked, and goaded DOJ to prosecute him from the moment it was learned that he had taken these national security documents."
Trump at any point since leaving office could have returned the documents, he wrote. 
"But for whatever reason, he decided that he would rather be indicted and prosecuted," Luttig added. "After a year and a half, he finally succeeded in forcing Jack Smith's appropriately reluctant hand, having left the Department no choice but to bring these charges lest the former president make a mockery of the Constitution and the Rule of Law."
Read more
about the Trump indictment