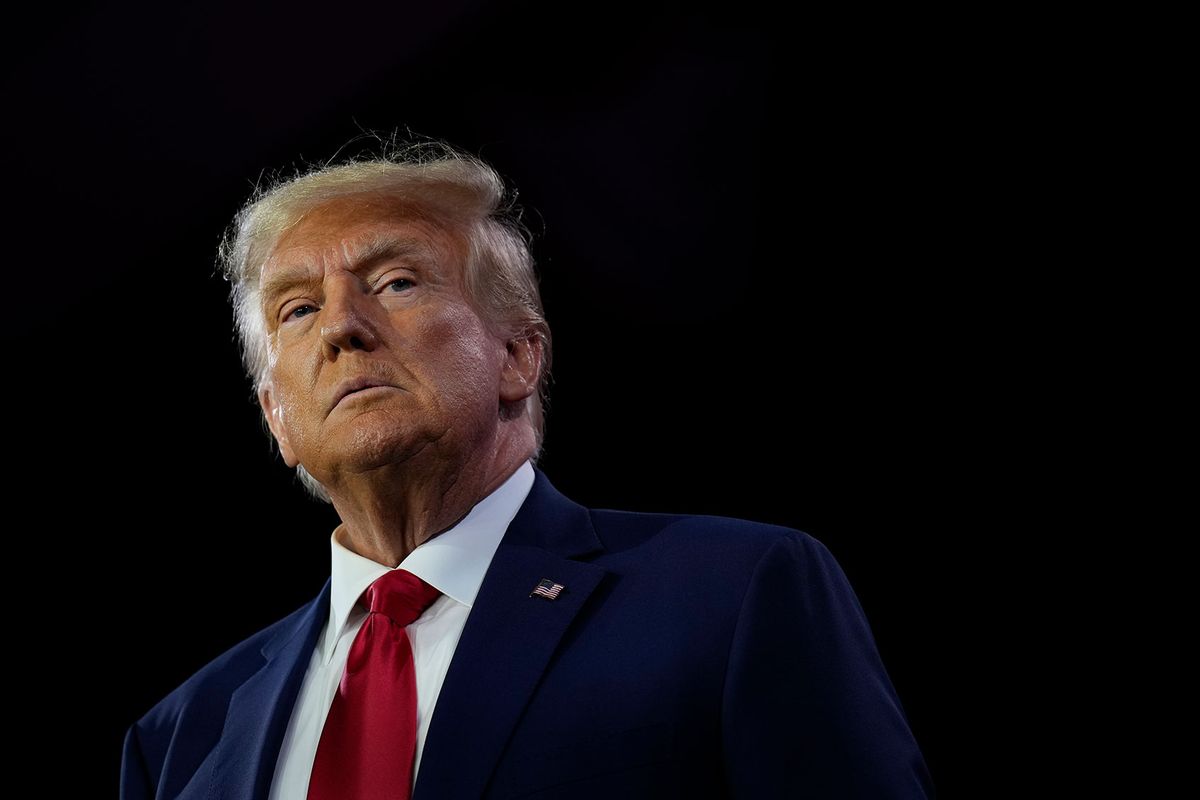 Judge Aileen Cannon, the Trump appointee overseeing the Mar-a-Lago documents case, rejected a request from special counsel Jack Smith's team to shield the identity of dozens of witnesses with whom the former president has been barred from discussing his case.
Cannon, who has only 14 days of trial experience, denied Smith's request on Monday in the Southern District of Florida. The New York Times reported that Cannon's ruling means that "some or all" of the list containing 84 witnesses could eventually become public, which could become an issue given the ex-president's propensity to openly target and harass people who might speak against him.
In April, Trump went after Judge Juan Merchan, who is overseeing his Manhattan prosecution in his indictment over hush money payments made to adult film star Stormy Daniels in 2016, as well as Merchan's daughter in rambling Truth Social rants. Prosecutors had asked that a gag order be issued, which would have banned Trump from discussing the criminal case, owing to his potentially dangerous public rhetoric, though Merchan only barred Trump from disclosing evidence in the case.
In her order, Cannon wrote that the government's request to keep the list of witnesses secret "does not offer a particularized basis to justify sealing the list from public view."
"It does not explain why partial sealing, redaction or means other than sealing are unavailable or unsatisfactory, and it does not specify the duration of any proposed seal," she added. 
Many of the witnesses are presumed to be close allies of Trump, the Times reported, with several of them thought to currently or previously have worked with him at Mar-a-Lago. 
On Monday, a group of media organizations — including The New York Times — filed a motion asking Cannon to make the list public, stating that Trump's case was "one of the most consequential criminal cases in the nation's history."
"The American public's interest in this matter, and need to monitor its progress every step of the way, cannot be overstated," the filing said. 
Former federal prosecutor Elizabeth de Varga said that Cannon's ruling "makes no sense."
It's "important to note that Judge Cannon is not even requiring the list of witnesses to be filed with the court," she wrote on Twitter. "So her decision doesn't mean that the list will be revealed publicly. Currently, it is only the defendant who has the list."
Former Mueller prosecutor Andrew Weissmann claimed Cannon's "best point" was "why do you need to file the list with me at all?"
"The rest is needlessly persnickety. Very much in keeping with her tone and tenor last we saw her during the investigation," he added.
---
Want a daily wrap-up of all the news and commentary Salon has to offer? Subscribe to our morning newsletter, Crash Course.
---
Former U.S. Attorney Harry Litman claimed that though Cannon's response to the government's request was "tart," it's "sensible to me."
"She says you haven't shown enough yet for why we need to seal the list—eg can you maybe redact—or why you need me to make Ds 'acknowledge' it," he wrote.
"I kind of understand Judge Cannon's position here," wrote national security attorney Bradley P. Moss. "First, she asks why the court even needs to be provided with a copy of this list, at least at the present time."
"Second, and more importantly, Cannon states that the Government hasn't sufficiently explained its rationale for seeking the filing to be under seal. And she is right. The government didn't really say much of *anything* about its rationale. It just said 'we want one,'" he added.
Former U.S. Attorney Joyce Vance argued that Cannon was "preventing prosecutors from protecting their record & their witnesses."
"The govt wants to file the list so it will be part of the record on appeal (if there's a conviction)," she tweeted. "Given Trump & his Trump followers history with witnesses, it has to be sealed."
Read more
about the Trump docs case