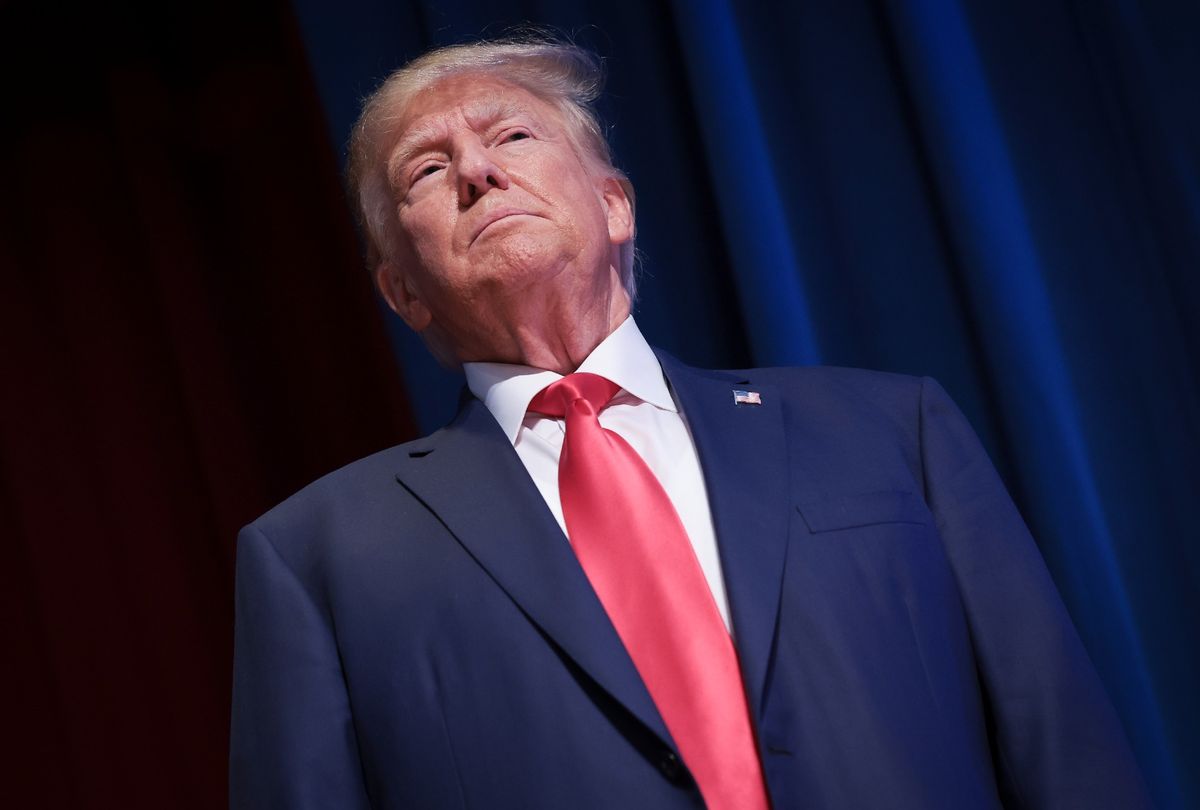 Donald Trump's lawyer Evan Corcoran, who was hired by the former president to defend him against a federal investigation involving his handling of sensitive documents, has now become a key witness in the Mar-a-Lago case.
When the indictment of Trump was unsealed on Friday, Corcoran, identified in the documents as "Trump Attorney 1", offered comprehensive insight into Trump's role in attempting to block government efforts to retrieve classified documents.
"These are contemporaneous renditions of what was going on," Catherine Ross, a constitutional law professor at George Washington University, told Salon.
Corcoran's notes are an exception to the rule against hearsay, she added, saying he was memorializing his conversations and "didn't just make stuff up."
His notes provided prosecutors with a "road map" to build their case, The New York Times reported. The indictment revealed that Trump exerted pressure on Corcoran to obstruct investigators in their efforts to recover classified materials, even going as far as suggesting that he lie to investigators and withhold the documents entirely.
Ross added that even after being advised in the "strongest terms" that he has to comply with the subpoena, Trump said he didn't want anyone looking through his boxes and suggested, "What happens if we just don't respond at all or don't play ball with them?"
"Wouldn't it be better if we just told them we don't have anything here?" he asked, according to the indictment. "Well look isn't it better if there are no documents?"
His alleged comments reveal that Trump wanted the "documents to disappear" and relied on having a certification prepared suggesting that DOJ already had everything, Ross pointed out. 
"These are things that only Corcoran can substantiate, and he has contemporaneous notes, so he can testify 'I heard this,'" she said, underscoring the importance of his testimony. 
Special counsel Jack Smith, who is overseeing the investigation, obtained Trump's lawyer's notes after D.C. Judge Beryl Howell pierced the protections offered by attorney-client privilege once prosecutors persuaded her that Trump may have used Corcoran's legal advice in furtherance of a crime.
In addition to Corcoran's notes, prosecutors also relied on text messages from several of Trump's employees and a recording made by one of his aides, The Times reported. They also obtained phones and subpoenaed documents from a broad range of his advisors.
But Corcoran's notes serve as crucial evidence that underpins the most serious criminal charge against Trump: conspiracy to obstruct justice, which carries the potential penalty of a 20-year prison sentence.
"Corcoran's testimony clearly demonstrates Trump's criminal intent and that is crucial," Temidayo Aganga-Williams, partner at Selendy Gay Elsberg and former senior investigative counsel for the House Jan. 6 committee, told Salon. "Importantly, Corcoran is someone that President Trump himself handpicked to act on his behalf on very sensitive matters – that will make it only more difficult for President Trump to now attack Corcoran's credibility."
Corcoran's recollection of the conversations he had with the ex-president exposes the extent to which Trump went in order to evade compliance with the subpoena.
In one meeting, Corcoran explicitly told Trump that he would search Mar-a-Lago for subpoenaed documents. Corcoran describes how he examined the boxes in the storage room and assembled a folder containing 38 classified documents to hand over to federal prosecutors.
During a discussion about the folder, Trump gestured with a "plucking motion" using his hand, as recounted by Corcoran, implying that "if there's anything really bad in there, like, you know, pluck it out."
The person tasked with defending the former president could very well serve as the government's top witness in proving that Trump committed a coverup.
Trump, who has a penchant for turning any investigation into a political spectacle, is also relying on his legal team to delay the case.
"If President Trump's team were to file a motion to suppress evidence of Corcoran's statements, such a motion is likely to fail," Aganga-Williams said. "The unsealed indictment facially demonstrates that the crime-fraud exception does indeed apply because President Trump used Corcoran's legal services to further a crime."
---
Want a daily wrap-up of all the news and commentary Salon has to offer? Subscribe to our morning newsletter, Crash Course.
---
His legal team has already filed a sealed motion in Washington requesting all of the grand jury transcripts to look for examples of prosecutors misusing the grand jury, The New York Times reported.
"We always know that Trump wants to slow down, slow down, slow down," Ross said, adding he is "peppering the other side with motions."
"This is also part of the strategy of delegitimizing the special counsel and the indictment by saying the grand jury was somehow corrupted and that is part of their public strategy," she said. 
Since the charges were filed in the Southern District of Florida, which isn't a Democratic stronghold, Trump's legal team could use this to their advantage and stir up "conspiratorial and anti-rule of law sentiments," attempting to convince the jury that the evidence was anti-Trump, Ross said. 
"But there are many reasons why no one should take that seriously because every single iota of evidence presented in the indictment comes from Trump's own people," Ross said. "Not a single Democratic witness, not a single document generated by somebody who was not just a supporter, but they were all in Trump's inner circle."
Another aspect of the case that could work in favor of Trump is how the arguments are handled by Aileen Cannon, the federal judge in Florida who was assigned the case. Cannon came under intense scrutiny because of her past rulings in Trump's favor in a case related to the FBI search of Mar-a-Lago last summer.
Cannon was nominated by Trump in his last year in office and has less than three years of judicial experience. 
Previously, Cannon delivered a contentious ruling in response to a lawsuit filed by Trump, which slowed the FBI's examination of classified documents seized at Mar-a-Lago. 
However, her decision was subsequently overturned by a conservative panel of judges from the U.S. Court of Appeals for the 11th Circuit.
"So is she going to now say to herself, I was eviscerated by the 11th Circuit, that's the circuit my court is in," Ross said. "Let me try and do a good job on this case and be cautious or is she going to proceed the way she was proceeding before and really try to help Trump every inch of the way?"
Read more
about the Trump charges