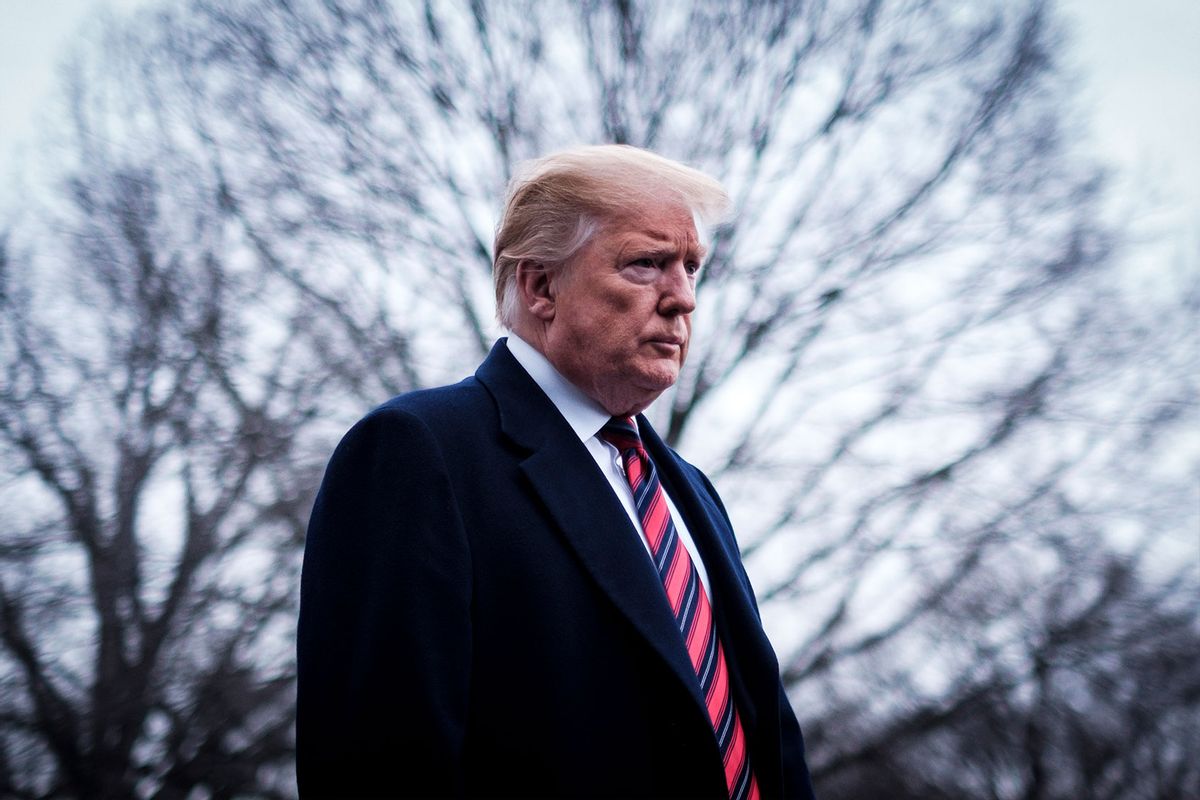 The Justice Department has provided the first batch of evidence in the classified documents case to Donald Trump's legal team, which includes multiple "interviews" of the former president "conducted by non-government entities," which legal experts believe could be used against him. 
The evidence also includes transcripts of grand jury testimony taken in both Washington and Florida, materials collected via subpoenas and search warrants, witness interviews conducted through mid-May and copies of the surveillance footage investigators obtained in the investigation, according to CNN. 
"President Trump's public statements about the mishandling of classified information – whether through TV interviews, social media activity, or print commentary – could possibly be used by prosecutors as additional evidence on top of the information already collected to support the 37 charges brought against him," Javed Ali, a former senior counterterrorism official at the Department of Homeland Security, told Salon.  
Adam Kamenstein, a former federal prosecutor and partner at Los Angeles-based Adams, Duerk & Kamenstein, told Salon that there is "no question whatsoever that Trump's statements to the media, or almost anyone else for that matter, can be used against him."
The only prohibition on using a defendant's statements against him would be if the statement was somehow obtained unlawfully by the government, or if the statement was otherwise privileged, Kamenstein said. However, statements to the public or media are never privileged and entirely admissible against a defendant.
"It's Defendant School 101: Never talk about the facts of your case," he added. 
The recordings obtained by the DOJ include audio of a meeting held in July 2021 at Trump's golf club in Bedminster, New Jersey, with a writer and publisher, in which Trump displayed and explained a Defense Department-prepared "plan of attack," the Associated Press reported. 
Trump, who was interviewed by Fox News earlier this week, disclosed he wasn't able to hand over government records to federal officials because he was "very busy" and didn't have time to sort through the box's contents. His latest comments could impact his criminal defense, legal experts pointed out.
---
Want a daily wrap-up of all the news and commentary Salon has to offer? Subscribe to our morning newsletter, Crash Course.
---
"The statement is arguably an admission by Trump that the government can use as evidence against him," Kamenstein said. "By saying he was too 'busy' to sift through government records to return classified materials, he is arguably implying both that he knew he possessed classified materials and that he knew he had a duty to return them. These two admissions alone prove most of the government's case. There is no such thing as a 'too busy' defense. No one can claim to be too busy as a defense for not doing what the law requires. If that were the case, most folks would be 'too busy' to pay their taxes."  
Ali pointed out that it is "very likely" that the former president's legal team is trying to provide counsel so that Trump does not provide further information which could be seen as "incriminating."
Trump has denied any wrongdoing and pleaded not guilty to the charges special counsel Jack Smith has brought against him, including 31 counts under the Espionage Act that accuse him of willfully retaining national defense information. 
He's continued to attack the investigation on his social media platform Truth Social, referring to it as "The Boxes Hoax," where he is a "NON CRIMINAL" under the Presidential Records Act and has done "NOTHING WRONG."
Trump is not charged with violating the Presidential Records Act and was instead charged with having classified documents and obstructing the government's efforts to retrieve them.
In another post, Trump called on Congress to "investigate the political witch hunts" against him "being brought by the corrupt DOJ and FBI, who are totally out of control."
He also claimed that he has "no doubt" that information is being secretly "planted" against him "by the scoundrels in charge."
Anything that Trump says in public can be used against him, said criminal defense attorney Julia Jayne, a former prosecutor in Contra Costa County, California.
"Though he may think he is setting up his defense in the court of public opinion, prosecutors are carefully scrutinizing every word he says," Jayne said. "For example, if he testifies and says something contrary to what he's said in the press, that can be used to impeach him on the stand."
Earlier this week, a federal judge ruled in favor of a Justice Department request to restrict the public disclosure of evidence that Trump receives through the discovery.
"If Trump or his team violate the protective order, they could be held in contempt," Jayne said. "The judge could also place even more restrictions on his access to evidence, making it that much more difficult to prepare a defense or conduct an investigation. It would impact the case to the extent that the defense would not only be hamstrung in their ability to prepare, but it could also create animosity with the judge presiding over the case."
The presiding judge, Aileen Cannon, has scheduled an initial trial date of August 14th, but Trump's legal team is expected to push to delay the trial, challenging the government's pretrial motions.
Read more
about the Trump indictment