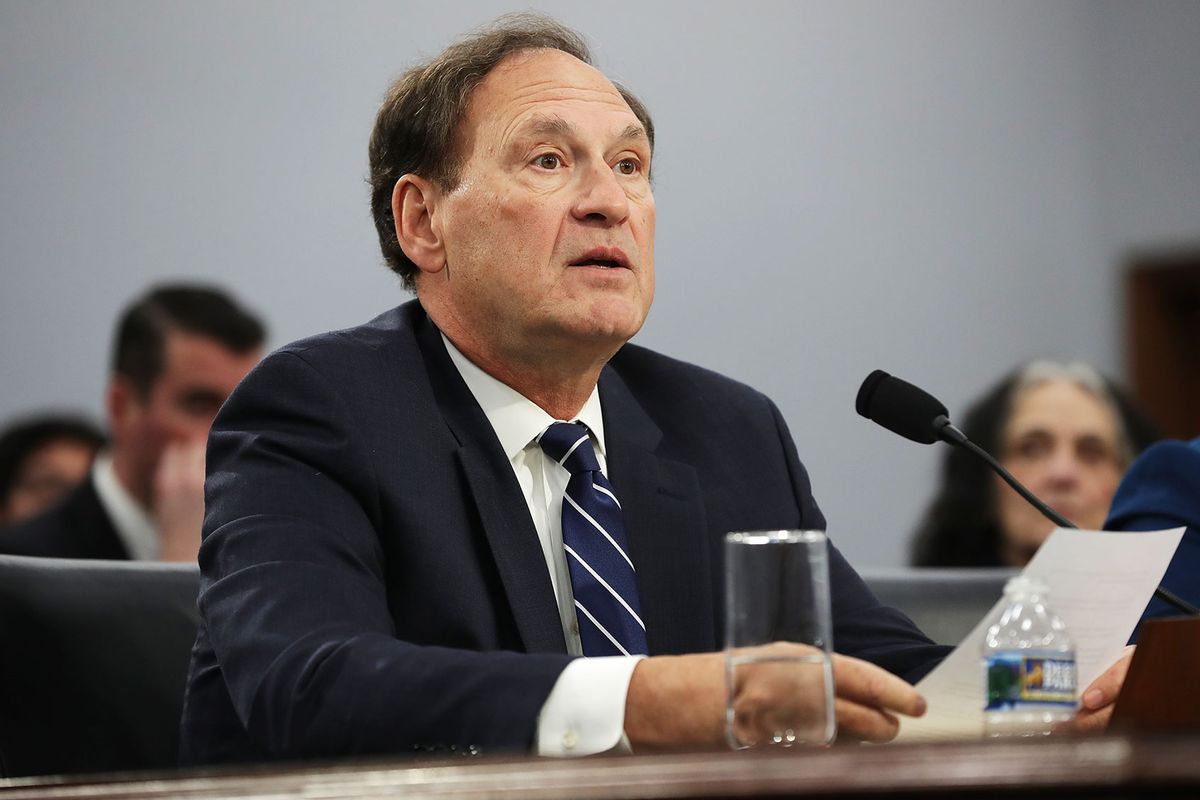 Two law professors criticized Supreme Court Justice Samuel Alito's Wall Street Journal op-ed last week seeking to defend against a ProPublica report detailing his luxury fishing trip with Republican billionaire megadonor Paul Singer.
In an op-ed published last week, Alito attempted to preempt a report from ProPublica by explicating in detail the 2008 trip, in which Alito flew in a private jet to Alaska and spent time at a fishing lodge where he was hosted by another GOP donor. 
University of Michigan Law School professor Leah Litman and New York University Law School professor Melissa Murray, in a Sunday opinion piece co-authored for the Los Angeles Times, wrote that rather than reply to a list of questions sent by ProPublica journalists, Alito chose to "bitterly and preemptively complain about the story in an ideologically friendly outlet."
"Alito's reaction is entirely consistent with the worldview he has revealed within and beyond his jurisprudence time and time again. Because even though Samuel Alito is a Supreme Court justice with lifetime tenure and all the power that position entails, he still wants more," Litman and Murray wrote.
"The justice seems to believe that he and the court are so thoroughly supreme that they must be free of even a whiff of public criticism. Alito demands perpetual public and professional affirmation — a safe space, if you will, where he is protected from micro-aggressions, bathed in praise and consistently depicted as reasonable and judicious regardless of whether he actually is," they continued. "And when his reception falls short of that, he lashes out at his critics no matter who they are."
The legal scholars argued that it "takes real cheek for a member of the Supreme Court to insist that he and the institution he serves are entitled to the public's good opinion even in the face of indefensible behavior and decisions."
---
Want a daily wrap-up of all the news and commentary Salon has to offer? Subscribe to our morning newsletter, Crash Course.
---
"And yet this man who has penned fiery dissents in decisions securing equal rights for LGBTQ+ people and other minority groups is so thin-skinned that he can't brook a hint of dissent directed at him," they continued. "The man who represents an institution charged with interpreting the 1st Amendment can't bear others exercising their free speech rights to criticize him. Instead, he uses his stature and appearances to take potshots at those bold enough to question an institution that, as we keep learning, is loath to observe rules or restrictions."
Litman and Murray noted that the conservative legal movement has long identified itself in opposition to "liberal judicial 'imperialism.'"
"And yet it is Justice Alito, a prominent face of that project, who insists on the prerogatives of an emperor-king, among them unstinting general adulation and complete insulation from critique," they wrote. "It's no wonder the court's public standing is in trouble: Some of the justices seem to be letting the term 'supreme' go to their heads."
Read more
about Samuel Alito