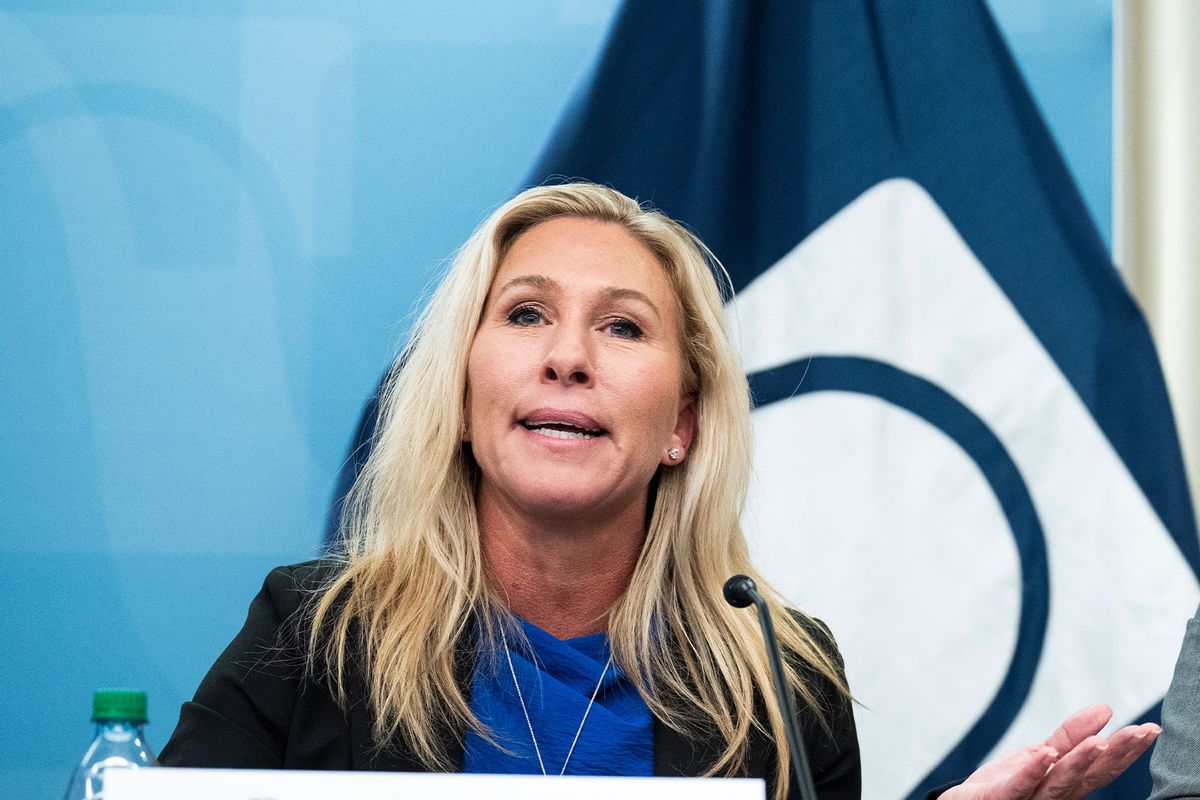 At least two hardline representatives in the House Freedom Caucus have floated the idea of "purging" members who no longer meet the group's standards to Chair Rep. Scott Perry, R-Pa., as the group's internal tensions rise, three anonymous Republicans with knowledge of the discussions told Politico.
While the members who suggested the ousters did not declare who they'd like to remove, they have indicated that one potential target is Rep. Marjorie Taylor Greene, R-Ga, an ally of Speaker Kevin McCarthy, R-Calif. Some caucus members have honed in on Greene as an example of their concerns that certain members have grown too close to GOP leadership and too outwardly critical of the group when it disagrees.
The members pushing for removals are also considering going after a handful of members whose inactivity in the Freedom Caucus, they believe, violates standards.
Perry told Politico that he denied the critics' requests for the ejections. But the action puts on display "how the group continues to struggle with its identity since former President Donald Trump left office" and the antagonism sparked by the deals McCarthy made to gain conservative votes during his bid for the speakership, the outlet reported.
"The speaker's race, there was some difference in opinion. The debt ceiling, there were differences of opinion. And we had to get 80 percent on any major issue that we take positions on," Freedom Caucus member Rep. Ralph Norman, R-S.C., said, referring to the level of support required for the members to take a unified stance. "On some big issues, we have not been able to get there."
"We're at a critical point right now," he added.
Norman clarified that he wasn't suggesting removing Greene from the caucus.
"She's been critical of us for a long time," he said.
The revelations come after Greene and Rep. Lauren Boebert, R-Colo., went toe-to-toe on the House floor earlier this week regarding their competing articles of impeachment against President Joe Biden. Greene confirmed a report from The Daily Beast that said she called her fellow right-winger "a little b-tch" during the spat, adding that the story was "impressively correct."
In an interview after the argument, Boeburt addressed the proposed Freedom Caucus removals vaguely, saying "If something comes up, then we'll address it."
"It's really unfortunate that somebody communicated the conversation that took place on the floor" between her and Greene, she added, "because I was willing to walk away [from] people wanting to stir up unnecessary drama."
She also took aim at reporters for covering the event rather than her impeachment resolution.
"I didn't leave my four kids and now my grandson to come up here and have catfights and just to get in squabbles," she said.
Greene has also pushed back against Republican colleagues who suggested a forced vote to boot McCarthy from the speakership after his contentious debt deal with President Joe Biden.
The lawmakers considering that option "need to really get down into a more realistic level of thinking," Greene said this month. "I'm just as conservative as they are. … There's conservative fantasies and there's reality — that's the best way to say it."
---
Want a daily wrap-up of all the news and commentary Salon has to offer? Subscribe to our morning newsletter, Crash Course.
---
Despite widespread calls for party unity, some Freedom Caucus members are concerned with the trust, or lack thereof, in the group. Two of the three sources told Politico that legislators repress themselves in their weekly meetings in fear that other attendees will relay to McCarthy and his allies any information leadership won't like, a mistrust that's given rise to internal cliques.
Greene and Rep. Jim Jordan, R-Ohio, who chairs the House Judiciary Committee, are the most notable Freedom Caucus members backing McCarthy. Both spoke in his favor during his battle for the speakership, voted for the debt deal — Jordan even praised it in a private call much to the confusion of other members — and dismissed calls from Rep. Dan Bishop, R-N.C., to force a vote to remove McCarthy.
Jordan, however, has garnered far more trust within the caucus, which he co-founded, and largely avoided his colleague's public criticism because he is said to be clear on his stances on big issues. But his reputation in the caucus has not protected him from private jabs from fellow conservatives over his close work with the House speaker.
When asked about growing divisions between leadership backers and opponents, Jordan referred to his Jan. 3 nominating speech in support of McCarthy.
"I said any differences that may exist … pale in comparison between the differences in Republicans and today's Democrats," Jordan said. "Let's focus on sticking together as Republicans."
"Whether the Freedom Caucus heeds that message," Politico writes of Jordan's statement, "is another matter entirely."
Read more
about Marjorie Taylor Greene