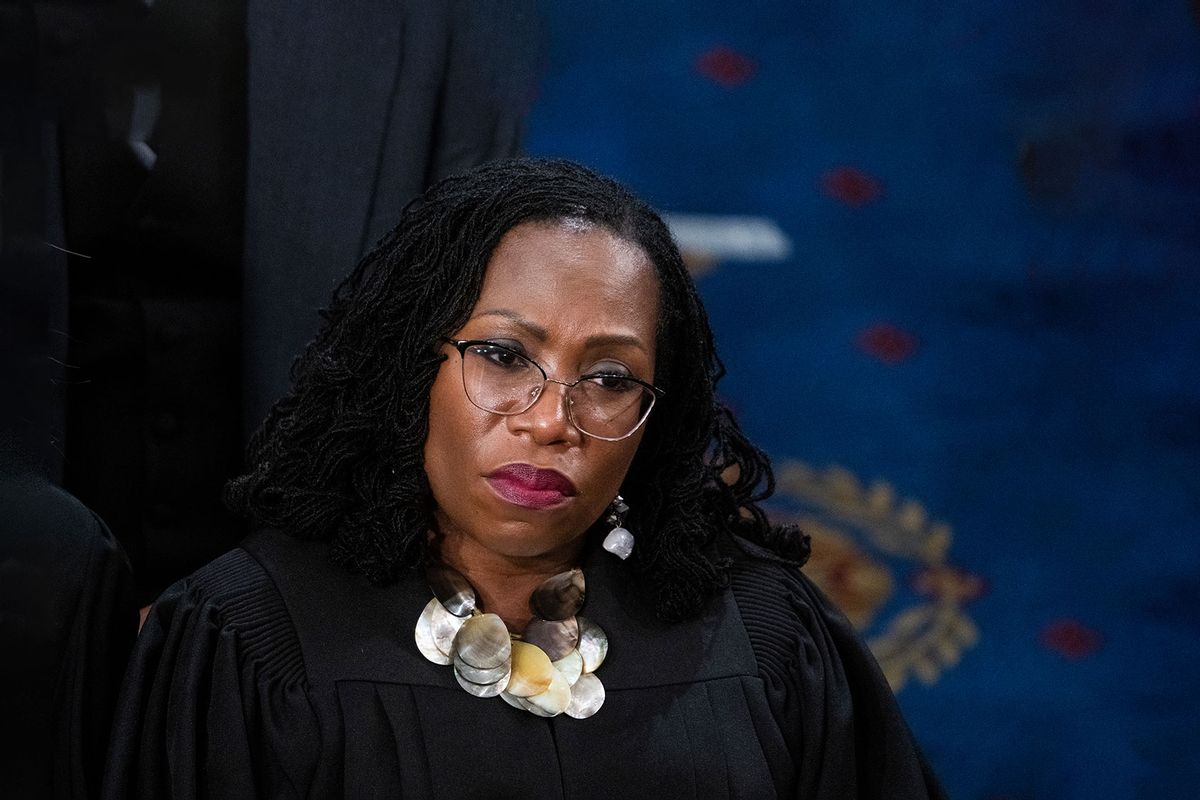 The Supreme Court on Thursday struck down the affirmative action programs of Harvard University and the University of North Carolina in a ruling that will likely bring the systemic consideration of race in college admissions to an end, NBC News reports. 
The court found the university programs to be unlawful and in violation of the Constitution's Equal Protection Clause. The justices voted 6-3 in favor of the conservative opinion in the UNC case and 6-2 in the Harvard case, in which Justice Ketanji Brown Jackson, who graduated from Harvard and Harvard Law and has other ties to the university, recused herself.
The decision effectively overturned the 2003 Grutter v. Bollinger ruling that allowed race to be factored into admissions considerations and cited universities' interests in developing and maintaining diverse campuses. Thursday's ruling discarded decades of legal precedent, including a 1978 decision that allowed for a limited consideration of race in college admissions in an effort to assuage the historic discrimination against Black people and other marginalized groups in the university processes.
Though Chief Justice John Roberts did not explicitly state that the former decisions were overturned in the majority opinion, he explained that Harvard and UNC's programs "lack sufficiently focused and measurable objectives warranting the use of race, unavoidably employ race in a negative manner, involve racial stereotyping, and lack meaningful end points."
In the concurring opinion, however, conservative Justice Clarence Thomas, the second Black Supreme Court Justice in the court's history, said the Grutter case was "for all intents and purposes, overruled."
"In a nutshell: The majority does not expressly overrule Grutter or formally bar *all* race-based affirmative action, but the Court reconstrues the test in a way that will make it virtually impossible for any university to satisfy going forward," Steve Vladeck, a Supreme Court expert at the University of Texas School of Law, tweeted. "It's ending it without ending it."
Roberts also noted that the decision does not apply to the consideration of race in admissions for military programs. The Biden administration had previously cautioned that a limit on affirmative action would negatively impact the U.S. military, which relies on "well-qualified and diverse officer corps" trained in military academies.
In a dissenting opinion, Jackson, who appeared "visibly angry" and stared straight ahead without making eye contact as Thomas read his concurring opinion, according to NBC News, directly called out the conservative justice's argument in her dissent.
"Justice Thomas ignites too many more straw men to list, or fully extinguish, here," she wrote.
Jackson, the first Black women to serve in the high court, wrote that the ruling was "truly a tragedy for us all."
"With let-them-eat-cake obliviousness, today, the majority pulls the ripcord and announces 'colorblindness for all' by legal fiat. But deeming race irrelevant in law does not make it so in life," she wrote.
"No one benefits from ignorance," she continued. "Although formal race-linked legal barriers are gone, race still matters to the lived experiences of all Americans in innumerable ways, and today's ruling makes things worse, not better. The best that can be said of the majority's perspective is that it proceeds (ostrich-like) from the hope that preventing consideration of race will end racism. But if that is its motivation, the majority proceeds in vain. If the colleges of this country are required to ignore a thing that matters, it will not just go away. It will take longer for racism to leave us. And, ultimately, ignoring race just makes it matter more."
---
Want a daily wrap-up of all the news and commentary Salon has to offer? Subscribe to our morning newsletter, Crash Course.
---
Justice Sonia Sotomayor, the first Latina justice and a fellow liberal, said in her dissenting opinion that the court's decision "stands in the way and rolls back decades of precedent and momentous progress."
"[T]he Court cements a superficial rule of colorblindness as a constitutional principle in an endemically segregated society where race has always mattered and continues to matter," she wrote. "The Court subverts the constitutional guarantee of equal protection by further entrenching racial inequality in education, the very foundation of our democratic government and pluralistic society. Because the Court's opinion is not grounded in law or fact and contravenes the vision of equality embodied in the Fourteenth Amendment, I dissent."
The Congressional Black Caucus also rang out against the court's decision in a statement:
"By delivering a decision on affirmative action so radical as to deny young people seeking an education equal opportunity in our education system, the Supreme Court has thrown into question its own legitimacy," it said.
The ruling marks a major victory for conservative legal activists who have argued that affirmative action undercuts the meaning of racial equality. It also provides another example of the conservative-majority court's decisions in those activists' and advocacy groups' favor. Thursday's strike down comes days after the anniversary of the court's overturning of Roe v. Wade, which guaranteed the right to abortion, in 2022.
"This is of a piece w/ Dobbs, a complete conservative victory that could only have been imagined, or discussed at Federalist Society meetings, 15 years ago and now is the law of the land, with huge and immediate social impact," former U.S. attorney Harry Litman, a former law clerk to former Justices Thurgood Marshall and Anthony Kennedy, tweeted Thursday.
These most recent challenges to affirmative procedures were brought by a group called Students for Fair Admissions which argued that any consideration of race in university admissions was unlawful under Title VI and the Constitution. They claimed that UNC's policy discriminated against white and Asian applicants while Harvard's discriminated against Asian students. But lower courts ruled in favor of the universities in both cases.
In defense of the admissions policies, the universities and their supporters countered by saying that excluding someone based on race is different from seeking diversity on campus. They explained that race is only one factor of many that admissions officers consider when analyzing each application.
The decision will mostly affect the few universities with highly competitive admissions rates — like Yale University, Brown University, Columbia University, the University of Chicago and Dartmouth College — who say that some consideration of race is essential to diversifying their student bodies and that the ruling will cause a decrease in minority student enrollment on their campuses. A majority of colleges across the country, however, accept nearly all applicants.
Roberts did allow for colleges to consider discussing race in an individual student application, using an example of someone personally experiencing racial discrimination and adding that the student "must be treated based on his or her experiences as an individual — not on the basis of race." 
Read more
about the Supreme Court