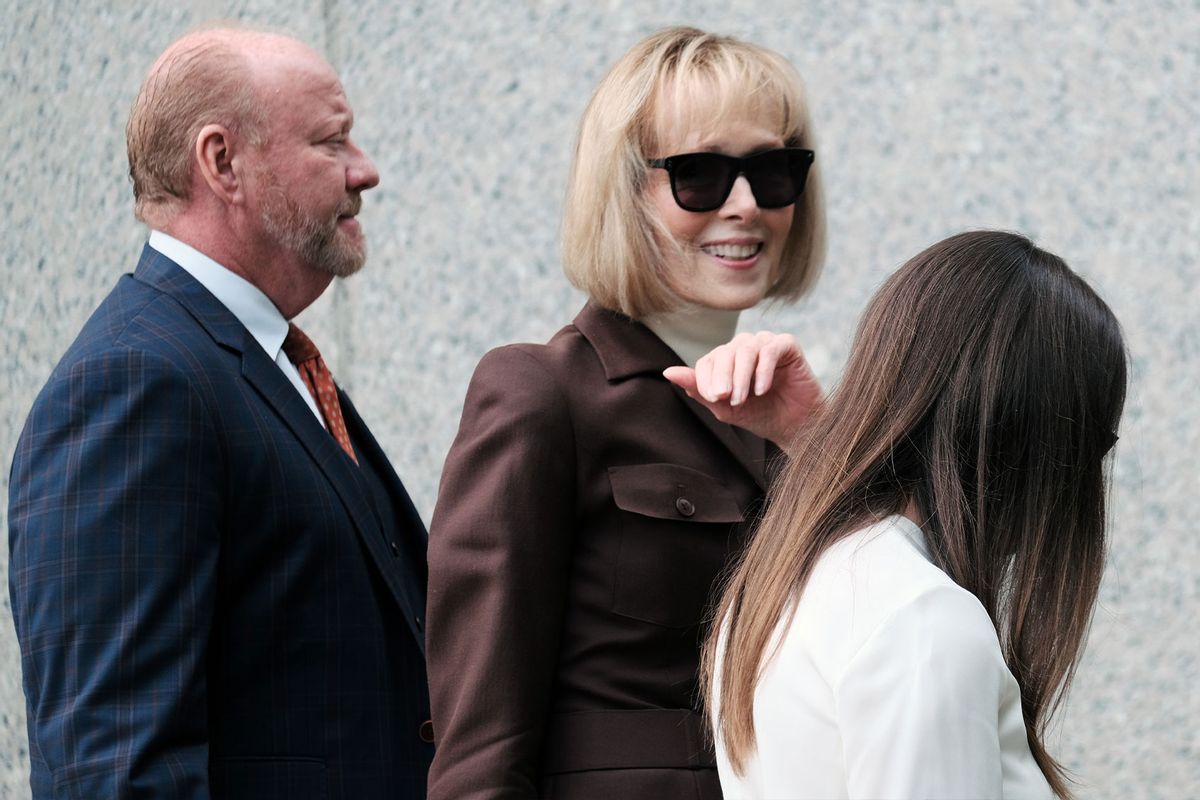 E. Jean Carroll, the columnist who sued former President Donald Trump for sexual battery and defamation last month and won, can pursue a $10 million related defamation case, the judge who presided over the trial said Tuesday.
U.S. District Judge Lewis Kaplan ruled that Carroll could amend her original defamation suit after Trump argued for its dismissal on the grounds that the jury had concluded he had not raped her, Reuters reports. The Manhattan jury found Trump liable for sexual abuse and defamation and awarded Carroll $5 million in damages.
Though Kaplan did not elaborate on his reasoning, he said he may do so later.
"We look forward to moving ahead expeditiously on E. Jean Carroll's remaining claims," said Caroll's lawyer Roberta Kaplan, who has no relation to the judge.
Trump lawyer Alina Habba, who was in Miami Tuesday as the former president pleaded not guilty to federal charges in the DOJ's classified documents probe, through a spokesperson argued that the New York writer should not be permitted to change her legal theory in the defamation case "at the eleventh hour" to align with the verdict. 
Carroll pursued a revision to the defamation suit she originally filed in 2019 after Trump denied the rape to a White House reporter and claimed Carroll was not his "type." Her proposed amendment would incorporate the jury's verdict in the May trial as well as the insults Trump hurled her way during his CNN town hall the following day.
Trump did not attend the trial but is appealing the verdict, alleging that he would experience "extreme prejudice" if Carroll were permitted to "retrofit" her lawsuit by swapping "rape" with "sexual assault" 71 times.
---
Want a daily wrap-up of all the news and commentary Salon has to offer? Subscribe to our morning newsletter, Crash Course.
---
Though New York's Adult Survivors Act, which granted adults a one-year window to sue over sexual abuse long after it had occurred even if the statue of limitations had expired, did not exist when Carroll filed her suit, she could make the case that Trump's original comments caused her greater financial and reputational harm to justify greater damages.
"Judge Kaplan grants E. Jean Carroll's amended complaint, implicitly rejecting DOJ position that Trump was acting in scope of employment when defamed her," former U.S. attorney Harry Litman said of the ruling on Twitter. "Now falls to DOJ to determine whether to adhere to the Trump Admin position, given what it called overtaking subsequent events."
The Justice Department had previously argued that it should be substituted for Trump as the defendant in the defamation case, which would bring an end to Carroll 's $10 million suit as the government can not be sued for defamation. On June 9, the department asked for permission to reassess its position because it had been "overtaken by events."
"And that means adding Trump's idiotic additional recent statements, which make the scope of employment issue far less important," Litman added.
In his Tuesday order, Judge Kaplan gave the Justice Department until July 13 to complete the assessment.
Read more
about E. Jean Carroll