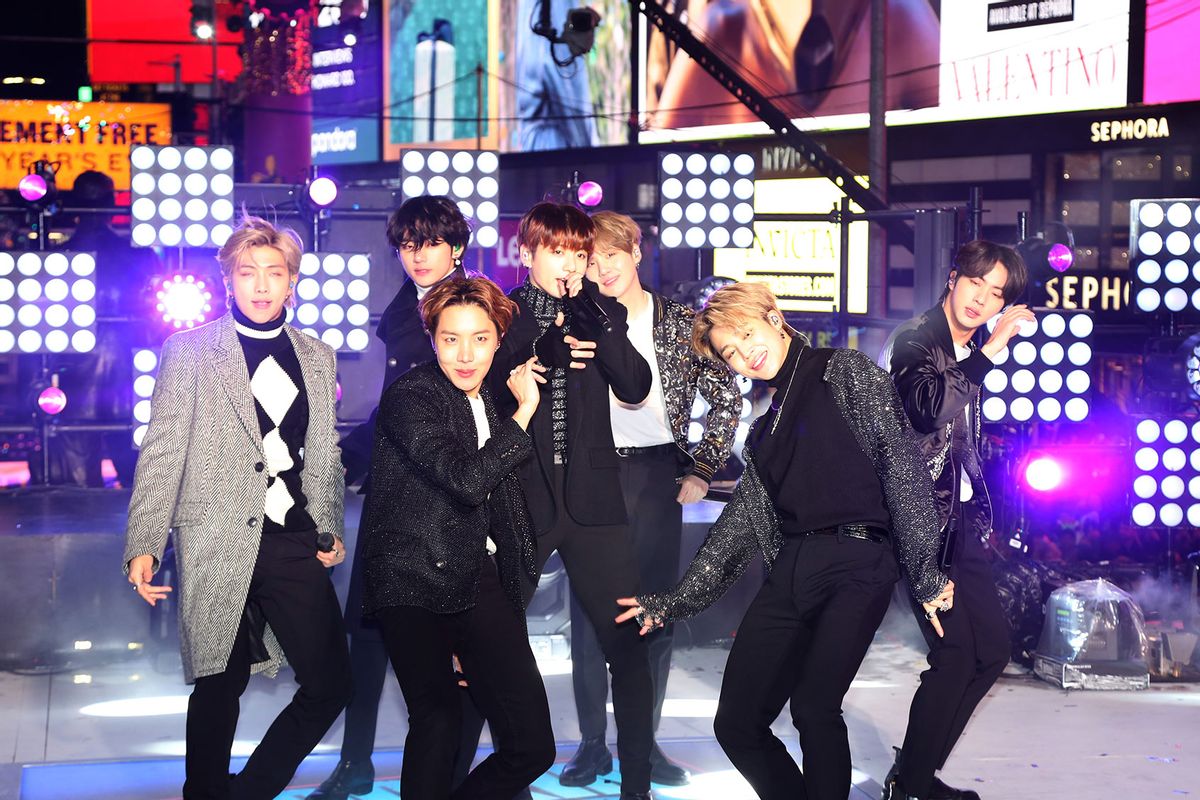 2018 was one of the worst years of my life.
I was in my second semester of college, which was supposed to be part of the "best years of your life," but for me was anything but. I was severely depressed and could barely get myself out of bed to eat — let alone show up to my classes and do my homework. I felt isolated and lost.
And then I found a love for K-Pop boy group BTS.
BTS, who you've likely heard of by now, consists of seven members — RM, Jin, SUGA, J-Hope, Jimin, V and Jungkook. When I got invested in BTS, they had just started blowing up in the west the year before.
When I watched a video of one of their live performances of "Answer: Love Myself" for the first time, I started sobbing.
And despite what people often think, they weren't important to me because of how handsome they are or because Jungkook is boyfriend material. It wasn't because of the fashion and the dyed hair, or even because of the elaborate choreography and jaw-dropping performances.
While those are pretty valid reasons to love K-pop, and definitely helped grab my attention, the reason BTS became so special to me is less surface-level.
I had heard of them before. In high school, my best friend loved K-pop, especially BTS, and I had listened to and liked some of their songs. But as a Korean adoptee growing up in Vermont, one of the whitest states in America, I wasn't eager to make myself come across as any more Asian than I already was.
When we both went away to college, we kept texting. Sharing details of our day, talking about how hard things were.
Even though my mental health was declining, I was also beginning to come to terms with what being Korean American meant to me. It had always made me uncomfortable, made me feel "other," but I wanted to know more now.
And when BTS came up again in conversation, I decided to finally really look into them.
Discovering the Bangtan Boys
I started with reading translations of the lyrics as I listened. Then I watched all their music videos. Soon, I was making my way through every live performance and every interview I could find and even going down the rabbit hole of watching fan-made compilation videos on YouTube.
When I watched a video of one of their live performances of "Answer: Love Myself" for the first time, I started sobbing. I didn't even need to understand all of the lyrics — just hearing the crowd sing, "You've shown me I have reasons I should love myself," along with the seven of them on stage struck me.
I was struggling to like myself enough to take care of myself in the simplest ways, but soon enough I was singing along:
I'm looking for myself again
But I don't wanna die anymore
Me, who used to be sad
Me, who used to be hurt
It'll make me more beautiful
BTS was not only my connection to the culture I had resisted and ignored my entire life, but also became a light for me when everything else felt bleak.
At first, I might not have believed it when I was singing along to Jin's solo song "Epiphany" and declaring:
I'm the one I should love in this world
Shining me, precious soul of mine
I finally realized, so I love me
Not so perfect but so beautiful
But I began to.
It sounds corny, but they helped me through that extremely difficult period of my life in a way that nothing else really could. Listening to BTS didn't cure my depression, but the openness in their lyrics provided me with a sense of comfort and reassurance that I desperately needed.
The song that made the biggest impact on me, and still does, is from RM's 2018 solo mixtape "mono." In "지나가 (everythingoes)," RM repeats over and over "It all passes, someday, for sure, certainly / It passes (Everything goes)."
But instead of being a message of toxic positivity, he goes on to say that rather than using "unclear words saying to have strength" and "instead of the lies that it's all just the way things are," he prays that "like the winds it will pass."
V, Suga, Jin, Jungkook, RM, Jimin, and J-Hope of BTS performs during the iHeartRadio KIIS FM's Jingle Ball show at the Forum on December 06, 2019 in Inglewood, California. (Toni Anne Barson/WireImage)I was still feeling miserable. But I sat in my bed, AirPods in, volume maxed out and let RM's lyrics reassure me that someday, for sure, certainly, I'd be alright.
It may be hard to understand why BTS fans are so ride-or-die for them, but moments like that are part of the reason why. It's not just me who's been affected by them this deeply — seeing their impact is as easy as searching "BTS Answer: Love Myself reaction" on YouTube or googling "how BTS changed my life."
Embracing the community
I first saw the widespread impact they've had when I rejoined Twitter and rebranded as a stan account.
BTS was not only my connection to the culture I had resisted and ignored my entire life, but also became a light for me when everything else felt bleak.
At the time, the BTS members didn't have their own individual Instagram accounts, and Twitter was the place for updates, selfies and personal posts from each of them. Their Twitter account currently has 48.4 million followers and a quick scroll through will show you stan account after stan account dedicated specifically to them, with edited photos of one of the members as the icon and a handle that references their lyrics.
It may appear that those accounts are faceless and impersonal, but when I was feeling isolated at a new school, I found a community there. There are countless examples of how toxic stan Twitter can be, but it doesn't always have to be. I joined group chats to talk about favorite albums, rehash the latest performance and dissect lyrics, and I ended up making friends across the world.
It's easy to look at all of this and only see how it contributes to what we've come to know as the parasocial relationship between celebrities and their fans. Especially within the K-pop community, when fans do things like spend thousands of dollars on albums for a short video call, stay up all hours of the night to catch a livestream and even buy expensive and elaborate gifts for their bias on their birthday.
While this certainly exists within BTS' fanbase, what sets the band apart is that they've consistently shared their personal struggles and journey to self-love throughout their career, in their music but also in interviews, livestreams and letters to fans.
In 2016, SUGA released a solo mixtape under his alter ego Agust D in which he details his struggles with depression and OCD and how he's gotten treatment for it.
In 2017, RM put out his song "Always" on SoundCloud that contains the lyrics:
One morning, when I opened my eyes
I wished that I was dead
I wish someone killed me
In this loud silence
I live to understand the world
but the world has never understood me, why
In a 2019 interview with Entertainment Weekly, SUGA emphasized the importance of open dialogue about mental health. "I think for not just us but other celebrities, if they talk about it openly — if they talk about depression for example like it's the common cold, then it becomes more and more accepted if it's a common disorder like the cold," he said. "More and more, I think artists or celebrities who have a voice should talk about these problems and bring it up to the surface."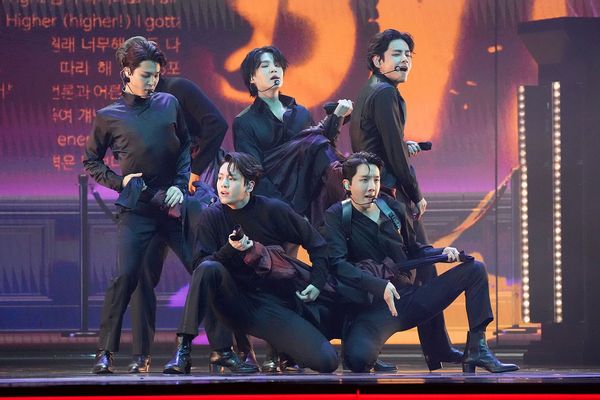 Jimin, Jungkook, Suga, J-Hope, and V of BTS perform onstage during the 64th Annual GRAMMY Awards at MGM Grand Garden Arena on April 03, 2022 in Las Vegas, Nevada. (Kevin Mazur/Getty Images for The Recording Academy)In 2020, on his birthday, Jin surprised fans with his single "Abyss," along with a letter in which he admitted to struggling with imposter syndrome and feeling burnt out, and shared that he received counseling to help him work through it. RM shared in a live that the idea for "지나가 (everythingoes)" came after he had spoken with a counselor, too.
The members' willingness to speak about their own mental health struggles and counseling is not only important because it normalizes it for their fans, but because it sheds a light on mental health in Korea and within the K-pop community.
According to The Korea Times, South Korea has held the highest suicide rate of OECD nations for almost 20 years, with a suicide rate of 24.1 deaths per 100,000 people as of 2021.
Just this April, 25-year-old ASTRO boyband member Moon Bin passed away by suicide. This comes after other losses that have hit the K-pop community, like SHINee's Jonghyun who was only 27 when he passed in 2017. In 2019, 25-year-old former f(x) member and actress Sulli also passed away from suicide, with 28-year-old Goo Hara from Kara following just weeks after.
With far too many examples of young people in the K-pop industry, and Korea in general, taking their own lives, it just makes publicly speaking to these issues even more important. Especially when it's being communicated to a fanbase like BTS' that consists of so many young people.
As much as I love K-pop, I can see how damaging the industry can be. It's rightfully criticized for setting impossibly high beauty standards, highlighting issues with fatphobia and colorism, and for the immense pressure put on idols to be "perfect" both while they're performing and when they're offstage.
With these kinds of standards, BTS being willing to acknowledge that they're human — that they struggle, question themselves and sometimes need help to get through it — is essential. At the height of fame, with the eyes of the world on them, they choose to be vulnerable and show others that they can do the same.
The flaws in the industry still exist, but there's no doubt that BTS will leave a lasting impact.
If you are in need of help, call or text 988 to reach the Suicide and Crisis Lifeline. Hours of operation are 24/7 and it's confidential.
Read more
about this topic