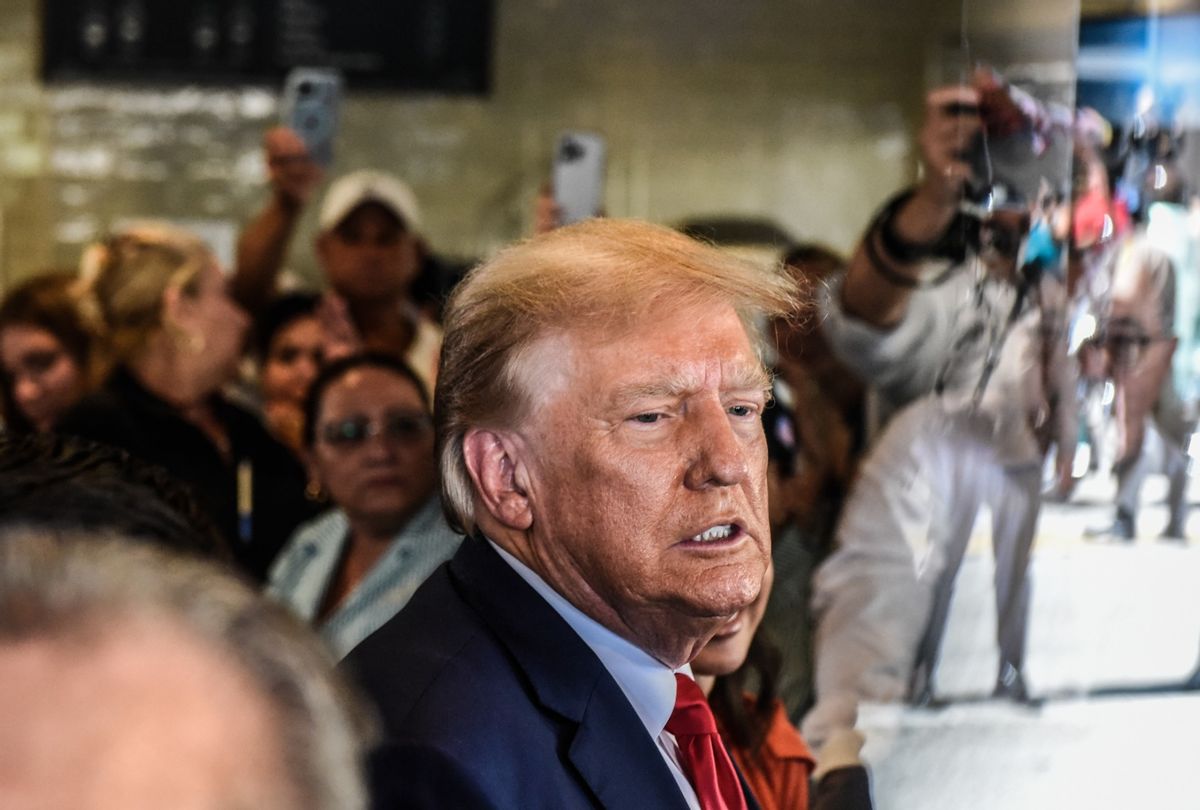 Former President Donald Trump repeatedly ignored advice from his lawyers and advisers to return the secret documents he stashed at his Mar-a-Lago residence, according to The Washington Post.
Seven Trump advisers told the outlet that Trump "misled his own advisers," insisting that the boxes he took only contained newspaper clippings and personal items, and repeatedly refused to give the documents back, "even when some of his longest-serving advisers warned of peril and some flew to Mar-a-Lago to beg him to return them."
Last fall, Trump hired former Florida Solicitor General Chris Kise to represent him in the documents case, paying him a $3 million retainer. Kise wanted to quietly approach the Justice Department to try to negotiate a deal to avoid charges and "take the temperature down" by returning all of the documents.
But Trump was "not interested after listening to other lawyers who urged a more pugilistic approach," according to the Post, and Kise never approached the DOJ. Special counsel Jack Smith was appointed in November of last year.
That was one of many instances in which Trump rejected opportunities to avoid criminal charges, sources told the outlet, noting that the former president was not charged in connection to any documents he returned voluntarily.
"It's mine," Trump insisted to advisers, explaining why he did not want to return the documents.
Instead, Trump demanded his team put out a statement that "everything" had been returned even as he kept 64 additional boxes of documents at Mar-a-Lago, including more than 100 classified documents, according to the indictment. He later had his aide, Walt Nauta, move boxes without telling his lawyers, who then signed an affidavit affirming that all documents had been returned, prosecutors say.
"I really don't want anybody looking through my boxes, I really don't, I don't want you looking through my boxes," Trump told attorney Evan Corcoran after he was issued a grand jury subpoena, according to the lawyer's notes cited in the indictment. "Well, what if we, what happens if we just don't respond at all or don't play ball with them?" he questioned. "Wouldn't it be better if we just told them we don't have anything there?"
"It was a totally unforced error," a source close to Trump involved in dozens of discussions about the documents told the Post. "We didn't have to be here."
Trump repeatedly ignored advice from his lawyers and instead took the advice of Tom Fitton, the head of the right-wing legal group Judicial Watch. Fitton and others told Trump that he could legally keep the documents and repeatedly mentioned the "Clinton socks case," referring to tapes of interviews with an author that Bill Clinton stored in his sock drawer. Judicial Watch lost a 2012 lawsuit seeking to designate the recordings as presidential records.
Trump often cited Fitton to others even as his own team "disagreed," according to the report.
Fitton told the outlet he dined with Trump ahead of his arraignment on Tuesday.
"I saw him last night; he's in a good mood. He's serious and ready to fight under the law," said Fitton, who has been questioned before a grand jury in connection to the Mar-a-Lago case as well as the DOJ probe into the Jan. 6 Capitol riot.
"I think what is lacking is the lawyers saying, 'I took this to be obstruction,'" Fitton told the outlet. "Where is the conspiracy? I don't understand any of it. I think this is a trap. They had no business asking for the records … and they've manufactured an obstruction charge out of that. There are core constitutional issues that the indictment avoids, and the obstruction charge seems weak to me."
Former Trump chief of staff John Kelly told the Post he was not surprised that Trump refused to follow his lawyers' advice.
"He's incapable of admitting wrongdoing. He wanted to keep it, and he says, 'You're not going to tell me what to do. I'm the smartest guy in the room,'" he said.
Other advisers told the outlet that the FBI and the National Archives "wanting the documents so badly made Trump less likely to give them back."
---
Want a daily wrap-up of all the news and commentary Salon has to offer? Subscribe to our morning newsletter, Crash Course.
---
"President Trump has consistently been in full compliance with the Presidential Records Act, which is the only law that applies to Presidents and their records," Trump campaign spokesman Steven Cheung said in a statement to the Post. "In the course of negotiations over the return of the documents, President Trump told the lead DOJ official, 'anything you need from us, just let us know.' Sadly, the weaponized DOJ rejected this offer of cooperation and conducted an unnecessary and unconstitutional raid on the President's home in order to inflict maximum political damage on the leading presidential candidate."
Kise, who was sidelined after urging cooperation, appeared alongside Trump at his arraignment and is helping Trump find new lawyers in Florida. Multiple attorneys have reportedly turned the president down, leaving him without a specialist who can handle the Espionage Act charges against him.
"The issue isn't navigating the Espionage Act charges themselves, which are relatively straightforward; the issue is navigating the Classified Information Procedures Act (CIPA) and knowing how to exploit all its procedural mechanisms to the client's benefit," former federal prosecutor Adam Kamenstein told Salon on Wednesday, adding that the former president has been a difficult client who reportedly does not pay his bills and has gotten "more than one of his lawyers into their own legal trouble."
Read more
about the Trump indictment