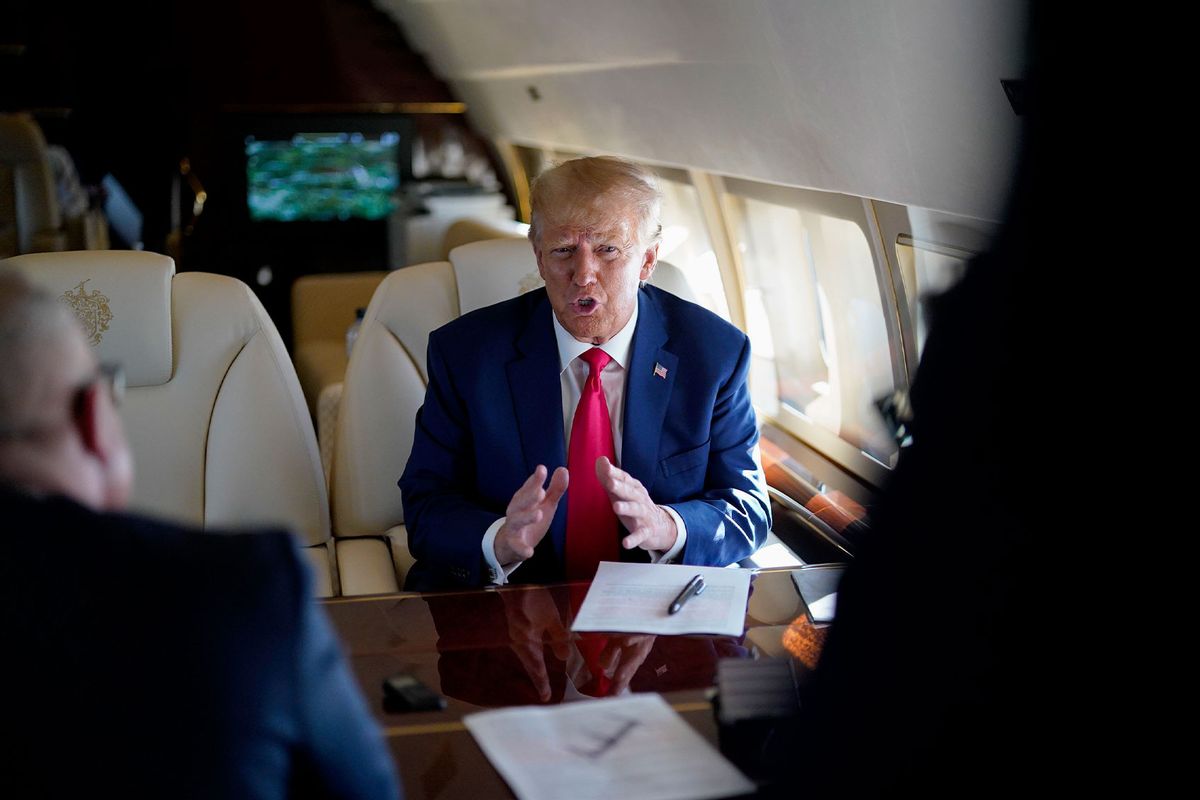 Former President Donald Trump in his first interview since being indicted on federal charges for retaining national security documents said he failed to hand over government records to federal officials because he was "very busy" and didn't have time to sort through the box's contents.
During an interview with Fox News, the ex-president said that the National Archives and Records Administration had requested the return of documents that were mixed with his personal belongings in containers stored at his Mar-a-Lago estate. He wanted to go through the boxes and get all of my personal things out, he added.
"I don't want to hand that over to NARA yet," Trump said. "And I was very busy, as you've sort of seen."
Trump, who last week was indicted on 37 counts related to stashing documents at Mar-a-Lago and obstructing government efforts to retrieve them, acknowledged that he failed to fulfill the federal government's demands requesting the return of classified documents.  
"Trump's defense that he was too busy to return national defense information is not a valid legal defense," former U.S. Attorney Barb McQuade, a University of Michigan law professor, told Salon. "In fact, it is an admission that he failed to turn over the documents when requested. In addition, not only did he fail to return the documents, he also engaged in proactive efforts to lie and obstruct the investigation."
After leaving office, the former president reportedly took classified materials with him containing intelligence on nuclear weapons programs and information on the nation's defense capabilities. 
Even as the government pressed Trump to return all materials taken to Mar-a-Lago, he ignored the subpoena and engaged in repeated efforts to obstruct the investigators' efforts to retrieve the documents, the indictment alleges.
"Had he complied with those requests in good faith earlier in 2021 and 2022, it is very likely the FBI search would never have happened in the first place, with the subsequent federal indictment that followed for the unlawful and willful possession of classified government documents," Javed Ali, former senior counterterrorism official at the Department of Homeland Security, told Salon.
He added that the former president's claims that he was too busy to sort through the boxes of personal effects and government documents will not "hold water from a legal perspective" as it "shows a disdain" for the process NARA and DOJ had in place to have Trump first return those in a timely manner before the FBI conducted a search at Mar-a-Lago last August. 
The search yielded more than 100 classified documents from Mar-a-Lago despite Trump's team affirming that they had returned all documents following a diligent search in response to a grand jury subpoena.
Trump's recent indictment alleged that the ex-president stored classified materials in different areas of Mar-a-Lago, including his bedroom, ballroom and even next to a toilet in a bathroom. 
---
Want a daily wrap-up of all the news and commentary Salon has to offer? Subscribe to our morning newsletter, Crash Course.
---
"These are documents the DOJ says were classified, that contained information on U.S. nuclear weapons and the nuclear capabilities of a foreign country, and Trump is saying he didn't personally have time to go through the boxes and pull out his golf shirts and shoes," said Joshua Ritter, a former Los Angeles County prosecutor and a partner at the firm El Dabe Ritter.
It comes across as "dismissive of a very serious matter", he added, pointing to how his lawyers may also view Trump's tone as the wrong approach he should take in this case. 
"The indictment made clear that Trump had personnel in place to go through the documents and to comply with the request from NARA, if he had wanted to," Ritter said. 
The indictment also alleged that Trump engaged in repeated efforts to sway his attorneys to lie to authorities about federal documents and suggested they tamper with the evidence. 
When asked by Fox News' Bret Baier why he kept troves of classified materials at Mar-a-Lago and refused to comply with the government's subpoena, Trump explained he couldn't hand over the boxes immediately because he needed time to take out personal items like "golf shirts, clothing, pants, shoes."
"Like every other president I take things out," Trump said. "In my case, I took it out pretty much in a hurry. People packed it up and left. I had clothing in there, I had all sorts of personal items in there. Much, much stuff." 
Baier also addressed a recording made at Trump's Bedminster golf club in July 2021 in which he admitted to holding onto a classified Pentagon document about a potential attack on Iran and acknowledged he no longer had the authority to declassify it.
It contradicts his previous claims that he declassified all material he took from the White House.
But in the Fox interview, Trump insisted "everything was declassified" and said he did not "know" if the materials he took contained documents detailing an attack plan against Iran even though the July recording makes it clear that he did. 
"Trump's latest comments aren't going to help his criminal defense, but it's becoming obvious that Trump intends to 'litigate' this case in the arena of politics and PR and not in the courtroom," Ritter said. "… He's essentially admitting that he knew the government wanted these documents back but that he dragged his feet. It's not a great legal argument, but Trump may think he set exactly the right tone with this Fox News interview because he advanced the narrative that the Biden administration is unfairly pursuing him and that this is a witch hunt. He sees this indictment as a political boon because it bolsters his persona as the one man who is standing up against the establishment and is being unfairly persecuted because of it."
Read more
about Trump's legal woes