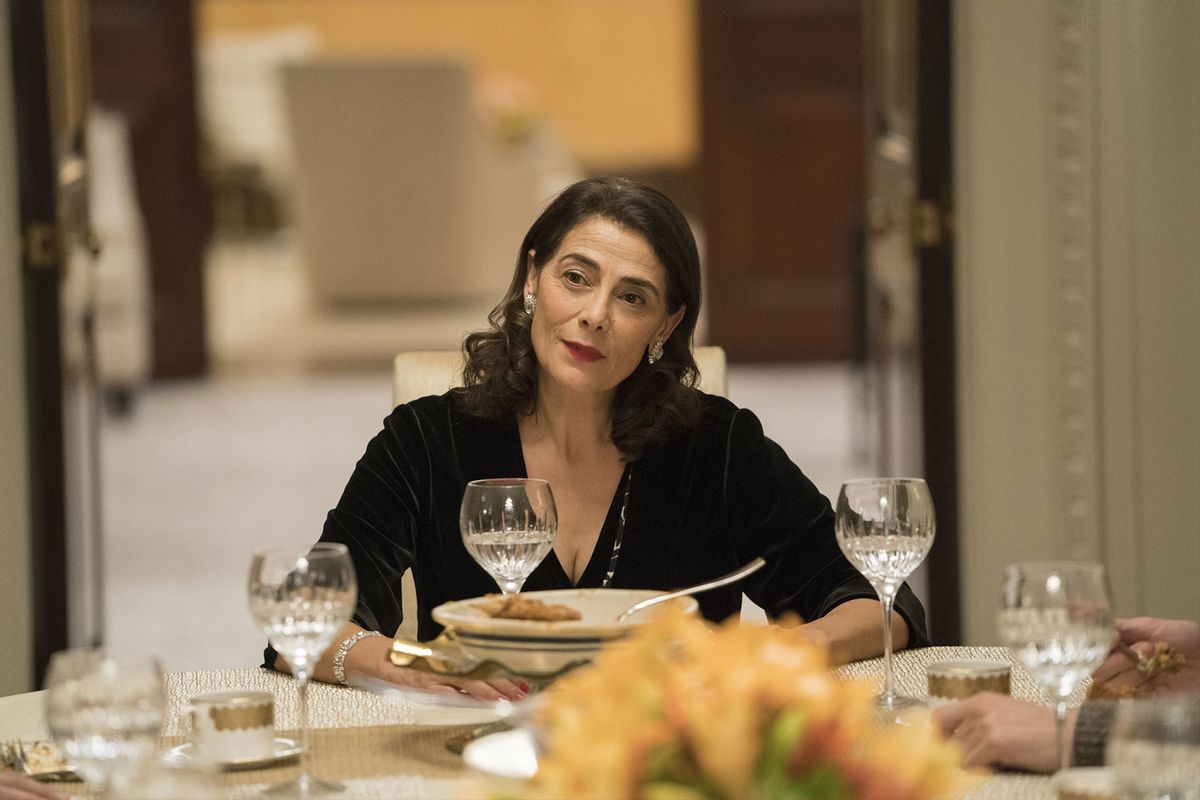 Everything in Logan Roy's life is transactional. There are costs and rewards, dues and dividends, victors and the dead. This is why so much of the discourse related to the fourth season of "Succession" has to do with who is winning and who can win. Taking stock of Logan's three kids at the start of "Honeymoon States," set a day after his death, nobody seems to be winning.
Kendall (Jeremy Strong) is wrecked on the floor of his luxury condo. Kendall (Kieran Culkin)  stalks his place with cold purposeful emotional denial, brushing his teeth and not betraying a single emotion in the mirror. Shiv (Sarah Snook) is slumped in her bed and fields a call from her doctor, who drops the episode's biggest surprise (that most people saw coming a season ago): she's pregnant, and thanks to Dad's manipulations, estranged from her husband Tom (Matthew Macfadyen). 
Only one Roy is in a position to pull a win out of this grave situation: Marcia.
To the end Logan's third wife, played by Hiam Abbass, remains something of a mystery. The Roy children wouldn't describe her so politely. In the first season, they treat her as if she's a gold digger. (To be fair, they're no fans of Logan's second wife and their mother, Lady Caroline Collingwood (Harriet Walter), either.) Early in the series, a distrusting Shiv asks Marcia, "Who are you? Apart from a machine for gathering power?" We still not entirely sure.
Succession (HBO)
But Marcia never set her sights on the full yacht. Like everybody else in the Waystar Royco inner circle, she's simply determined to get her payout for time served. Throughout the series nothing she concedes to Logan is without a price. And that usually has a monetary value – like, say, the improved divorce settlement she negotiates in exchange for smiling in his direction when it looked like the Feds were closing in on him.
Unlike Ivana Trump, Marcia will not be buried on a property owned by the Roys to score a tax break. She won't be a footnote in his biography or a joke. She will not be a Melania either. That much is clear in her take-charge reappearance at the Manhattan penthouse the day after his death, decked out in black from the funerary fascinator in her hair to her smart heels.
The secondary purpose of this gathering at the deceased's home is to determine who will be installed as the interim leader of Waystar Royco to steer the company through its sale. "For some of us it's a sad day, but for others, it's coronation demolition derby," says Shiv. 
To Marcia, the gathering is her revival. "We spoke every morning and afternoon, so I came as soon as I heard," he tells a flabbergasted Kendall upon his arrival. By Marcia's report, she and Logan were very close and spoke intimately every evening.  
Neither he nor Roman and Shiv believe a word of it – "the belle of the ball," Roman snarks, matched by Shiv's "death becomes her" jab.  But who among them can refute her account? As they crack wise about the disingenuously reverential obits in the newspapers, the bitter joke is that nobody knew the true Logan Roy.
"I mean, to be honest. Dad sounds amazing," Shiv remarks of the ways he's described by journalists doing their poetic best to refrain from speaking ill of the dead. "I would like to have met Dad."
It's a throwaway remark, but it also reminds us of Shiv's Achilles heel. Her father consistently showed her the low regard in which he held women. And yet whenever Daddy dangles a false route to power within Waystar Royco, Shiv sprints toward his ruse.
Marcia was never that unsophisticated. Quite the opposite – her unknowability is her sword and shield. At a dealmaking dinner with Nan Pierce (Cherry Jones, in Season 2's "Tern Haven") she refuses to let Logan spin some bull to keep the focus on him when Nan asks Marcia to tell her about growing up in Beirut.  
"Well, she doesn't really like to talk about it," Logan begins, to which she breaks in with, "Or you don't like to ask about it." He tries to weave a story about Marcia telling him about her whole life when they first met, and she sweeps that aside with, "If I have a year, I couldn't tell you my whole life."
Marcia's inscrutability serves her well.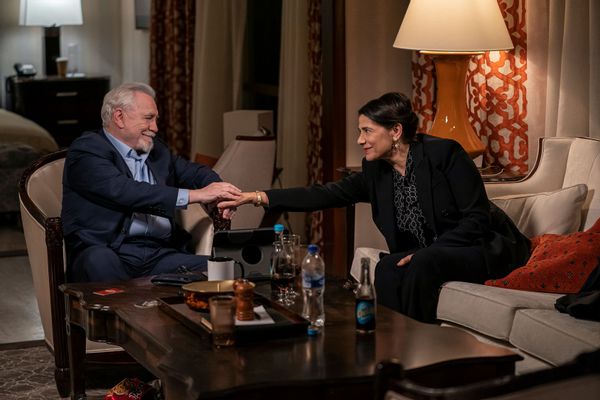 Succession (HBO)
This is the first time Marcia has appeared in this season of "Succession." In an earlier episode, when Greg (Nicolas Braun) inquires as to her whereabouts Logan's mistress Kerry (Zoe Winters) confidently answers, "Marcia's not here. She's in Milan shopping. Forever."
At that juncture Kerry believes she's on track to become this show's equivalent to Julie Chen Moonves, scoring an anchor gig at ATN as her reward for bedding the old man.
But we understand that Marcia would never go out like that. Women worlds more formidable than weak little Kerry have come and gone, including Pierce's former PGM CEO Rhea Jarrell (Holly Hunter), the lover before Kerry.
When it's obvious that Logan's relationship with Rhea extended beyond business, Marcia flat-out asks her if she was regularly tested for sexually transmitted diseases. ". . . I don't know who else you're screwing," Marcia says to Rhea through an off-putting grin, reducing her to nervous babbling.
Then Marcia goes in for the kill. "'Listen," she hisses. "I have fought and I have lost. And I have fought and won. But when I lose, the other one will generally lose an eye or a soul." Rhea, you'll note, is gone.
If you saw that moment, you might suspect that Kerry would pay for that dismissiveness. Indeed, the day after Logan died, Kerry is nowhere to be seen. At first. Instead Marcia calmly watches Logan's footmen turned back into mice, scurrying about as they jockey for power.  Tom apologizes to Kendall and Roman, who are unmoved. Hugo (Fisher Stevens) pulls Kendall aside to confess that his daughter sold a bunch of Waystar stock just before the news about Logan's death went public.
When Kendall asks whether there are phone records indicating Hugo spoke to her on the day, he busts out with the good old ironclad "I can't recollect."
"See how they run," Marcia disdainfully sighs as Frank (Peter Friedman) and Karl (David Rasche) scamper to an upstairs room, followed by Gerri (J. Smith-Cameron), to discuss the ambiguous document Logan left behind in his safe.
One that is legally meaningless, Gerri says, due to how old it is and the fact that Logan did not communicate his wishes to his lawyer. Regardless, it specifies Logan's wish for Kendall to take over as CEO, although Ken's name appears to be either underlined or crossed out.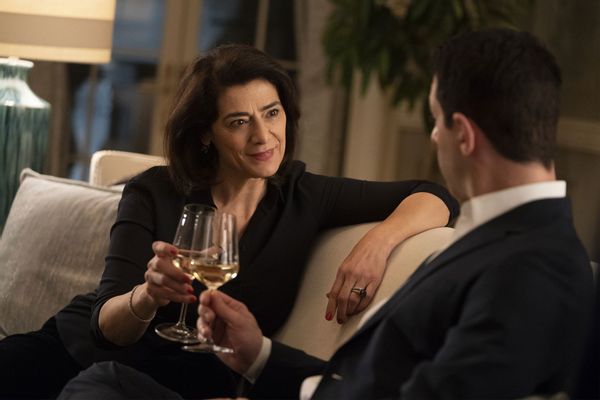 Succession (HBO)
When they bring Shiv, Roman and Kendall into the discussion, they point out that Kendall's case is weak, given his multiple attempts to overthrow his father. Roman, as COO, is better positioned to seize the title. But the only detail that's in writing is that Logan once intended to hand the kingdom's keys to his second eldest son.
In the meantime, Logan's primo, Connor, strolls up to Marcia and offers to purchase the house. She blithely tells him she's seeking between $60 and $70 million. He offers $63 million, without consulting any real estate data or an inspection. "Done," she says. They seal it with a spit and a handshake, which isn't an actionable contract. But Connor is dumb, and Marcia knows this.
Shiv, on the other hand, is naïve enough to believe her father has accounted for her future in his vision for the company after he's gone. Alas, her name isn't listed among the penciled addendums from unspecified eras. Adding insult to injury is the fact that Cousin Greg received a meaningless scribble, with a question mark. "Nevertheless!" Greg says hopefully.
Gerri stresses none of this has legal value, since Kendall, Shiv and Roman no longer have majority control of Waystar, "It is from some time ago," Frank echoes, adding, "Logan was a man of different moods."
Unlike Logan's top brass, when the beneficiary of one of his final moods crashes the party, Marcia is ready. A whimpering Kerry begs to be allowed upstairs to gather her things. Marcia instructs Logan's body man Colin (Scott Nicholson) to stop her.
A housekeeper brings Kerry's household remains in a bag, which the defenestrated side piece accidentally dumps on the floor. Roman helps her gather her humble toiletries and listens as Kerry whimpers in his ear, "He was making arrangements about us, so could you check? He was going to make it known. He was going to write his lawyers or something. Can you check? Can you check on it?"
Colin instructs the other security to take her out the back.  "We're calling her a taxi to the subway so that she can go home to her little apartment," Marcia buzzes before swooping off like the queen bee she is. Provided Connor makes good on their agreement, that may be all Logan's third wife needs to secure her tidy piece of the old man's fortune. Because Logan definitely did not take care of Kerry in writing.
---
Want a daily wrap-up of all the news and commentary Salon has to offer? Subscribe to our morning newsletter, Crash Course.
---
Shiv may not be in much of a better position. After a bit of wheeling and dealing with the board, Roman and Kendall team up and persuade Shiv to go along with them being announced as co-CEOs. The boys assure their sister that Logan's death brought them together, and their unity is real while the boys' new titles are a means of smoothing their way to the company's sale.
"This is a dad promise, on yesterday," Pinky makes her brothers swear, and the boys agree. "We're not going to f**k you," Roman assures her. Sandy Furness' (Larry Pine) paralyzed rictus in her direction tells another story, especially after she faceplants while trying to walk away from the scene. He knows that Logan molded his sons more closely in his image, which Kendall confirms after he and Roman initially instruct Waystar's comms team Hugo and Karolina (Dagmara Domińczyk) to craft a kind transition message to the shareholders regarding their fitness for these positions.
This is preferable to the alternate Karolina and Hugo propose, which would be to spread the message that Roman and Kendall had been running the company from the sidelines all along to mask Logan's decline, along with mentioning even worse sins the Roy paterfamilias committed in life.
Roman vehemently disagrees with the smear tactic, and in front of Karolina, Kendall seconds that disgust. Moments later, though, Kendall revisits what his dad wrote about him in the document and takes Hugo aside, instructing him to launch a shadow campaign surfacing the "bad dad stuff."
"It's what he would do," Kendall says. "He'd want this. For the firm. So action that. But soft. No prints." Hugo expresses hesitation, but Kendall insists, especially since he has leverage on his PR guy. "Just get on it. Unless . . . you want me to pull out the strap on?"
Like father, like son . . . which does not bode well for Logan Roy's only daughter, or the strength of that non-binding "dad promise."
Read more
about "Succession"