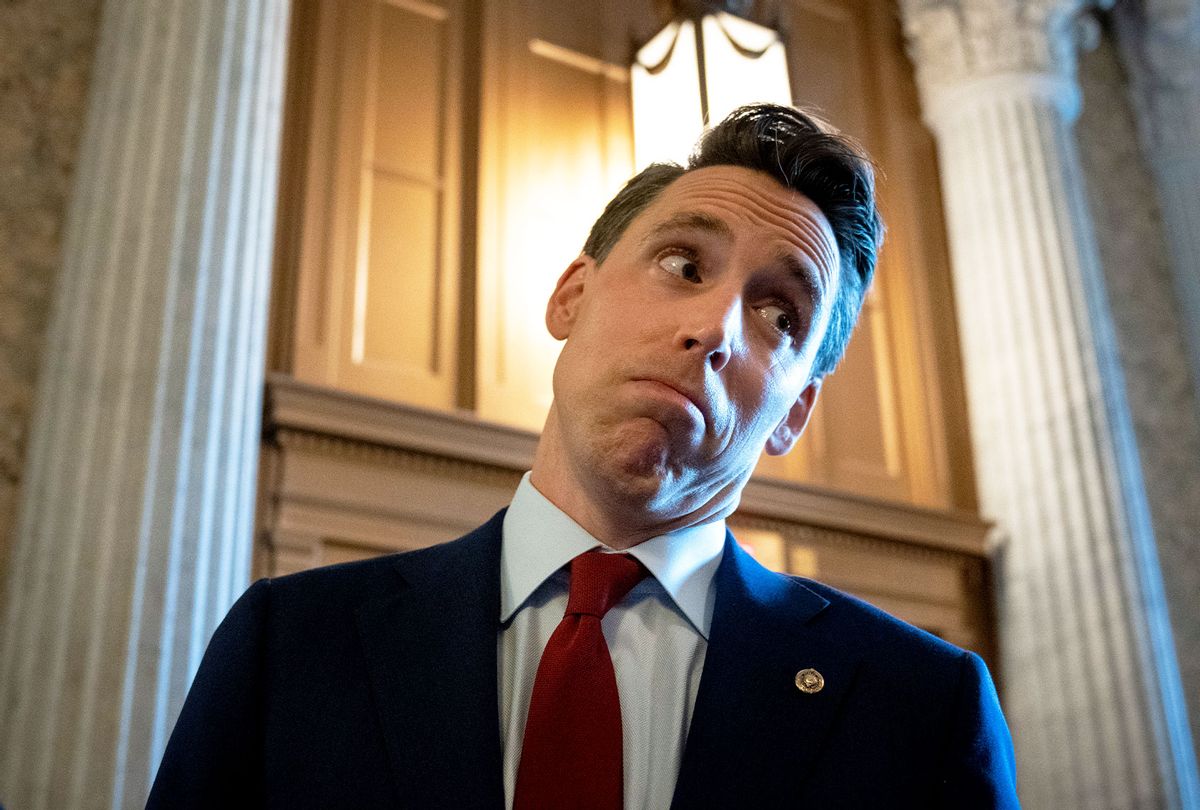 Republicans flocked to the defense of former President Donald Trump Thursday evening after he broke the news of his indictment in the special counsel's investigation into his handling of national security documents.
Trump is facing seven counts, including willfully retaining national defense documents, obstruction, and false statements, according to media reports, though the specific details of his indictment will likely remain unknown until he is arraigned in Miami's U.S. district court.
Despite several weeks of reports that he would soon be indicted, the announcement reportedly came as a surprise to Trump and his inner circle. The former president spouted off on Truth Social Thursday evening in response to the notification.
"I AM AN INNOCENT MAN. THE BIDEN ADMINISTRATION IS TOTALLY CORRUPT. THIS IS ELECTION INTERFERENCE & A CONTINUATION OF THE GREATEST WITCH HUNT OF ALL TIME. MAKE AMERICA GREAT AGAIN!!!" he wrote in the fourth of four posts to the conservative platform ranting about the indictment.
Republicans, including some of Trump's opponents in the upcoming 2024 presidential election, rallied behind him and echoed his denigration of the federal investigation.
Florida Gov. Ron DeSantis, who lags behind Trump in Republican primary polls, claimed that the indictment was a "weaponization of federal law enforcement" that "represents a mortal threat to a free society" in a tweet Thursday.
"We have for years witnessed an uneven application of the law depending upon political affiliation," DeSantis continued. "Why so zealous in pursuing Trump yet so passive about Hillary or Hunter?"
DeSantis vowed that if elected president, his administration would "bring accountability to the DOJ, excise political bias and end weaponization once and for all."
Fellow candidate and biotech executive Vivek Ramaswamy shared DeSantis' criticism, committing his first action, if elected to office, to pardoning Trump.
"It would be much easier for me to win this election if Trump weren't in the race, but I stand for principles over politics," Ramaswamy, who has polled in the single digits, said in a statement. "I commit to pardon Trump promptly on January 20, 2025 and to restore the rule of law in our country."
In a Fox News interview following news of the impending indictment, Sen. Tim Scott, R-S.C., said that "lady justice has a blindfold on" and "what we've seen over the last several years is the weaponization of the Department of Justice against the former president."
According to Politico, the presidential candidate also promised to "purge all of the injustices and impurities in our system" if elected.
But some of Trump's low-polling 2024 Republican primary rivals did not come to his defense. Former Arkansas Gov. Asa Hutchinson said that Trump's actions shouldn't define the Republican Party and called on Trump to drop out of the race.
"While Donald Trump is entitled to the presumption of innocence, the ongoing criminal proceedings will be a major distraction," Hutchinson said. "This reaffirms the need for Donald Trump to respect the office and end his campaign."
Former New Jersey Gov. Chris Christie, who recently announced his bid for the oval office, warned his followers against adhering too closely to Trump's word on social media.
"Let's see what the facts are when any possible indictment is released, he tweeted. "As I have said before, no one is above the law, no matter how much they wish they were. We will have more to say when the facts are revealed."
---
Want a daily wrap-up of all the news and commentary Salon has to offer? Subscribe to our morning newsletter, Crash Course.
---
Trump's allies in Congress also jumped to his defense.
"Today is indeed a dark day for the United States of America. It is unconscionable for a President to indict the leading candidate opposing him. Joe Biden kept classified documents for decades." House Speaker Kevin McCarthy, R-Calif., said on Twitter, referencing the ongoing investigation into classified materials from President Biden's vice-presidency that his attorneys found and quickly returned to the government earlier this year. 
"House Republicans will hold this brazen weaponization of power accountable," McCarthy concluded.
Republican Sens. Josh Hawley of Missouri and Ohio's J.D. Vance also jumped to defend Trump Thursday, echoing the former president's assertion that the country is in decline and his long-held defense that he had the presidential power to declassify documents with his mind, respectively.
"If the people in power can jail their political opponents at will, we don't have a republic," Hawley tweeted.
"The former president will be indicted for "mishandling" his own government's classified info," Vance added. "Yet everyone agrees the president has the authority to declassify anything. This is a moral and constitutional joke. Merrick Garland has disgraced this country."
Legal experts pushed back on their comments.
"This is a reckless comment from a lawyer who knows better," former U.S. attorney Barb McQuade said of Howley's tweet. "No one is jailing anyone at will. A grand jury has found probable cause of crimes. Trump gets due process, like everyone else. He gets jailed only if a jury finds guilt beyond a reasonable doubt and a judge imposes jail."
"Trump has not been indicted for 'mishandling' classified documents. He has not been charged with handling documents in the wrong way. He has been charged with willfully keeping national defense secrets he wasn't entitled to possess and then obstructing justice," former federal prosecutor Renato Mariotti added of Vance's claim.
Rep. Jamie Baskin, D-Md., cautioned his Republican colleagues against attempting to undermine the legitimacy of the special counsel's probe after many of them already had, Common Dreams reports. 
"Instead of trying to divide the country and undercut our legal system, congressional Republicans should respect the outcome of the special counsel's comprehensive investigation and the decisions of the citizens serving on the grand jury," said Raskin, the top Democrat on the House Oversight Committee.
"Dangerous rhetoric about a 'two-tiered system of justice'—discriminating against the rich no less—in order to prop up the twice-impeached former president not only undermines the Department of Justice but betrays the essential principle of justice that no one is above the commands of law, not even a former president or a self-proclaimed billionaire," he added.
Read more
about the Trump indictment